Enough With the Cakes! Peacock's Hidden Recipe Is Proof the Meme Has Jumped the Shark
If you're like pretty much everybody else and you skip reading the fine print of user terms and conditions, you're probably not missing all that much. But, if you didn't read the user agreement for NBCUniversal's Peacock, then you missed a secret cake recipe. That's right, the company hid an entire cake recipe in the user agreement for its new streaming service, which both confirms and ruins the memes that theorize everything is indeed cake.
NBCUniversal launched its streaming service—which includes brand new originals, along with plenty of older films and television shows—wide on Wednesday, July 15, .
In the subsections of the contract that breaks down third-party services and authentication, there's a recipe a yummy chocolate cake, "At Peacock, we don't make promises we can't keep," reads the section. "So, please see below for very delicious, Peacock-approved, just-like-Grandma-used-to-make chocolate cake recipe."
It's a cute and helpful bit, but it also proves that we've taken the "Everything is a Cake" meme too far. The meme was recently all over the internet, after the spread of a viral video that showed normal-seeming everyday objects getting sliced in half to reveal they were actually cake. Now, Peacock has seemed to take the cake on this one (sorry), by actually turning their terms and conditions into directions on how to bake a cake.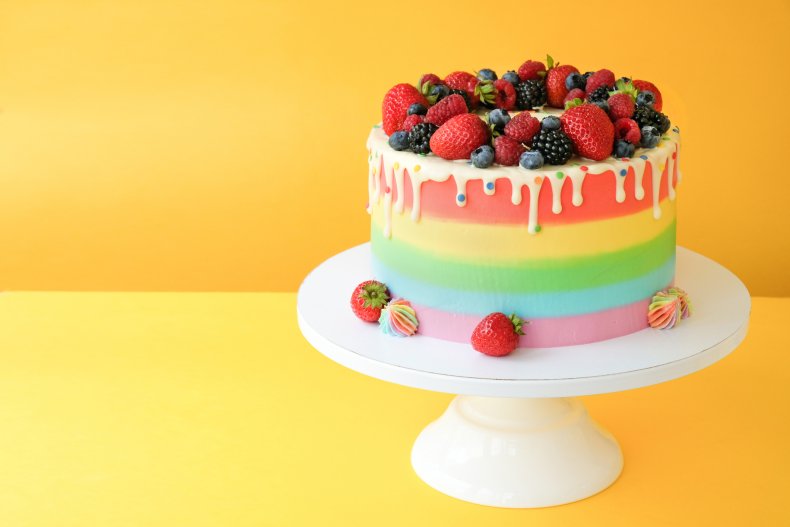 The recipe listed is fairly simple, calling for butter, sugar, an egg, squares of unsweetened baking chocolate, water, vanilla extract, baking powder, flour, salt and baking soda. After combining the wet and dry ingredients, grease and flour a baking pan to pour the batter into.
Bake the cake at 325 degrees for 30 to 40 minutes, and enjoy. "While we wish you could share a slice with us, feel free to share this recipe (tagging @peacocktv, of course)," the recipe added underneath the instructions. "And now, back to your regularly-scheduled legal document."
Food and lifestyle expert Alejandra Ramos already tried baking the Peacock cake, and showed it off on Instagram, surrounded by peacock feathers. She opted for a loaf pan when baking, and said it came out great.
TV Guide's Andrew James Myers also baked the Peacock cake. Although his past "baking from scratch" experience was minimal, he said it came out "moist, spongey, aromatic, and glistening with a subtle reddish tinge."
"My first bite is pure joy. Simple. Chocolate. Cake. I forget all about the fact that I am baking a legal document from the world's second-largest media conglomerate," he wrote. "Unexpectedly, the cake recipe in Peacock's terms of service is legitimately delicious."
As if the cake recipe wasn't enough of a sweetener (sorry again!), the legal document concludes by congratulating anyone who made it to the end. "Wow, you made it to the end of the whole document. Amazing! You deserve a long, satisfying binge," it reads. "Thanks for taking the time to read through our terms. Welcome to the flock!"
This is all well and good. If companies want to make their user agreements less of a bore, we're fine with that. Baking in (OK, we'll stop) a recipe to the document is a neat surprise, and it's even more surprising that the cake seems to be turning out well for those who bake it. But really, let's give the cake memes a rest. Not everything is a cake, and not every meme has to be about a cake.