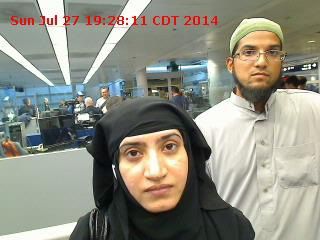 Federal prosecutors will be bringing criminal charges against the childhood friend and former neighbor of one of the gunmen in the San Bernardino, California, mass shooting, officials told NBC News.
Enrique Marquez, 24, was a longtime friend and former neighbor of gunman Syed Farook, who carried out the December 2 attack with his wife, Tashfeen Malik. Investigators have said Marquez purchased the two assault rifles eventually used in the mass shooting, in which 14 people died and 21 people were wounded at a holiday party hosted by Farook's employer. It was the deadliest attack in the U.S. since those of September 11, 2001.
Marquez told investigators that he and Farook plotted an attack in 2012 but stopped the plans after four people were arrested and charged in a plot to commit jihad against U.S. military bases overseas.
On Wednesday, FBI Director James Comey said there is no evidence the couple expressed support for "jihad and martyrdom" on social media, contrary to media reports in the wake of the mass shooting.
Prosecutors could file charges against Marquez as early as Thursday.
President Barack Obama will visit with the victims' families in San Bernardino on Friday, on his way to Hawaii for the first family's Christmas vacation.