Henry "Enrique" Tarrio, a former leader of the Proud Boys group, has been arrested on charges of conspiracy.
Tarrio was arrested on Tuesday morning during a raid on his home. He was named in an indictment involving five previously charged members of the Proud Boys, who are facing federal charges for their roles in the January 6 Capitol riot.
Tarrio did not attend the riot because he was arrested on January 4 in Washington, D.C., accused of destroying public property, and was legally barred from participating in the so-called Stop the Steal rallies two days later.
But the Department of Justice (DOJ) said in its official statement that Tarrio "claimed credit for what had happened on social media and in an encrypted chat room during and after the attack."
This claim is in stark contrast to what Tarrio has previously said regarding the January 6 riots. Newsweek previously reported that he publicly stated that he found the events "horrible" after he decided to suspend further Proud Boy rallies. However, he reiterated at the time that the group would stick by the members who were arrested for their roles in the riots.
"We've been through the wringer," he said. "Any other group after January 6th would fall apart."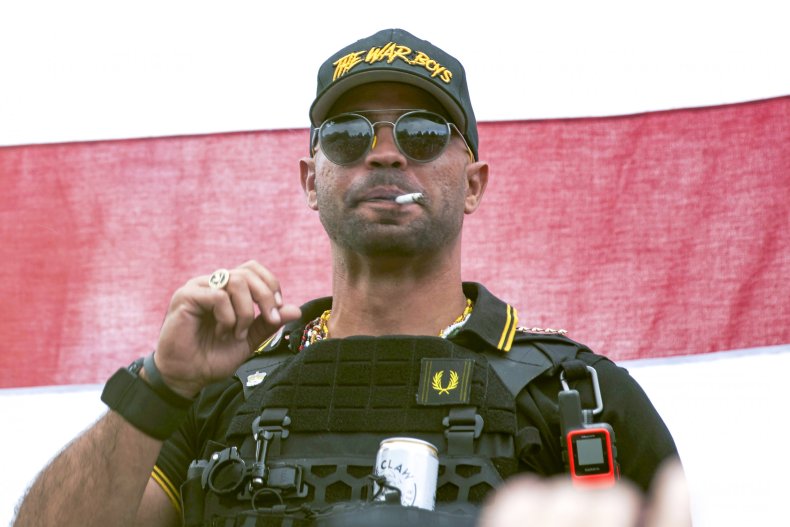 Tarrio is being accused of having a bigger part in the planning of the riots than originally thought. According to the DOJ, he collaborated with other Proud Boy leaders to map out an invasion of the Capitol to specifically disrupt the Electoral College certification of then-President-elect Joe Biden.
Tarrio was charged with conspiracy to obstruct an official proceeding, obstruction of an official proceeding, assaulting, resisting or impeding certain officers, and destruction of government property.
According to the DOJ, the Proud Boys organization describes itself as a "pro-Western fraternal organization for men who refuse to apologize for creating the modern world, aka Western Chauvinists." Members of the organization, including those named in the indictment that Tarrio is now a part of, are accused of directing and mobilizing "members of the crowd onto the Capitol grounds and into the Capitol, leading to dismantling of metal barricades, destruction of property and assaults on law enforcement."
Update at 3/8/22, 2:21 p.m. ET: This story has been updated with additional information.