Enrique Tarrio, Proud Boys Leader, Helped FBI Prosecute 13 People After 2012 Arrest: Report
Enrique Tarrio, leader of the Proud Boys, previously worked as an informer for federal and local law enforcement after he was arrested in 2012 for fraud, according to Reuters.
Tarrio, chairman of the far-right group, repeatedly went undercover for investigators to help prosecute 13 people for offenses such as drugs and human smuggling.
Tarrio's past as an informer was revealed by the former federal prosecutor in his case, Vanessa Singh Johannes, and in a 2014 Miami federal court transcript obtained by Reuters.
Tarrio's then-lawyer Jeffrey Feiler brought up Tarrio's previous undercover work while asking for a sentence reduction for him and two-other co-defendants. The three had pleaded guilty to fraud charges related to the relabeling and sale of stolen diabetes test kits.
Feiler said that Tarrio helped police uncover three marijuana grow houses, and described him as a "prolific" cooperator. An FBI agent at the Miami hearing also said Tarrio was a "key component" in helping police crack a number of other drug cases.
In the smuggling case, Feiler told the hearing that Tarrio, "at his own risk, in an undercover role met and negotiated to pay $11,000 to members of that ring to bring in fictitious family members of his from another country."
Speaking to Reuters, Tarrio said he has no recollection of any of the undercover cases he is said to have been a part of.
"I don't know any of this," Tarrio said when asked about the transcript. "I don't recall any of this."
Tarrio admitted that his fraud sentence was reduced from 30 months to 16 months, but only because he and the other co-defendants helped "clear up" questions about his own case, rather than his alleged previous work as an informer.
There is no evidence Tarrio has cooperated with law enforcement authorities since.
Feiler said he did not recall certain details about the 2014 hearing but added: "The information I provided to the court was based on information provided to me by law enforcement and the prosecutor."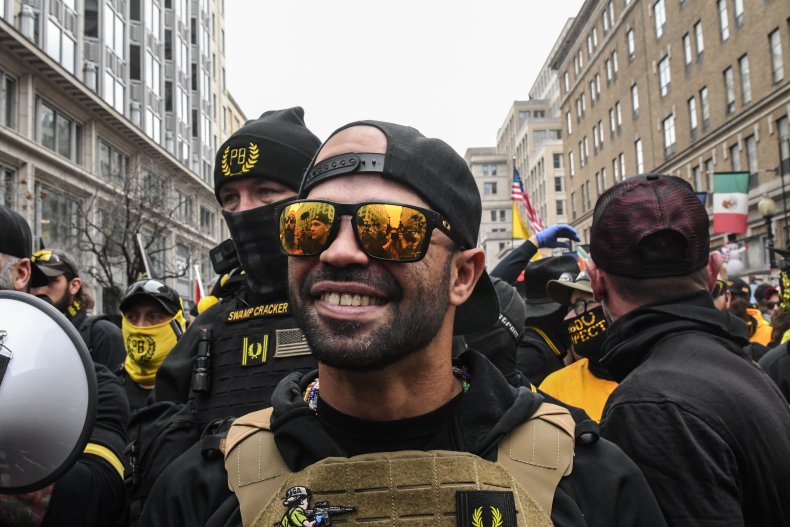 The Proud Boys were formed in 2016 and describe themselves as an all male "western chauvinist" group. The extremist organization, listed as a hate group by the Southern Poverty Law Center, frequently deny they are white supremacists.
Members of the Proud Boys, including fellow leading member Joe Biggs, were present at the deadly insurrection at the Capitol in Washington, D.C. on January 6.
Tarrio was not present in Washington that day after he was barred from the capital following his arrest while entering D.C. on January 4.
Tarrio is accused of destruction of property after allegedly setting fire to a Black Lives Matter flag that had been ripped down from a church on December 12, 2020, following a pro-Donald Trump protest in Washinton, D.C.
Police also allegedly found him in possession of two high-capacity firearm magazines ahead of the January 6 protests.
The Proud Boys have been contacted for comment.