Enthusiasm for Trump Remains High in Florida County that He Flipped in 2016
The folks in Jefferson County, a bucolic, picture-postcard setting on the Florida Panhandle about 40 minutes east of the state capital in Tallahassee, are concerned about what's going to happen in Washington, D.C., the next four years.
"The economy is always paramount, very important to all constituents," said Gene Hall, a Democratic member of the Jefferson County's elected Board of County Commissioners.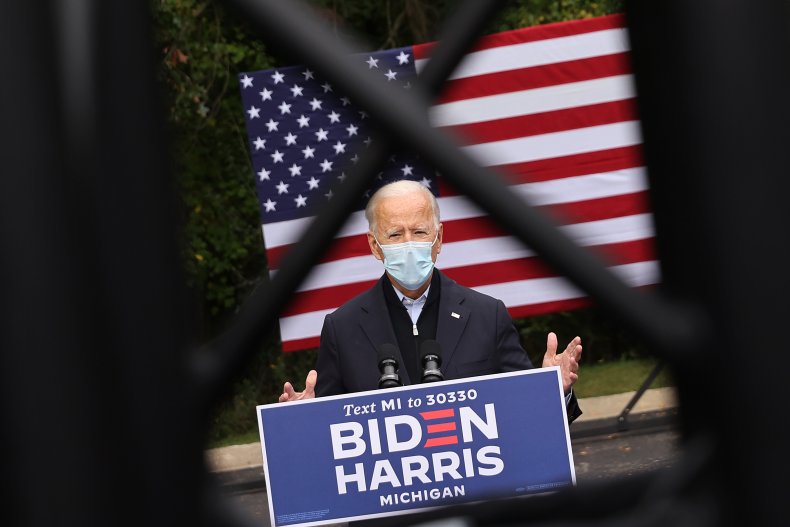 Beyond paying their rent or mortgages and putting food on the table, the county's voters want whomever is elected president to "carry out the prescribed duties of the office in a fair and equitable manner and ensure that their decisions are compatible with the United States Constitution," Hall told Newsweek.
"The election means a chance for more equality and opportunity for folks to seek more freedom," Hall said.
Hall said local races, including county positions for superintendent of schools and tax collector, have captured the attention of voters this year.
Colin Barton, chair of Jefferson County's Republican Executive Committee, agreed that the economy is of utmost importance to county residents.
"Jobs, jobs and jobs," Barton told Newsweek. "I can't emphasize that enough."
In addition to the economy, Barton said, voters in this rural county continue to support the president because of Trump's stance on law and order and his support for the police and military.
Democratic challenger Joe Biden leads Donald Trump by 3.7 percent in Florida in a Real Clear Politics average of recent polls.
Local GOP members have been waving American flags and Trump flags, and handing out Black Voices for Trump stickers in the popular public space near the county courthouse every Friday afternoon at 4:30. And sometimes they have shared the site with a local Democrat or two who are there to support their country and their candidate.
In the past three presidential elections, the county voted twice for Barack Obama, who won by 3.66 percent in 2008 and again in 2012 by 1.75 percent. Donald Trump took the county in 2016 in a 5.06 percent victory. Trump captured Florida, with a plurality, by 1.2 percent, and its 29 Electoral College votes.
And the enthusiasm level for the president has been growing the past four years.
.
"Compared to 2016, it's just off the chain, the reaction that we have from our locals about the 2020 election," Barton told Newsweek.
He added that the number of lawn signs and the larger 4-foot-by-8-foot yard signs they have distributed this year has far surpassed what they handed out in 2016.
Last month, county residents complained to the county sheriff that presidential campaign yard signs for both major party candidates were disappearing from their lawns or were defaced while signs for local candidates remained unscathed.
Jefferson County extends from the Gulf of Mexico to the Georgia border. It's known for its farms, corn and watermelons. In 2019 Jefferson County had an estimated population of 14,246.
Of the 10,235 registered voters in the county, 5,192 are Democrats and 3,829 are Republicans, with the rest registered with other parties or no party affiliation, as of Wed., Oct. 7.