Entire Buffalo Police Unit Resigns Following Suspension Of 2 Officers Who Shoved Elderly Protester to Ground
An entire unit of the Buffalo Police Department have resigned from their posts after two of their fellow police officers were suspended without pay.
All 57 officers were members of the Buffalo Police Department Emergency Response Team. The two members on suspension were captured on video Thursday in an altercation with a 75-year-old man, later identified as Martin Gugino, who was injured during a protest in front of Buffalo City Hall over the death of George Floyd, an unarmed black man who died in police custody on May 25 in Minneapolis.
The video of the two officers and Gugino went viral after it was shared to social media. In the footage, Gugino appears to be pushed by the officers and hits his head on the ground as a result. He sustained head injuries due to the encounter, and remained in a local hospital in stable but serious condition on Friday afternoon, Buffalo Mayor Byron Brown said.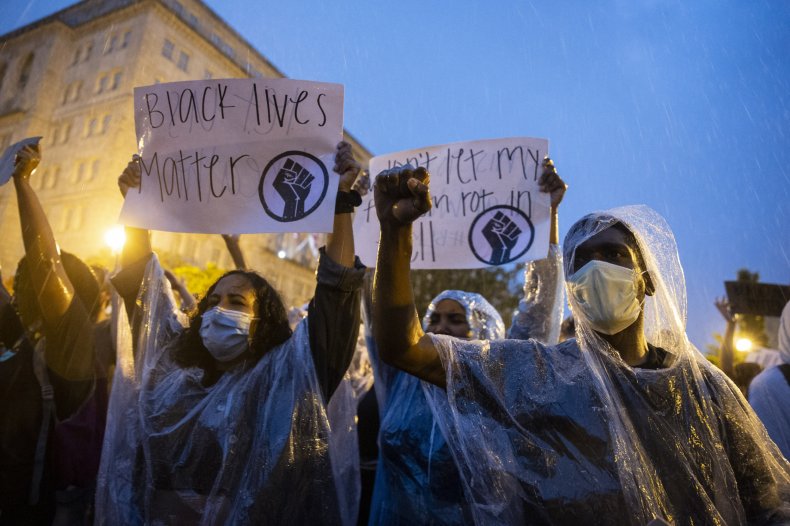 However, Buffalo Police Benevolent Association President John Evans, said in a statement that the union supported the officers and that Gugino slipped and fell while interacting with the police and that they were just doing their job in clearing the area as the city approached a mandatory curfew.
"Our position is these officers were simply following orders from Deputy Police Commissioner Joseph Gramaglia to clear the square. It doesn't specify clear the square of men, 50 and under or 15 to 40. They were simply doing their job. I don't know how much contact was made. He did slip in my estimation. He fell backwards," Evans said.
Speaking to reporters on Friday, Erie County Executive Marc Poloncarz said he was "exceptionally disappointed" if the members resigned from the unit "because it indicates to me that they did not see anything wrong with the actions last night."
New York Governor Andrew Cuomo, who spoke about the incident during his daily COVID-19 press briefing Friday, expressed his shock and said he was sickened by the video.
"You see that video and it disturbs your basic sense of decency and humanity," Cuomo said, while also calling for legislation on sweeping police reform in New York, and a criminal investigation into the actions of the two suspended officers.
Brown said on his Twitter account that he and Buffalo Police Commissioner Byron Lockwood had seen the news footage of the incident, and felt angered and sickened by the incident.
Lockwood launched the investigation which led to the two officers being suspended without pay. No charges have been filed, though the investigation is ongoing.
According to The Buffalo News, the Emergency Response Team members have not quit the police department but have stepped down from the tactical unit which assists with crowd control measures.
In response to the mass resignations from the team, Brown said in a statement that contingency plans are in place to ensure there is no interruption of police and emergency services within the Buffalo community with more protests expected this weekend.
Newsweek contacted Lockwood and Evans for additional comments and did not receive a response in time for publication.