Entire D.C. National Guard Activated Amid Capitol Protest, More Due From Virginia, Maryland
National Guard troops from the District of Columbia and neighboring states are mobilizing after supporters of President Donald Trump stormed the U.S. Capitol.
"At President @realDonaldTrump's direction, the National Guard is on the way along with other federal protective services," White House press secretary Kayleigh McEnany said on Twitter. "We reiterate President Trump's call against violence and to remain peaceful."
The New York Times and the Associated Press reported that the entire D.C. National Guard of approximately 1,100 troops was being deployed in response to a request from D.C. Mayor Muriel Bowser.
Virginia Governor Ralph Northam announced that he was sending members of the Virginia National Guard, along with 200 Virginia state troopers, to respond to the situation in Washington, D.C., in response to Bowser's request.
Maryland Governor Larry Hogan also said his state police would send in troopers to assist officers in D.C. He added that he instructed the general of the Maryland National Guard to "call up a rapid response force to support law enforcement and restore order."
"All Americans should be outraged by this attack on our nation's Capitol," Hogan tweeted. "This is a heinous and violent assault on the heart of our democracy. I will not stand for this, and neither should any American."
Department of Justice spokesman Marc Raimondi told Newsweek in an email that "the acting attorney general is coordinating with our law enforcement partners to add additional federal law enforcement support to the Capitol grounds."
Thousands of Trump supporters gathered in Washington on Wednesday to protest the outcome of the presidential election. The demonstration coincided with a joint session of the House and Senate to affirm President-elect Joe Biden's victory. The Electoral College cemented Biden's win last month, voting 306-232.
Trump himself appeared at the rally, where he continued to make unsubstantiated allegations that the election was stolen and rigged. Despite his claims, there has been no discovery of widespread voter fraud in any of the key battleground states, which was confirmed by former Attorney General William Barr.
"We will never give up, we will never concede. You don't concede when there's theft involved," Trump told the crowd on Wednesday.
Shortly after Trump left the podium, groups of protesters began to storm the U.S. Capitol. The area was put under lockdown as people pushed through fencing, clashed with federal police and breached the building.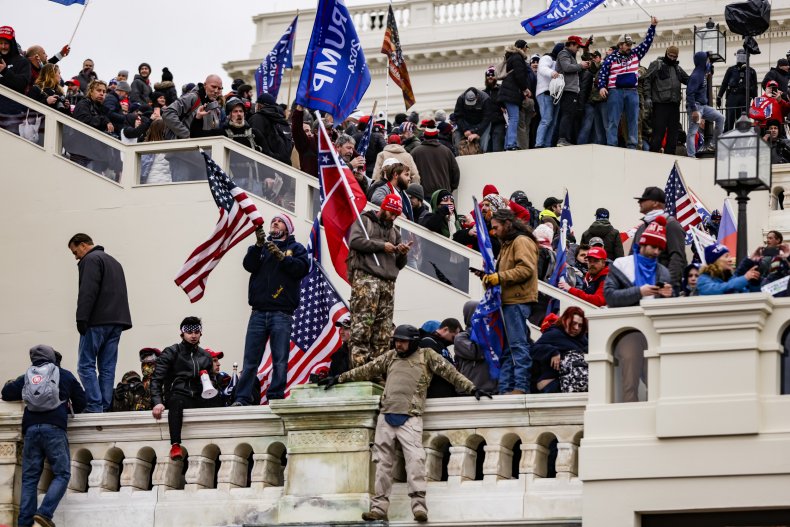 A 6 p.m. curfew has been imposed in the District of Columbia by Bowser, who said in her order that "during the hours of the curfew, no person, other than persons designated by the mayor, shall walk, bike, run, loiter, stand or motor by car or other mode of transport upon any street, alley, park or other public place within the District." The curfew will remain in effect until 6 a.m. Thursday.
The House and Senate were forced to go into recess as lawmakers met to affirm the Electoral College results. Besides the Capitol building's lockdown, evacuations were ordered for the Library of Congress and the Cannon House Office Building.
Pictures and videos posted online showed Capitol police officers with their guns drawn on the House floor as protesters gathered outside. One person was reportedly shot inside the U.S. Capitol after protesters breached the building.
Trump responded to the violence in a tweet, writing: "Please support our Capitol Police and Law Enforcement. They are truly on the side of our Country. Stay peaceful!"
Newsweek reached out to the White House for comment on the National Guard deployment but did not receive a response before publication.