Entire House GOP Opposes Biden's $1.7T Bill, but 42 Percent of Republicans Voters Back It
While the entire House Republican Conference opposes President Joe Biden's $1.7 trillion Build Back Better "human infrastructure" legislation, a sizable chunk of GOP voters say they support the bill.
New polling released Thursday by Data for Progress showed that 42 percent of Republican voters "somewhat" or "strongly" support the large social and climate spending package. Overall, 64 percent of Americans support the package, with majorities of Democrats (87 percent) and independents (63 percent) saying they back the Build Back Better plan.
Some of the specific provisions of the legislation are even supported by a majority of GOP voters. For example, 62 percent of Republicans say they support providing "$150 billion to improve the quality of and increase access to long-term care for seniors and people with disabilities." Additionally, 55 percent of GOP voters say they approve of including "$35 billion to expand Medicare coverage so that it includes hearing coverage."
Many Republicans also say they support some of the ways the bill could be paid for. A majority (56 percent) of GOP voters approve of a 15 percent tax on profits that U.S. corporations make overseas. Fifty-three percent support raising income taxes for those who earn more than $10 million a year.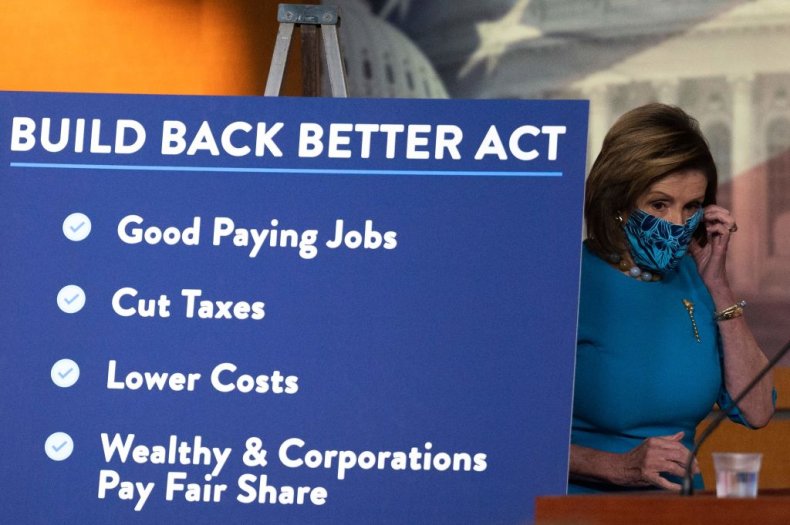 Meanwhile, House Minority Leader Kevin McCarthy broke the record for the longest speech in House history overnight in an effort to slow passage of the Build Back Better legislation. Although McCarthy successfully delayed the vote—and all House Republicans are expected to oppose the bill—Democrats are set to pass the legislation along party lines Friday.
"Every page of the Democrats' Socialist Spending Scam will be paid for by or borrowed from you: America's hardworking taxpayers," the California Republican tweeted on Thursday evening. "This is the single most reckless and irresponsible spending bill in our nation's history."
McCarthy's assessment is not entirely accurate, according to estimates released Thursday by the nonpartisan Congressional Budget Office. That analysis found that the bill included enough provisions to largely pay for the legislation. Although the CBO analysis did show that the spending package would add more than $360 billion to the deficit over the next decade, it did not account in the topline for revenue raised by increased IRS enforcement of tax laws, which the Democrats included.
Republicans have also argued that the spending bill will increase inflation, which remains a serious problem for the economy. However, top bond ratings agencies Moody's and Fitch Ratings told Reuters this week that they do not believe Biden's package will exacerbate inflation further. The president touted their analysis in a Thursday tweet.
"Two of the leading rating agencies on Wall Street said yesterday that the Build Back Better Act will not add inflationary pressures on the economy," Biden wrote. "Instead, it will create jobs and will help take the edge off inflation."