Entire Mississippi Fourth Grade Class Forced To Quarantine After 6 Teachers Exposed To Coronavirus
A fourth-grade class in Mississippi will move to virtual learning and quarantine after several teachers tested positive for coronavirus.
The Lafayette County School District made the announcement on Sunday, saying that three new cases were identified in the district as of August 23.
"Contact tracing has been completed and anyone in close contact (someone who was within 6 feet of an infected person for 15 minutes or more) with this person has been notified. The current cases are reported amongst the Lafayette Upper Elementary School faculty," the school district wrote in a press release, adding that the recommended quarantine was for 14 days, beginning on Monday.
"We believe taking this step will better protect our students and help in our efforts to contain while providing a healthy environment for all of our students and staff," the press release added.
While speaking to the Associated Press on Monday, Lafayette County Superintendent Adam Pugh said that the district notified more than 200 students in the fourth grade about the quarantine. He noted that while only one student and six fourth-grade teachers have tested positive for the virus, a majority of other students were exposed to it.
"We don't have enough staff to cover our entire fourth-grade class in-person, so we had to send everybody home, to do virtual lessons," Pugh told the AP. "I don't know why it's just our fourth-grade teachers, I can't answer that question at this point, but we are doing everything we can to mitigate the spread and keep our students and faculty as safe as we can."
Teachers in the Lafayette County School District first came back to work on August 3, while students returned a few days later on August 5. Across the district, there are now nine confirmed cases of the novel virus among staff members, and just one student case.
However, the district has seen one death related to the virus. Earlier this month, Nacoma James, a middle school teacher and assistant high school football coach, died after self-isolating with COVID-19 symptoms.
Earlier this month, state health officer Dr. Thomas Dobbs, stated that 71 of 82 counties in Mississippi have reported positive cases of COVID-19 within schools.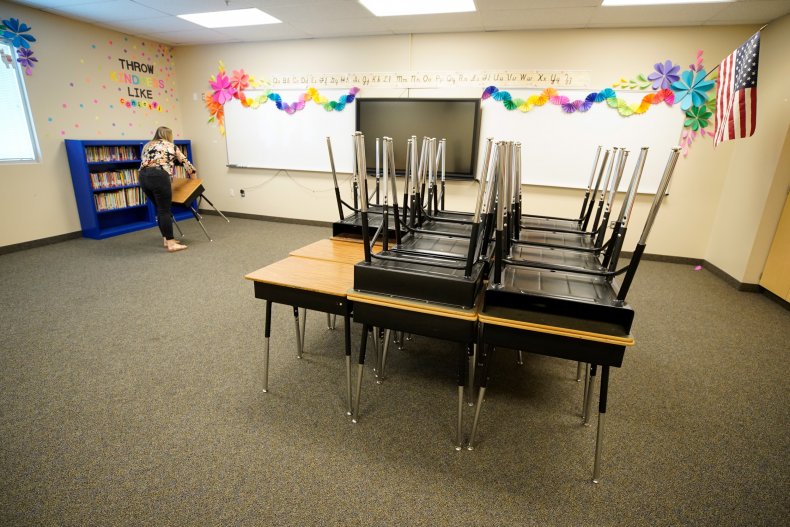 Newsweek was directed to the press release issued by the school after reaching out for comment. The Mississippi Department of Health did not immediately respond to a comment request.
A similar situation recently occurred in North Carolina, when Franklin High School in the Macon County School District was forced to switch to online-only classes after a staff member tested positive. That case led to additional teachers, support staff and administrators to quarantine, leaving the school understaffed for in-person learning.
"It is in the best interests of the students at Franklin High School that face-to-face instruction be suspended through September 11, 2020," the district wrote in a Facebook post.
The Macon County School District has reported positive coronavirus tests at six of the district's eleven schools, the Raleigh News Observer reported.