Entire Pacific Island Faces Complete Evacuation and State of Emergency as Volcano Blacks Out Sun
Residents of the tiny Pacific island of Ambae in Vanuatu are evacuating en masse as the government extended a state of emergency, a member of parliament confirmed on Twitter.
Ambae's violent Manaro Voui volcano has plagued residents for decades, but recent activity drove many to neighboring islands. An eruption in recent days filled the skies and covered the island with dangerous volcanic ash, according to Radio New Zealand. CNN reported that the ash coverage was so thick it appeared to "black out" the sun.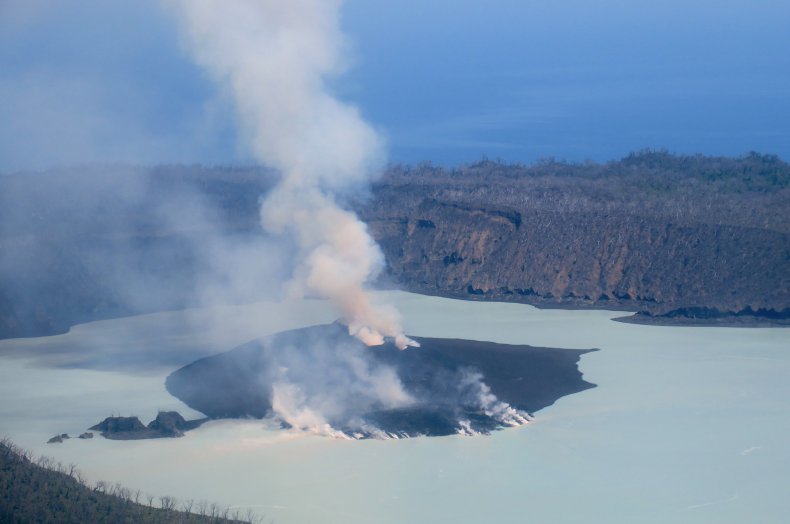 An official government evacuation announcement was expected shortly, Australia's ABC reported. This is the second exodus Ambae's residents have faced in less than a year. About 11,000 people are thought to live on Ambae, and it's unclear how many returned after September 2017's evacuation, CNN reported.
"Cabinet has reimposed the state of emergency and ordered the [compulsory] evacuation of the entire population of Ambae," MP Ralph Regenvanu wrote on Twitter.
Vanuatu Red Cross was evacuating residents this week as volcanic activity caused chaos on Ambae Island, the organization reported on Facebook. "We tried to travel to the South today but we have to turn back, because trees are falling, visibility is very, very poor, we cannot see far more than [six feet]," Red Cross disaster management coordinator Augustin Garae said in a post.
The Vanuatu Meteorology & Geo-Hazards Department raised the volcano alert from level two to level three on Saturday, July 21, indicating a "minor eruption." Volcanic ash and gases are constantly released from the volcano, but the department did not expect activity to escalate significantly.
Locals face "rumbling, volcanic explosions from volcano, smelt volcanic gases, [and can] see volcanic ash and gas plume and glows over the mountain at night," the report read.
The Pacific Island nation sits on the so-called Ring of Fire, a basin that sees intense tectonic activity from the boundaries of various continental plates. The movement of these enormous slabs of land drives volcanoes, earthquakes, trenches and other dramatic geological features. Some 90 percent of the world's earthquakes happen at the Ring of Fire, according to the United States Geological Survey.
Although historical records are sparse, documents show that Ambae's volcano erupted in 1530, 1670, 1870, 1915 and 1966, the Vanuatu Meteorology & Geo-Hazards Department reported. Today's violent episode began back in 1991. Residents also saw eruptions in 1995, 2005, 2016 and 2017.
The Vanuatu Red Cross did not immediately respond to a request for comment.