Known for their tendency to slither into places they shouldn't be, the appearance of a snake in one's home can certainly wreak havoc. In one town, however, practically every single home was affected by a single snake's unfortunate journey.
Almost the entire town of Denton, North Carolina lost power Wednesday morning after a snake came into contact with energy equipment. The incident began at a Duke Energy substation, resulting in a significant fire. Far from isolated, the incident is just one of many reports in recent years of snakes prompting fires due to their proximity to electrical equipment.
As Greensboro-based WGHP FOX8 reported, approximately 1,400 Duke Energy customers lost power at around 10:00 am Wednesday, a hefty number for the small town. According to 2019 Census data, Denton has an entire population of about 1,660.
Said Duke Energy spokesperson Jeff Brooks on the outage, per WGHP: "This is one of the reasons we are making electric grid improvements in the region."
"We often think of storms and trees which are the leading cause of outages, but other items like cars hitting utility poles and snakes and squirrels getting into equipment also cause a number of outages for electric utilities," he said. "That's why it's so important we make these improvements to strengthen our electric grid and protect it from a variety of disruptions."
It's unclear exactly how, or in what way, the snake came into contact with the Duke Energy equipment. However, the incident is said to have sparked a fire, as reported by the Denton Fire Department on their Facebook page.
"Major Power Outage affecting the entire Town Limits and surrounding Duke Power Customers," they wrote. "Fire at the Duke Substation has been extinguished but major repairs will be needed to restore power. "
"Some customers might have power restored by a different substation picking up some of the power grid [while] others expect to have power restored well into the evening," they added.
Included in the post is a picture of the scene after the fire had been extinguished. Several pieces of major electrical equipment appear to have been charred in the blaze.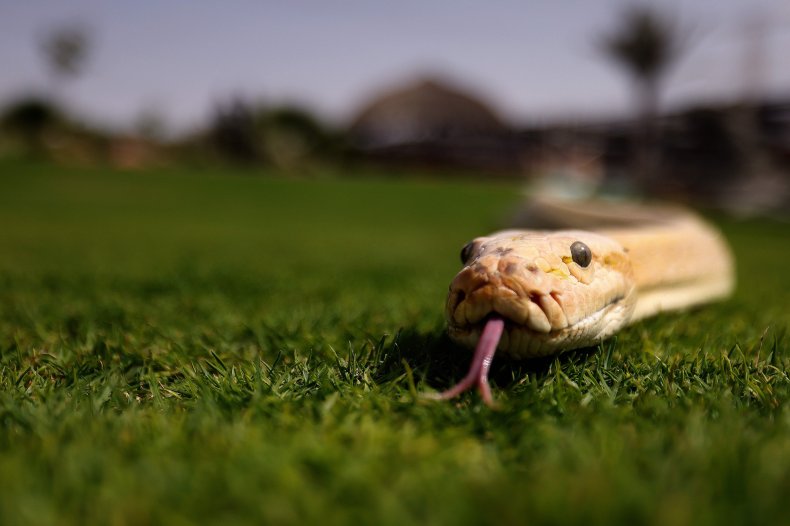 Directly and indirectly, snakes have been responsible for several large fires in recent years. In 2017, for example, a snake was implicated in a 40-acre Montana blaze after its body was found in the jaws of a dead hawk. Officials believed that the hawk had made contact with a power line while taking home its prey, sparking the fire.
In June 2020, an incident similar to the one that occurred in Denton took place in the town of Cowpens, South Carolina, reported WSPA 7. As in Denton, the snake slithered into a substation, causing a fire and power outages for hundreds of residents.
Newsweek has reached out to the Denton Fire Department for additional comment.