Envelope Containing Three Bullets Sent to Pope Francis
An envelope addressed to Pope Francis and containing three bullets has been intercepted near Milan, Italian police have confirmed.
The envelope featured French postage and was addressed to "The Pope, Vatican City, Piazza S. Pietro in Rome," Italy's carabinieri—one of the country's two main police forces—told Newsweek.
An investigation is underway.
Officers seized the mail at a sorting center in Peschiera Borromeo, located on the outskirts of Milan, after its presence was reported by the manager.
It contained three Flobert-type 9-millimeter caliber pellets, according to Il Messaggero. There was also reportedly a message about financial operations at the Vatican.
The Vatican has been contacted for comment.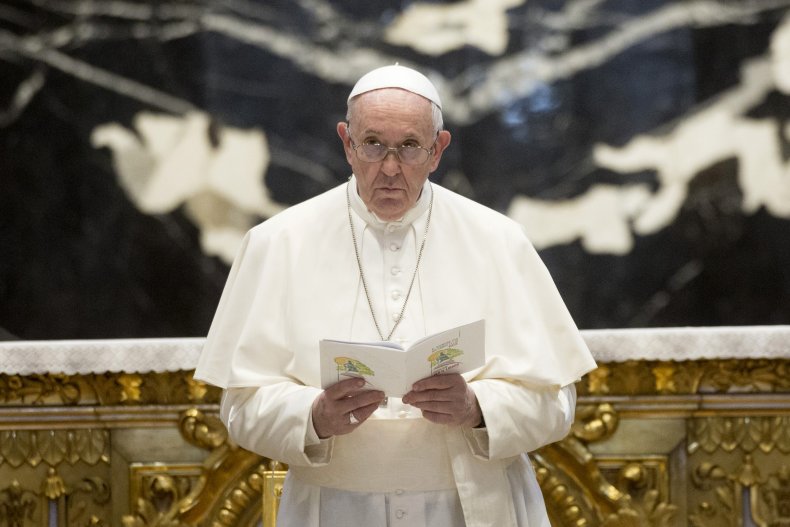 The 84-year-old pope only returned to full-time work after being hospitalized on July 4 ahead of colon surgery.
The Vatican said the surgery, in which a section of his colon was removed, was necessitated by diverticular stenosis, or a narrowing of the bowel.
According to his public diary, Pope Francis led prayer on Sunday in Saint Peter's Square in Vatican City—more than 500 miles from where the envelope was discovered.
Francis is scheduled to depart on a trip to Budapest on August 12, flying from Rome's Fiumicino International Airport.
He is expected to meet with Hungary's bishops and other Church and Jewish representatives, before departing for Bratislava, Slovakia.
Francis, born Jorge Mario Bergoglio, has been the head of the Catholic Church and sovereign of the Vatican City State since 2013.
Embezzlement Trial
The threatening message comes amid the continuation of a major trial involving significant figures from the Roman Catholic Church.
Last month, the Vatican indicted 10 people, including an Italian cardinal, for alleged financial crimes, including extortion, corruption, fraud, embezzlement, and abuse of power.
Among the accusations were claims that tens of millions of dollars in donations to the Holy See were lost through bad investments, murky deals and favours to friends.
On the opening day of the trial on July 27, Cardinal Angelo Becciu, one of two defendants who attended the largely procedural, seven-hour session, said he remained "obedient" to Pope Francis, who stripped his privileges to bring him before the tribunal.
''He wanted me to be on trial, and I'm coming to the trial. I'm serene. I feel tranquil in my conscience,″ Becciu said.
Francis also dismissed the entire board of the Vatican's financial regulator in 2014 ahead of reforms aimed at improving the city-state's banking practices following a corruption scandal.