Piney Point: Environmental Disaster Looms as Collapse at Florida Phosphate Plant 'Imminent'
Manatee County, Florida, officials urged residents to evacuate Saturday morning, pending the "imminent" collapse of a protective liner in a wastewater pond at the Piney Point phosphate plant.
"Evacuate NOW," an extreme-level emergency phone alert sent around 11 a.m. Saturday read.
Saturday's alert follows an evacuation order residents received Friday after a leak was discovered in the plastic liner of the 80-acre pond that holds 800 million gallons of the site's wastewater, which contain phosphorous and nitrogen, according to the Miami Herald. Officials fear sudden flooding to the surrounding area if the liner were to collapse and release the remaining polluted water in the pond.
Following the realization of the pond's leaking wall on Friday afternoon, the Florida Department of Environmental Protection (DEP) worked immediately to block the leak. By Saturday morning, crews' attempts to hold back the breach weren't working, Manatee County Public Safety Director Jacob Saur said.
"There has been further motion with the wall," Saur said. "We've ordered further evacuations and closed U.S. 41. That's all I know right now."
WFLA reported that the Florida Highway Patrol has been turning vehicles around on US-41. A Manatee County Sheriff's Office spokesperson said the Manatee County Jail, which is in the path of potential flooding, was not planned to be evacuated.
"Our first concern is to protect the people who live and do business in the area. People within a half-mile radius received an emergency notification to evacuate at 11:01 a.m. The public must heed that notice to avoid harm," according to a statement by Manatee County Board of Commissioners Chair Vanessa Baugh.
By Saturday afternoon, Florida Governor Ron DeSantis announced via Twitter a state of emergency in Manatee County "to ensure resources are allocated for necessary response & recovery," and DEP's onsite command was relocated to the Manatee County Emergency Operations Center to protect staff working on the ground.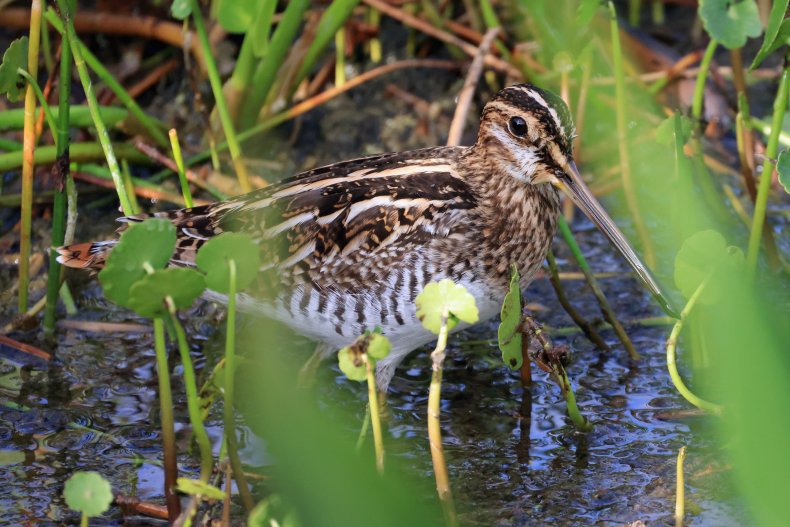 The pond, also known as a gypsum stack, has already discharged at least 25 million gallons of polluted water at Port Manatee, according to the Tampa Bay Times, and environmentalists are worried that amount is enough nutrients already to damage the health of the bay's ecosystem.
The contaminated runoff will make its way to Bishop Harbor, which is part of the Terra Ceia Aquatic Buffer Preserve, according to Glenn Compton, chairman of ManaSota-88, Inc., a non-profit, public health and environmental organization located in Manatee and Sarasota, Florida, said in an email to Newsweek.
The harbor is a nursery for Tampa Bay and "one of the most valuable and fragile marine habitats in Florida."
Compton added that the harbor already received pollution from a previous tear "than it should have received in its entire existence," and Tampa Bay will likely experience algae blooms, increased bacteria levels to decompose large amounts of dead algae, which will effectively reduce oxygen levels and kill fish.
"Florida's phosphate mining industry is an industry of cradle to grave pollution," Compton said. "The cradle is phosphate mining, and the grave is the radioactive phosphogypsum waste dumped into gyp stacks."
Discharges into Piney Point Creek were actually approved by an DEP emergency order to prevent "buildup of pressure in the system," according to an April 2 statement from the DEP. On April 1, DEP crews temporarily stalled uncontrolled discharges into the creek, but "later on uncontrolled discharges resumed."
"To be clear, the department's authorization for the controlled discharges is not a blanket authorization," the statement read. "The Emergency Final Order authorizes discharges at an amount necessary to ensure stabilization."
The agency confirmed controlled discharges into Port Manatee resumed Thursday evening after repairs were made to the pipe leading into the port. But then around 4 p.m. Friday, officials learned of "a breakout of seepage" in the east wall of the reservoir, and confirmed that "DEP's Emergency Management staff are onsite and coordinating with Manatee County to provide assistance with an engineered blockade of natural landscape to halt the breakout to contain the system."
Now officials are bracing for an uncontrolled release. But pending disaster at Piney Point "should be a surprise to no one," Compton said.
According to the Times, records show that employees of HRK Holdings, the plant's operator, inspected the liner's tear multiple times and found small holes or weaknesses in its plastic seams, as well as potential cracks in December, October and July. There are two other gypsum stacks on the plant's site.
In a July report, an HRK Holdings engineer marked "significant deterioration of the upper portion of the liner system over the last few years," and recommended that the pond should not be used as an emergency pool for another reservoir, citing "relatively high potential for liner failure and potential release of process water into the gypsum dikes or pond floor."
Compton explained that in "arguably the worst land use decision ever made in Manatee County's history," the Manatee County Commission approved the land use changes in the 1960s to build the fertilizer plant and reservoirs.
"What was falsely promoted as a benefit to the community has ended up being a tremendous cost to the public's health, environment and taxpayers of Manatee County and Florida," Compton said. He added that the situation "can" and "will" get worse because the Commission and the DEP support building a deep well as a solution for disposing of the Piney Point wastewater.
"The same two government agencies that supported dumping the dredge material from Port Manatee into the gyp stack."
But deep well injection has "many problems," Compton said, especially because wells are subject to failure and largely rely on predictions that leave room for big miscalculations.
"There is no economically feasible or environmentally sound way to close an abandoned gyp stack, this legacy includes the perpetual spending of taxpayer monies and risks to the public's health and the environment."
Newsweek has reached out to HRK Holdings, Manatee County and the Florida Department of Environmental Protection for comment on the leak, but did not receive a reply by publication time.
Updated 3:35 PM ET, to include comment from ManaSota-88, Inc.