Environmental Group Says Newsom's Call For Water Rationing 'Too Little, Too Late'
An environmental group in California said on Thursday that Gov. Gavin Newsom's call for residents to cut down their water use by 15 percent was, "too little, too late."
In a statement, Barbara Barrigan-Parrilla, executive director of Restore the Delta, wrote, "Governor Newsom's response to the drought is too little, too late. Restore the Delta and our coalition partners began warning state agencies and the Newsom Administration at the end of 2020 to plan for these drought conditions."
The statement goes on to say that senior management at the California Department of Water Resources and the California Natural Resources Agency, gave Newsom "bad advice."
"They let too much of the water out of the system for industrial agriculture users — who only contribute 2 to 3 percent of the state's GDP. Our water resources and public trust resources like salmon fisheries have been squandered for almonds and other unsustainable crops," the statement said.
Newsweek was directed to the statement issued by Barrigan-Parrilla after reaching out to Restore the Delta for comment.
According to its website, Restore the Delta "is a grassroots campaign of residents and organizations committed to restoring the Sacramento-San Joaquin Delta so that fisheries, communities, and family farming can thrive there together again; so that water quality is protected for all communities, particularly environmental justice communities; and so that Delta environmental justice communities are protected from flood and drought impacts resulting from climate change while gaining improved public access to clean waterways."
On Thursday, Newsom called on California residents to cut their water use down by 15 percent amid persisting drought conditions in the state. Newsom also added nine new counties to a drought state of emergency he issued in May.
The nine counties added to the state of emergency are: San Luis Obispo, Inyo, Marin, Mono, Monterey, San Mateo, Santa Barbara, Santa Clara and Santa Cruz.
"The entire state is in a drought today, and to meet this urgent challenge we must all pull together and do our part to reduce water use as California continues to build a more climate-resilient water system to safeguard the future of our state. We're proud of the tremendous strides made to use water more efficiently and reduce water waste, but we can all find opportunities this summer to keep more water in reserve as this drought could stretch into next year and beyond," Newsom said in a statement.
During a press conference on Thursday, Karla Nemeth, director of the California Department of Water Resources, said, "Given how low the reservoirs are going to be at the start of next year, the governor wanted to issue the voluntary call in the event that next year is also dry."
In a statement sent to Newsweek, Nemeth wrote, "The West is in a regional drought that is unprecedented in its breadth and severity. While we came into this drought better prepared than past droughts, the reality is spiking temperatures and record dry soil conditions this spring dramatically affected runoff into rivers and reservoirs."
"While we are asking Californians to voluntarily conserve water now, we will be leaning in heavily to support local communities that already have issued conservation mandates according to their local conditions and supply needs," Nemeth continued. "A 15 percent voluntary reduction by urban water users over the next year could save as much as 850,000 acre-feet of water for future use, or enough to supply more than 1.7 million households for a year. This is not an insignificant amount; it is a critical and necessary step to preserve as much water supply as possible in the event that next year is dry as well."
Over the past few weeks, most of the west coast has faced high temperatures with several areas in California previously reporting record-breaking heat. Amid the heat wave and drought, wildfire conditions have persisted and the state is currently battling numerous active wildfires.
Newsweek was directed to Nemeth's statement after reaching out to Newsom's office for comment.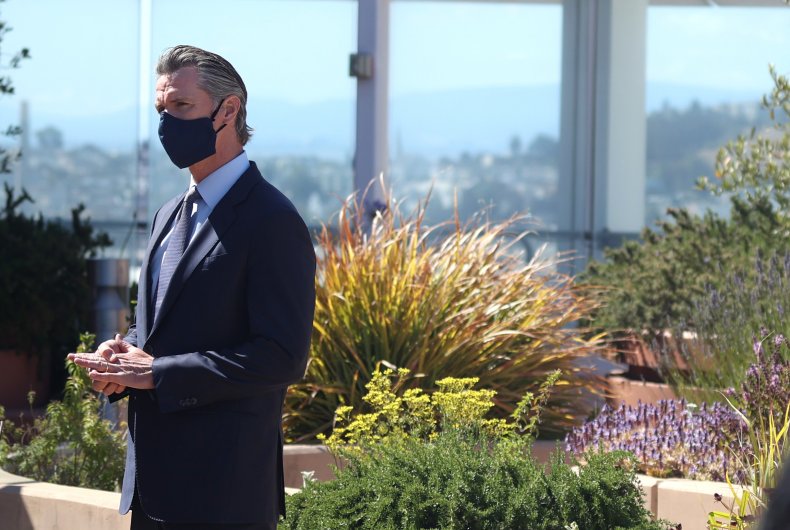 Updated July 9, 2021, 3:52 p.m. ET, to include a statement DWR Director Karla Nemeth.