Environmental Group to Sue Feds Over 'Aging Infrastructure' After California Oil Leak
Environmental advocates are planning to sue the federal government a month after a Southern California oil leak.
According to the Associated Press, the Center for Biological Diversity sent a notice of the pending suit to the Secretary of the Interior. The notice comes a month after a pipeline leaked at least 25,000 gallons of crude oil into the Pacific Ocean.
The pipeline, owned by Houston-based company Amplify Energy, resulted in the Huntington Beach shoreline being closed for a week due to blobs of oil washing ashore, although damage has been minimal.
"It is not lawful for [the U.S. government] to just continue on with these really old development and production plans," Center for Biological Diversity Oceans Director Miyoko Sakashita said in a statement.
She said the law that requires the government to review development and production water leases rarely occurs. As a result, she said that much of the infrastructure used in these leases is aging.
"It's particularly notable in this instance where we've now had this oil spill," she said. "The infrastructure is aging and things need to be done differently."
Spokespeople for the Interior Department's Bureau of Ocean Energy Management have not commented on Sakashita's claims or the lawsuit.
For more reporting from the Associated Press, see below.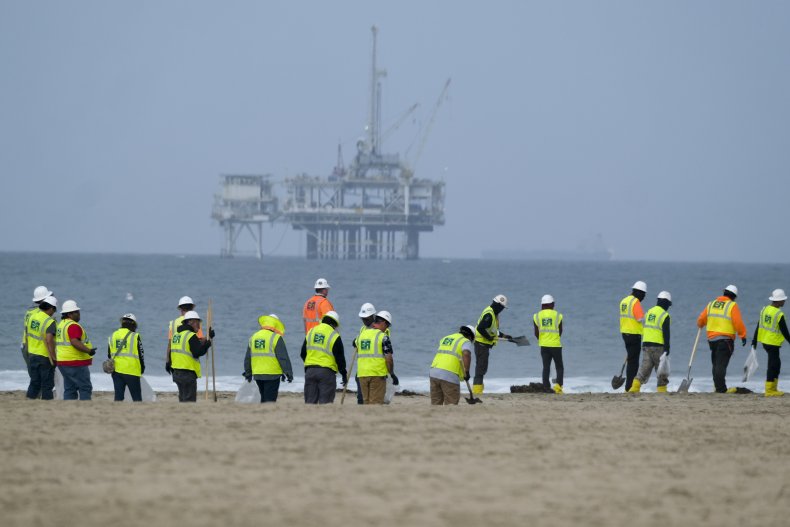 The Center for Biological Diversity's notice is a requirement for lawsuits against the federal government.
The group contends the government approved plans for a cluster of oil platforms in the 1980s and that they are still running though they were expected to wind down production in 2007.
Much of the oil broke up at sea and local officials put up booms to keep the crude out of sensitive wetlands.
The leaky pipeline near Huntington Beach ferried crude oil from the offshore platforms questioned by the Center for Biological Diversity to the coast.
The cause of the leak is under investigation, but federal officials have said the pipeline was likely initially damaged by a ship's anchor.
Newsweek previously reported that fishermen are still not allowed to fish in the area of the oil spill. State environmental officials are still conducting an investigation over the spill's impact and what had caused the pipe to burst. It is not clear when these investigations will cease.
Fishing in the Orange County coast area is currently banned from 6 to 12 miles until further notice.