Environmentalists Outraged Over Trump's EPA Pick, Scott Pruitt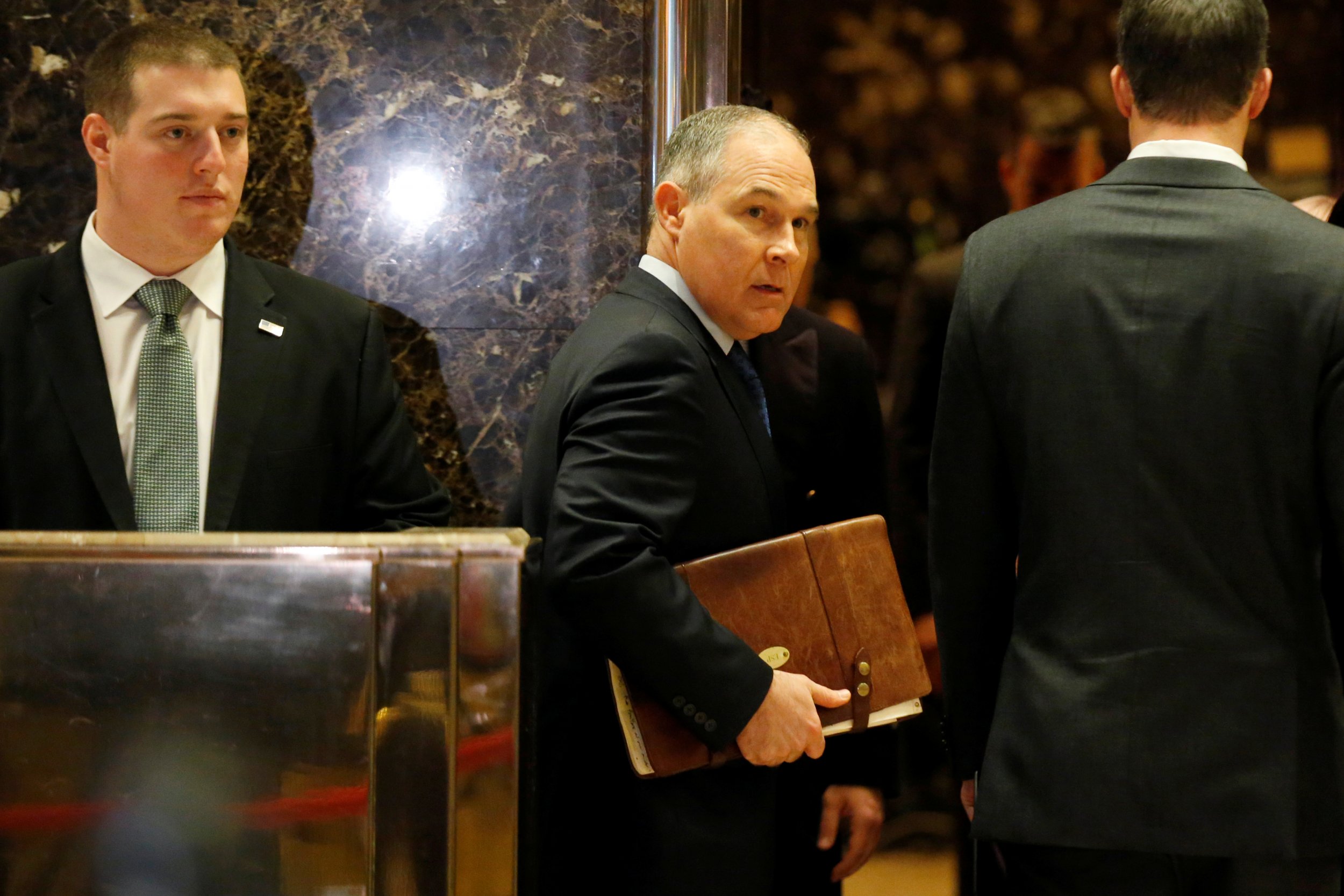 Updated | As Oklahoma's attorney general, Scott Pruitt joined several other states in suing the Environmental Protection Agency over its Clean Power Plan, an Obama administration policy aimed at reducing greenhouse gas emissions from power plants and factories. Pruitt has also sued the EPA, along with officials from other states, over its plan to regulate the fossil fuel industry's methane emissions. On his LinkedIn page, Pruitt says he is "a leading advocate against the EPA's activist agenda."
And he's now President-elect Donald Trump's expected pick to head the EPA, according to The New York Times and The Washington Post (which have a good run-down of Pruitt's record).
Environmentalists are largely outraged over the move, which signals that Trump is serious about dismantling Obama's environmental and climate legacy.
The appointment is "like putting an arsonist in charge of fighting fires," Michael Brune, executive director of the Sierra Club, said in a statement.
The head of the EPA has to be confirmed by the Senate, so there's a chance that lawmakers reject Trump's nomination.
Here's a list of reactions from environmental organizations and prominent environmentalists to Pruitt's appointment.
The Sierra Club [in full]:
"Having Scott Pruitt in charge of the U.S. Environmental Protection Agency is like putting an arsonist in charge of fighting fires. He is a climate science denier who, as Attorney General for the state of Oklahoma, regularly conspired with the fossil fuel industry to attack EPA p rotections.

"Nothing less than our children's health is at stake. Scott Pruitt, whose own bio describes him as ' a leading advocate against the EPA's activist agenda ' cannot be trusted to head the EPA, an agency charged with protecting all Americans from threats to their water, air, and health. We strongly urge Senators, who are elected to represent and protect the American people, to stand up for families across the nation and oppose this nomination."
Fred Krupp, president of the Environmental Defense Fund:
"Scott Pruitt has built his political career by trying to undermine EPA's mission of environmental protection. He is a deeply troubling choice to head the agency that protects the clean air all Americans breathe and the clean water we drink. Our country needs—and deserves—an EPA Administrator who is guided by science, who respects America's environmental laws, and who values protecting the health and safety of all Americans ahead of the lobbying agenda of special interests."
Rhea Suh, president of the Natural Resources Defense Council (via WaPo):
"Over the past five years, Pruitt has used his position as Oklahoma's top prosecutor to sue the EPA in a series of attempts to deny Americans the benefits of reducing mercury, arsenic, and other toxins from the air we breathe; cutting smog that can cause asthma attacks; and protecting our wetlands and streams."
Michael Oppenheimer, climate scientist, Princeton University: "EPA is a science-based agency. Pruitt gives the impression of disbelieving the scientific consensus on climate change. If that is the case, appointing him as administrator would be highly inappropriate. I hope the Senate examines his views on this issue closely."
Naomi Oreskes, professor of the history of science, Harvard University: "Carbon dioxide is a pollutant, and that has been acknowledged by policy-makers since the 1960s. Climate change caused by carbon dioxide is now causing measurable harms. Mr Pruitt, in defiance of science, economics, and the Supreme Court, proposes to place the interests of the oil and gas industry over the interests of the American people. We all believe in freedom, but, as the philosopher Isaiah Berlin noted, freedom for wolves means death for lambs. Right now it looks like a lot of lambs are about to be slaughtered."
David Levine, CEO and co-founder of the American Sustainable Business Council (an organization of "more than 250,000 business owners, executives and investors from a wide range of industries"):
"With Scott Pruitt's selection as administrator, Trump lays out the welcome mat for polluters at EPA. It also proves that the president-elect is more concerned about the fossil fuel industry and other polluters than with growing the economy and creating U.S. jobs through investments in clean energy. We will give other countries major competitive advantages over us if we fail to lead in building a clean energy industry here at home.

"This nomination also demonstrates a critical disregard for the impacts on businesses and the economy from climate change and extreme weather events… Mr. Pruitt has been a consistent critic of regulations that require industries to account for the costs they impose on the environment, often justifying his position based on flawed science. Climate scientists nearly unanimously find the opposite is true. Mr. Pruitt's selection signals a roll back of policies that have stimulated innovation and progress."
Ken Kimmell, president of the Union of Concerned Scientists: "Scott Pruitt is the wrong choice to run the EPA. The [agency] plays an absolutely vital role in enforcing long-standing policies that protect the health and safety of Americans, based on the best available science. Pruitt has a clear record of hostility to the EPA's mission, and he is a completely inappropriate choice to lead it… the U.S. Senate has the responsibility of approving the EPA administrator. It's this simple: if Senators take seriously their job of protecting the public, they must vote no on Pruitt."
Benjamin Schreiber, Friends of the Earth's climate and energy program director:
"By appointing Oklahoma Attorney General Scott Pruitt to head the Environmental Protection Agency, Donald Trump has made it clear that he intends to wage war on clean air and clean water. Trump has also put our climate in peril and shown he is out of step with the American people.

"As the Attorney General, Scott Pruitt did the bidding of the oil and gas industry and fought many of the laws he will now be tasked to enforce. He helped Big Oil turn Oklahoma into an Earthquake zone. "
Bill McKibben, environmentalist and author:
Kerry Emanuel, atmospheric scientist, MIT: "This appointment is consistent with Mr. Trump's plan to roll back efforts to confront a clear and present danger to our children [e.g. climate change] in favor of more profit for the one percent today."
James Rubin, environmental lawyer and a partner at the international law firm Dorsey & Whitney:
"The nomination of [Pruitt] will certainly raise alarms for environmental advocates and please foes of federal carbon regulation, given the positions he has taken his state on recent EPA regulations of power plants and oil and gas development. But these positions are rooted in issues of federalism—the limits of federal authority over matters some consider more appropriate for state regulation. It remains to be seen what his policies and perspectives are on the myriad of issues related to human health and the environment that Congress has tasked EPA with handling."
Sam Adams, director of the World Resources Institute (via Reason):
"The selection of Attorney General Pruitt, who has consistently questioned climate science and actively fought EPA's ability to reduce emissions, raises deeply troubling questions. The critical issue is whether EPA will continue to play its vital role in protecting people's health and safety in communities across the country."
David Arkush, managing director of the climate program at Public Citizen, a consumer rights group (via Reason):
"Oklahoma Attorney General Scott Pruitt is a terrible choice to run the U.S. Environmental Protection Agency. Pruitt is cozy with the oil and gas industry and treats the EPA like an enemy. Both of those positions put him at odds with what the American people want and what's best for the country."
Shaughnessy Naughton, board president of 314 Action (a group that champions Science, technology, engineering, and mathematics, or STEM, education): "Putting Attorney General Pruitt in charge of the EPA is like giving the keys to the henhouse to a self-proclaimed wolf... Pruitt's actions as Oklahoma's Attorney General already show that he is not interested in transparency when it comes to protecting the energy lobby. The people informing Mr. Trump's decisions on the pressing issue of climate change should be those who have studied the issue."
Trip Van Noppen, president of Earthjustice:
"Every American should be appalled that President-elect Trump just picked someone who has made a career of being a vocal defender for polluters to head our Environmental Protection Agency...

"He's been so cozy with polluter lobbyists that he let them draft comments about federal pollution limits, changed a few words, then copied it onto his official Oklahoma Attorney General stationery and submitted it as the comments of the people of Oklahoma. He has fought Environmental Protection Agency pollution limits on toxic substances like soot and mercury that put us all at risk for increased cancer, childhood asthma and other health problems. He falsely claims that fracking doesn't contaminate drinking water supplies…

"Earthjustice strongly believes that President-elect Trump should retract this announcement or the Senate should reject this nomination. The head of the Environmental Protection Agency should be making sure that our air is clean to breathe and our water is safe to drink, not working to make sure polluters make more money."
---
Read more from Newsweek.com:
- An environmental disaster is destroying black lives in Southwest Detroit
- The George W. Bush White House 'lost' 22 million emails
- What a Trump EPA could look like, with Myron Ebell at helm