Scott Pruitt's EPA Is Letting Industry Lobbyists Roll Back Environmental Protections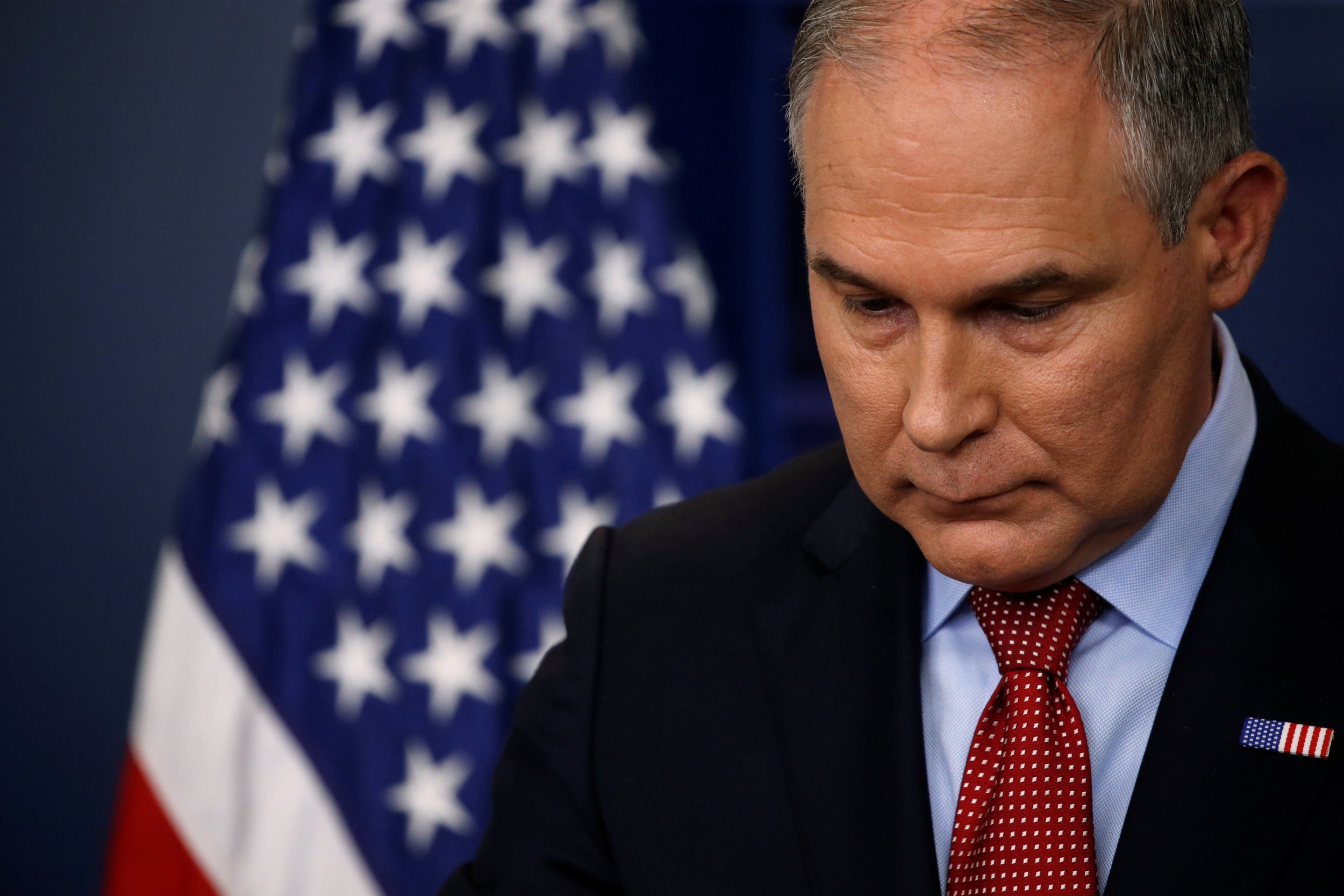 Updated | Scott Pruitt, the Environmental Protection Agency (EPA) administrator, is a public official uncommonly close to private industry. Goodwill toward corporations features prominently in his vision for the nation's natural resources.
That attitude—apparently present at least from his time as Oklahoma's attorney general, when he was seen as doing the bidding of energy concerns—became only more clear with Tuesday's announcement of the EPA's "Smart Sectors Program," which will allow regulated industries to have a greater say in how they are regulated.
In contrast to most environmental initiatives, Smart Sectors does not aim to protect the American public, the nation's waterways or its national parks. Instead, its purpose is to "reduce unnecessary regulatory burden," according to a listing in the Federal Register published in late September. As such, it represents something of a departure from what many see as the EPA's mission.
Environmentalists were outraged by the announcement. "Scott Pruitt is apparently done pretending; he is now openly selling out environmental protection in America to every corporate polluter he can find," Liz Perera, who directs climate policy at the Sierra Club, tells Newsweek.
"Make no mistake, that is exactly what this outrageous 'program' is designed to do," she says. "Pruitt is essentially hiring staff from polluter lobby groups to work directly with their former colleagues in order to more quickly eliminate public health and environmental safeguards. Every family in America is at risk because of Pruitt's dirty relationship with polluters."
"Scott Pruitt is the worst EPA administrator in history," said Tom Steyer, the California-based activist who founded NextGen America to advocate for green policies and politicians who will support them. "His only priority is to roll back protections so corporations can maximize their profits at the expense of destroying our air and water," Steyer added of Pruitt.
The EPA would likely counter that Smart Sectors is based on sound precedent. The program bills itself as a reinvention of Sector Strategies, an agency-industry partnership created by President George W. Bush in 2003. The Bush program was itself a reinvention of an arrangement fostered by President Bill Clinton, the Common Sense Initiative. Sector Strategies was canceled by President Barack Obama in 2009.
In a Tuesday press release, the EPA depicted Smart Sectors as the agency "partnering with trade associations that represent the engine of the American economy and significant opportunities for environmental improvement."
A trade association is a lobbying group, often named in a way to disguise its nakedly political aims. The American Iron and Steel Institute, for example, spent $709,975 on lobbying in 2016, according to publicly available records. Earlier this year, it joined other trade associations in pushing for a loosening of regulations regarding methane waste prevention. On Tuesday, the AISI sent several approving tweets about the EPA's plan "to develop a more sensible regulatory framework."
The sectors that will collaborate with the EPA on regulatory matters include mining, energy extraction, aerospace, agriculture, concrete production, chemical manufacturing and power generation. The goals of the partnership will include "decreased operating costs" and "lower costs for the American taxpayer." The final of six goals listed in the EPA press release is "better environmental protection."
EPA officials did not immediately respond to a request for comment sent early Wednesday morning. The agency's main spokesperson, Liz Snyder Bowman, comes to the EPA from the American Chemistry Council, a lobbying group for chemical manufacturers. One press release she appears to have authored for that organization in 2015 argues against the removal of phthalates from vinyl flooring. Research points to a causal relationship between phthalate exposure and an incidence of breast cancer.
Bowman did provide a statement to Newsweek on Wednesday afternoon. "The Smart Sectors program is certainly not a shift in regulatory powers to industry," the statement said in part. "Rather, it's a partnership program aimed at meaningful collaboration with industry sectors so that together we can find forward-thinking ways to improve environmental outcomes. The narrative that if you're pro-business you're not pro-environment was peddled by the previous administration, and we believe that it's false."
The new EPA initiative seems to only further the narrative that Pruitt is intent on canceling regulations that serve as a hindrance to business interests. Doing so would render the EPA as powerless as it has ever been since its creation by President Richard Nixon in 1970.
A recent New York Times review of his daily schedules found that Pruitt "has held back-to-back meetings, briefing sessions and speaking engagements almost daily with top corporate executives and lobbyists from all the major economic sectors that he regulates—and almost no meetings with environmental groups or consumer or public health advocates."
Days earlier, The Washington Post reported that Pruitt has installed a $25,000 communications booth, presumably so his conversations could not be monitored. "No previous EPA administrators had such a setup," the Post drily noted.
Smart Sectors will be headed by five EPA liaisons to industry who, according to the press release, will work closely with the trade associations. The press release does not plainly say that enforcing regulations, or enacting new ones, will be within the purview of the liaisons. Those do not appear to be primary Smart Sectors goals.
The program leader is Daisy Letendre, who until this summer was the communications director for Senator James Inhofe, Republican of Oklahoma, Pruitt's home state. Inhofe is among the staunchest deniers in Congress of human-caused climate change. "The claim that global warming is caused by man-made emissions is simply untrue and not based on sound science," he said in 2003.
Nena Shaw, who will also be one of the program's overseers, is a former lawyer with the firm Hunton & Williams, where, according to her EPA profile, she "represented corporate clients, including utilities, home builders, big-box retailers, and chemical manufacturers on environmental law issues primarily under the Clean Air Act and Clean Water Act."
Shaw has been with the EPA since 2007, according to her LinkedIn page, meaning she was hired during the Bush administration (she was not, however, a political appointee). She continued to serve under Barack Obama, but in 2015 was strongly criticized by a federal judge for slow-walking a Freedom of Information Act request by a conservative watchdog group. The judge said Shaw was "surely negligent" and "at best…demonstrated utter indifference to EPA's FOIA obligations" and "at worst…is lying," according to a Politico report on the ruling.
The other three administrators are Elizabeth Corona, Robert Sachs and Kristinn L. Sharpe. They are all longtime EPA employees.
This article has been updated to include comment by several parties.