New EPA Director is Working With Trump to End Auto Fuel Economy Standards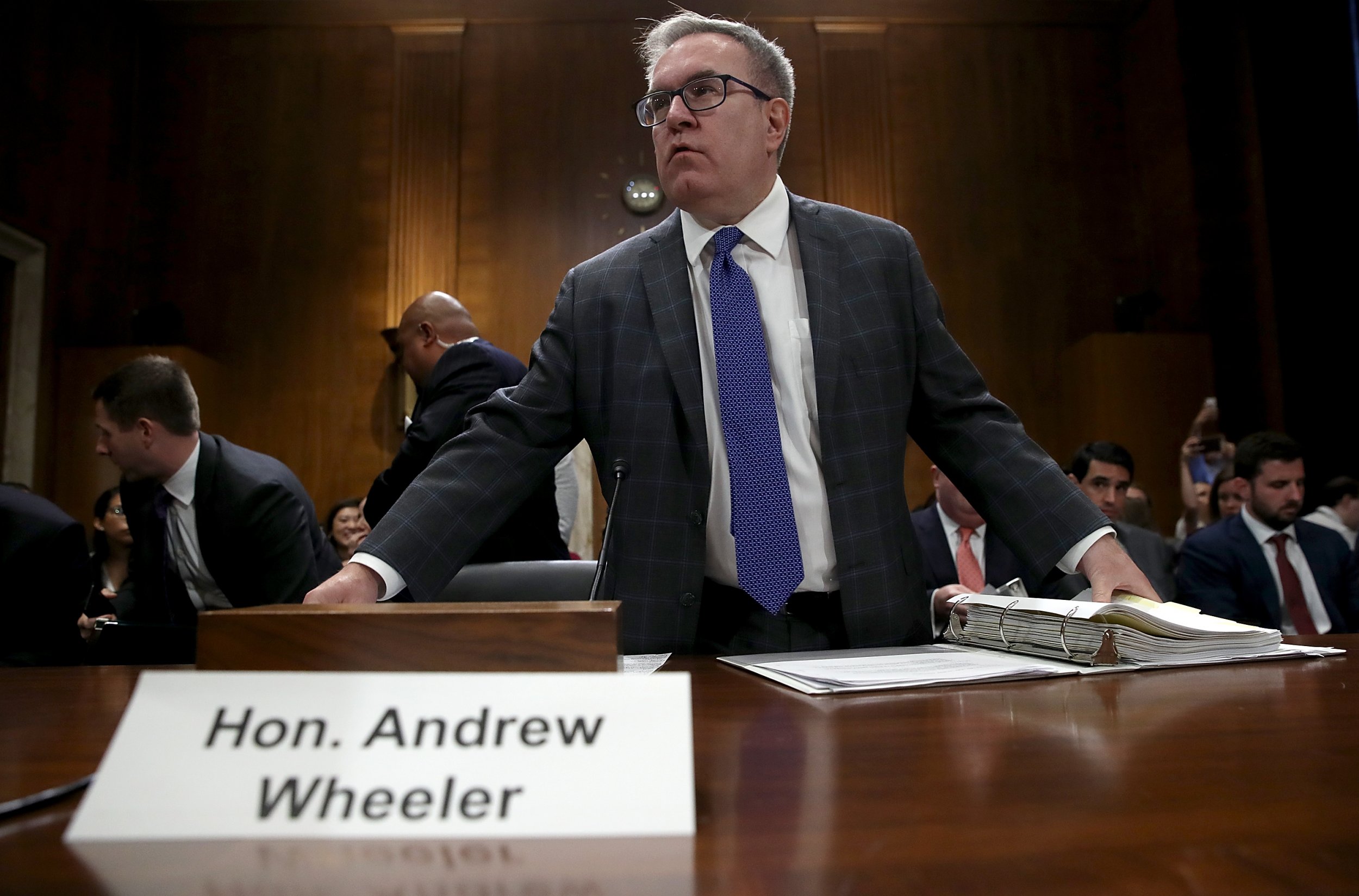 Acting Environmental Protection Agency director Andrew Wheeler joined Transportation Secretary Elaine Chao on Wednesday to champion the deregulation of national automobile fuel economy and greenhouse gas standards for all new automobiles produced in the United States.
The pair co-wrote an opinion piece for The Wall Street Journal titled "Make Cars Great Again," which advocated on behalf of a new policy proposal to remove Obama-era fuel efficiency standards. The proposal, released by President Donald Trump's White House on Thursday, would freeze all requirements on automakers to build green, fuel-efficient cars. The proposal would also ban individual states from setting their own emission standards.
Wheeler and Chao argued that these standards raised prices on cars, rendering them unaffordable to middle-class Americans. "The standards implemented by the previous administration raised the cost and decreased the supply of newer, safer vehicles," they wrote. "The government also previously failed to conduct a midterm review in the manner promised. Customers' preferences have also changed since the current standards were introduced."
The argument goes that emissions standards raise car prices, and Americans are holding onto older, unsafe cars because they can't afford new models. This leads to an increase in the number of deaths on the road. People who buy fuel-efficient vehicles also end up driving more, argued the Trump administration, increasing their chances of getting into an accident, and fuel-efficient cars tend to be lighter, increasing the chance of injury in the case of a crash. The White House says that ending these regulations would prevent about 12,700 automobile deaths over the next ten years.
Experts, however, are skeptical. "I don't know how they are going to defend this analysis," Antonio M. Bento, a professor of public policy and economics at the University of Southern California whose research is cited throughout the document, told The New York Times. "I just don't think it's correct."
Democratic opponents to the changes say that they undermine the environment in order to turn a profit. "The Trump Administration's move to weaken fuel economy standards in the United States proves once more that he cares nothing for preserving and protecting our environment for our kids and grandkids, or for supporting the market for smaller, fuel-efficient cars like the Chevy Cruze," wrote Ohio Representative Tim Ryan in a statement.
Major automakers, the companies the Trump administration says will benefit from these changes, have also urged the president not to freeze standards.
"We support standards that increase year over year that also are consistent with marketplace realities," Mitch Bainwol, chief executive of the Alliance of Automobile Manufacturers, told Congress in May.
Ford Motor CEO Jim Hackett and have signaled their desire for a compromise. "We're not asking the administration for a rollback," Ford Motors Chairman William Clay Ford Jr. told shareholders at the company's annual meeting. Ford CEO Jim Hackett added that, "Bill and I have been clear in our position that Ford is designing its business to exceed and meet those standards that were set previously."
General Motors CEO Mary Berra sent a company-wide letter emphasizing her commitment to fuel efficiency. "Regardless of the outcome of these discussions, I assure you, we have an absolute and unwavering commitment to improve fuel economy, reduce emissions and invest in technologies to drive an all-electric future," she wrote.