Epic Balloon Game Viewed Over 6 Million Times
TikTok and the COVID-19 pandemic have spawned some spectacular content, and two young men from Oregon treated everyone to another great game Thursday.
Antonio Arredondo and his brother Diego shared an epic round in the "Keep-up Balloon League" that has been viewed more than 6 million times on TikTok as of Friday.
Antonio, 21, Diego, 18, and their sister Isabel, 15, have been playing the game, a spin on the traditional game "Keep it Up," since January 2019, when Antonio shared the first highlight clip on Twitter. The goal is to keep the balloon off the ground while making it harder for his/her opponent to do so without any spikes, double touches or light taps.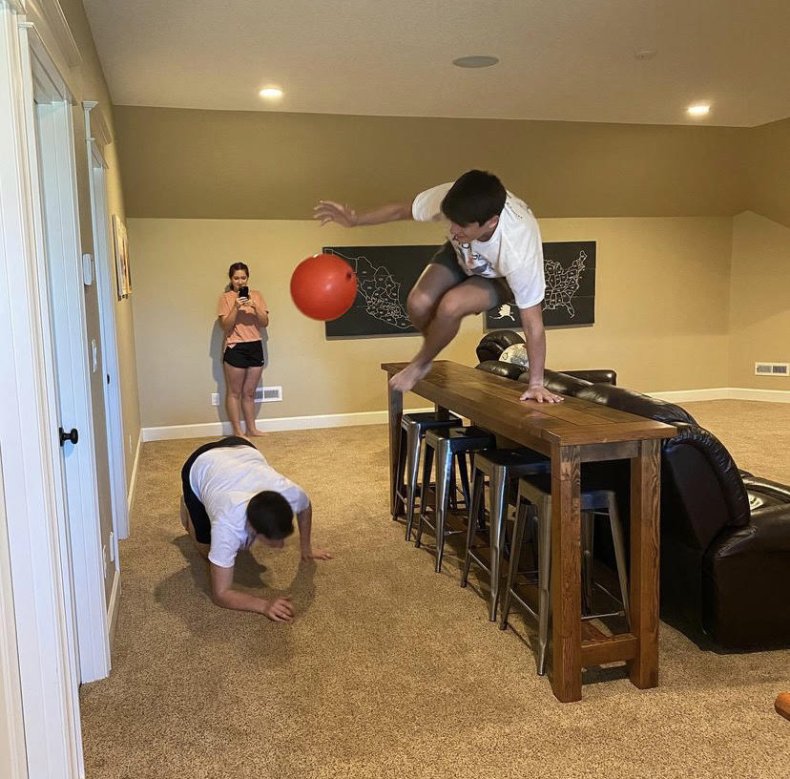 They play in their upstairs TV room, because according to Antonio it has "a lot of obstacles to dive across," and began recording clips to keep participants honest.
"It was an old childhood game that we made more intense," Antonio told Newsweek. "Being naturally competitive, we started recording the games in slow motion to see if the balloon touched the ground."
Antonio shared the clip from the initial game on TikTok on April 4, 2020, and it was viewed more than 7 million times on the social media platform—one of 30 videos to top 1 million views on the social media platform. They regularly record hour-long games then share the highlight footage on TikTok to their 370,000-plus followers in the subsequent weeks.
"Once it got traction online it only got more competitive from there," Antonio said.
Antonio, Diego and Isabel are generally the ones playing, but they've shared clips with their parents, cousins and even some friends participating as well. But the round between Diego and Antonio, recorded by Antonio's girlfriend Wednesday and shared Thursday, was the most competitive one to date. The clip featured diving stops by each participant, and a spectacular slow-mo save from Diego, to the point where the post was titled "Keep-Up Balloon League Round of the YEAR."
It also took off faster than any other previous video, as they watched the clip get more than 792,000 likes in about a day. It also was shared by many high-profile Twitter accounts, like the ESPN SportsCenter account, which was a dream come true for Antonio.
Antonio believes the intensity of the games, and an element of nostalgia, are what make the videos so popular.
"It's crazy that a fun game like 'Keep Up the Balloon' can generate so much interest online. I think most people just remember playing the game as a kid," Antonio said. "The internet is a strange place, but at the end of the day it all comes back to nostalgia. We love looking back at the good times and whenever we see something that reminds us of those times we want to see more."