If you listened to the war cries of YouTube reactionaries or members of the mobilized Twitter mob, you'd think the Epic Games Store was bad for the industry and gamers alike. But some developers are pushing back, describing a host of reasons why the Epic Games Store stands to benefit independent games.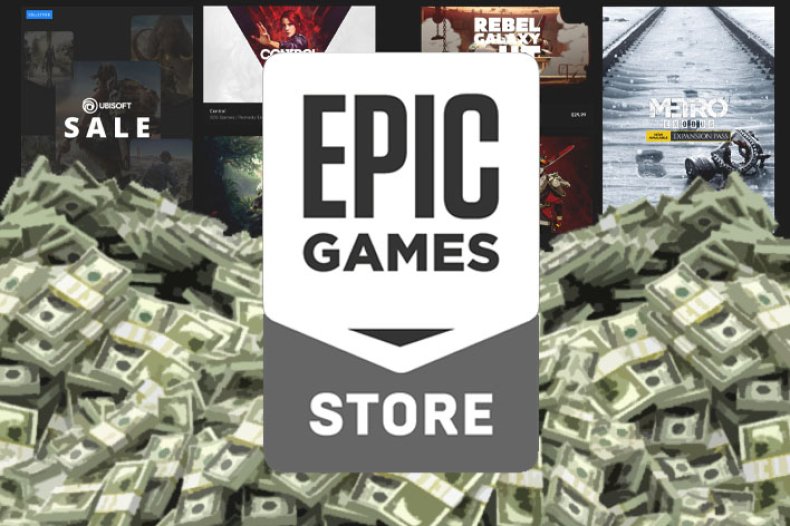 Launched in December of 2018, the Epic Games Store hosts indie and triple-A titles for PC users to purchase and play at their leisure. Over the past year, the store has become the center of a typhoon of controversy, with the loudest internet denizens despising the timed exclusives and incomplete feature set the store provides.
"The Epic Games store, I don't think I've wanted something to fail this much," YouTuber Griffin Gaming said in a video that's amassed over 300,000 views. "From restricting third party content to their garbage launcher to timed exclusives... Epic is doing their best to make the PC community hate them."
At best, its critics believe the store encourages anti-consumer behavior, and, at worst, it's seen as a front to destroy Steam and the entire gaming community. But not all developers agree with the sentiment.
The Epic Games Store Begins
Epic Games was founded in 1991 and experienced its first massive success with the monumental shooter Unreal in 1998. Licensing the Unreal engine — a suite of tools used in game development — helped transform Epic Games into a triple-A studio, with franchise titles like the gory Gears of War. It also attracted outside investment, including a 40 percent stake in the company being purchased by Chinese tech giant, Tencent in 2012. But Epic Games made its biggest splash in 2017 with Fortnite, which became a monstrous success after adding a free battle royale game mode the following year.
In 2018 alone, Fortnite managed to generate $2.8 billion for Epic Games according to Nielsen reports estimates, and the company was flush with excess capital. In December of that year, Epic announced it would be creating its own digital storefront to compete with the likes of Valve's Steam and CD Projekt Red's GOG. They offered a better deal for developers; taking only 12 percent of the proceeds earned through the sale of games, a much lower cut than the 30 percent procured by Valve. Developers that use Epic's Unreal engine who also host their games on the Epic Games Store have all royalty fees waived.
The Epic Games Store is still in its infancy and has a limited number of features compared to its competitors. Though cloud saves and a search bar were recently added, the EGS still lacks user reviews, wish lists, a shopping cart, achievements and gifting. A roadmap for when Epic hopes to implement these features is available to view on a public Trello board.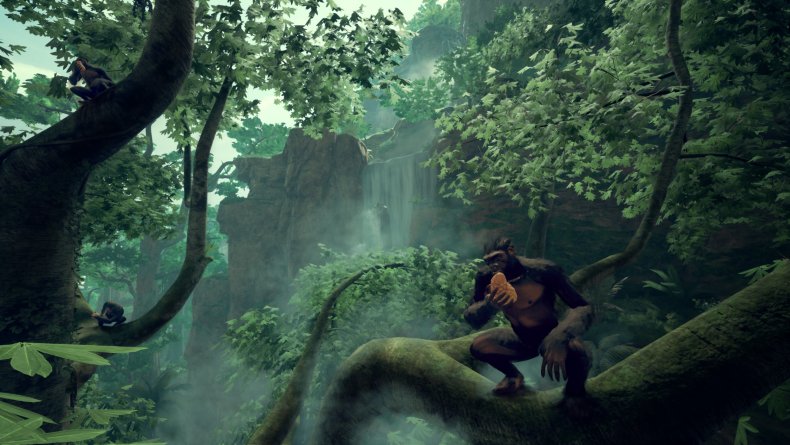 "Our partners benefit from having a one-on-one relationship with our business, development, and marketing teams,' Steve Allison, General Manager of the Epic Games Store told Newsweek. "We provide direct support in a number of ways including marketing and PR support, development support, as well as a direct connection to content creators who are part of our Support-A-Creator program."
For developers, making more money and having the backing of a tech giant like Epic Games does come with a trade off. In exchange for these resources, many developers agree to exclusively sell their PC games on the Epic Games Store. Not all games need to follow this exclusivity clause, but, according to Allison "we have very limited release bandwidth and are definitely prioritizing games with opportunities for exclusivity."
"We've seen that exclusives certainly work, despite being unpopular with some players," Allison said. "Our store business is growing at a healthy pace and we've had many successful launches for exclusive titles."
The Epic Games Store Issue
The concept of exclusivity has been a controversial topic amongst PC gamers. Epic Games CEO Tim Sweeney said on Twitter that Epic is looking to "fill around 100 release slots before the store opens up more widely" and is reaching out to hundreds of developers. While some are open to the trade off, not all have been accepting of the idea. Wlad Marhulets, developer of horror title Darq, turned down the deal offered to him by Epic. In a blog post, Marhulet said that taking the game off of Steam a few days after posting it "would forever ruin the credibility of my studio" (Marhulet did not respond to a request for comment by Newsweek).
Newsweek reached out to nearly a dozen developers with titles in the Epic Games Store. Most, including Panache, developer behind the recently released Ancestors: The Humankind Odyssey, refused comment. Glumberland, the developer of Ooblets, also declined to comment but recently posted a tongue-in-cheek defense of the Epic Games Store which was met with a tidal wave of controversy and death threats. "It's hard to see the effects or scope of what a massive mob of online harassment is doing to someone until you're on the receiving end of it," Ooblets developer Ben Wasserman said in a blog post.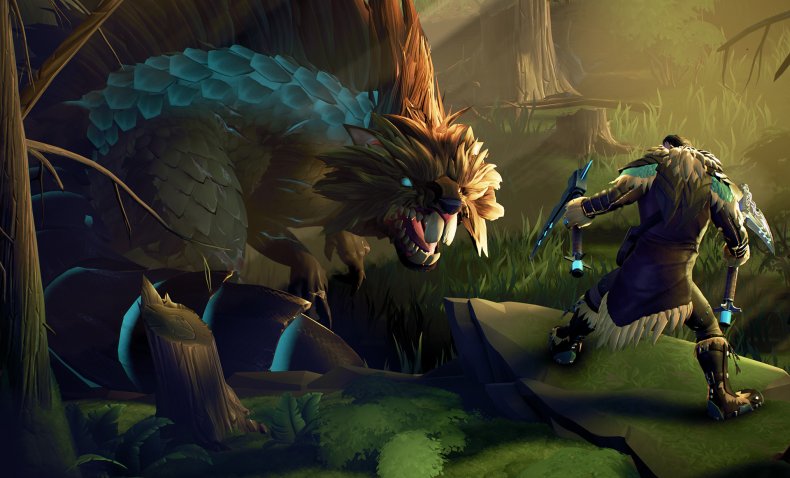 There were a few others willing to share their thoughts on the storefront.
Dauntless is a multiplayer hunting game, where groups of four players travel out into the world to slay dragons, dinosaurs and monsters. At the 2018 Game Awards, Dauntless was announced as an exclusive for the Epic Games Store six months before the title was set to launch.
"There was this initial burst of confusion on how this transition (into a new launcher) would work, but most of the response has been super positive," Nick Clifford, head of publishing at Phoenix Labs said. "We didn't say a directive; it was a conversation in an open, transparent matter about why we think this is best for the players."
The free-to-play action RPG conducted its beta using its own launcher but pivoted to the Epic Games Store upon full release. In mid 2018, Phoenix Labs, the studio behind Dauntless, met with members of Epic Games who were interested in starting their own online storefront at the time.
"The more we talked with them, the more the vision for their store and how they respect their players and want to do right by their players really resonated with us," Clifford said. "We entered into a partnership feeling really good [about] where each party was philosophically."
For Dauntless, the Epic Games Store switch has been a success, with the game quadrupling its early access user base to over 13 million players across all platforms. Clifford admits that not every game will be a good fit for the Epic Game Store and believes creators should "do what's best for your players and your product." This might mean launching on Steam, GoG "or a platform we don't even know about. Be honest with what your goals are as a developer and what's best for your community."
Spellbreak, developed by Proletariat Inc, is a magical battle royale where players hurl spells at each other to be the last wizard standing. Like Dauntless, Spellbreak started out in early access with its own launcher before partnering with the Epic Games Store for a closed alpha.
"Epic has been an excellent partner," Seth Sivak, CEO of Proletariat said. "They provide us with a responsive team that supports us with features we want or need for Spellbreak on the store side. On top of that, Epic has provided us valuable advice into the publishing and operations side based on their experience with Fortnite."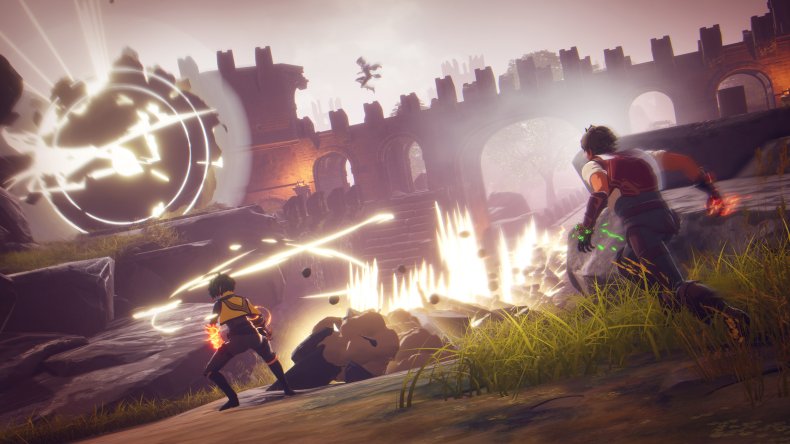 The idea of exclusivity gives players "heartburn, even though it has become pretty standard on consoles" Sivak admitted. Combine that with the lack of features "that players have become accustomed to," and he understands why some "players could be upset." For the Spellbreak developers, the key to connecting with these players is by being "genuine and exposing players to the actual people on the team, not a faceless entity. There will always be some bad actors, but that has been what has worked best for us," Sivak advised.
How Epic Games Helps Smaller Developers
Smaller indie developers without teams and marketing budgets can benefit from the resources of Epic Games. This week, a collection of new titles from smaller developers were announced as exclusives on the Epic Games Store at PAX West 2019. Before the games were officially revealed, a few developers shared their thoughts, concerns and worries.
Airborne Kingdom lets players manage a city that floats in the sky, tracking resources while avoiding the ground. Developed by four former triple-A developers at the Wandering Band studio, they feel that the assistance from Epic Games has helped them create. "Epic gives us the opportunity to focus on making the best possible game without having to cut any corners or lose control of our vision," developer Zach Mumbach said. "A more curated storefront where we can naturally find our audience keeps more of our focus on the game, and less worried about marketing metrics."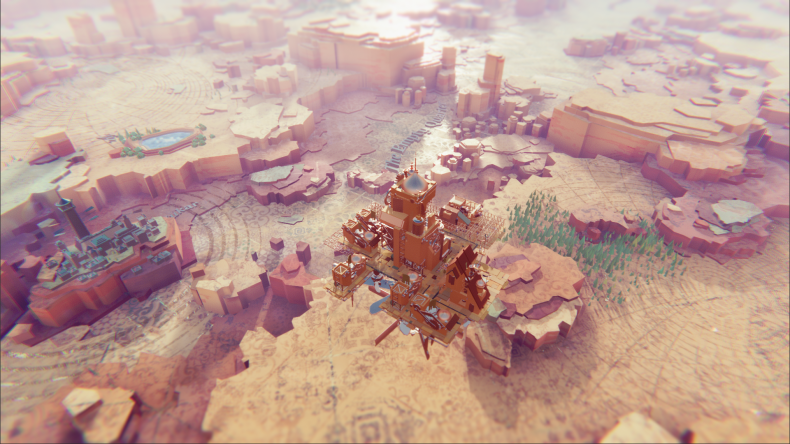 Mumbach and his team are aware of the potential for fan backlash after announcing Epic Games Store exclusivity, but said "we can't let that deter us from doing what we need to do in order to make our game as good as it can possibly be." He expects the announcement to spark "some interesting discussions" on their Discord, which they "will be happy to have." The game was listed on the Steam store but was taken down earlier this week.
"Gonna be sad to lose all those wishlists," Mumbach added.
"We know how tough it is to run an indie game studio, so seeing other developers get flack or even death threats for doing the best thing for their studios and games is a bummer," Mumbach said. "This industry is difficult and can be volatile, and securing funding without strings is a massive benefit to the final game that players get their hands on."
The funding and help from Epic Games has allowed some even smaller teams the chance at publishing their vision. Manifold Garden is an isometric 3-D puzzle game that reinvents the laws of physics. Started by William Chyr in 2012 as an experiment in game design, the project quickly blossomed into a full game over the next seven years. For the first three years Chyr worked by himself on the project, eventually growing to three full-time employees.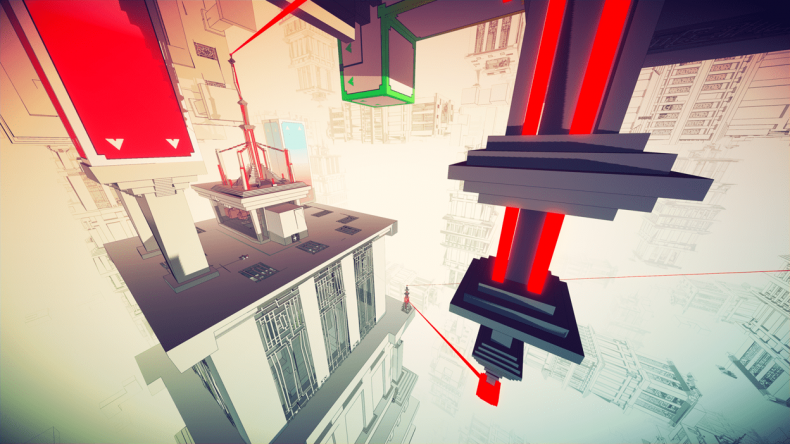 "A lot of people on the team have also foregone receiving a salary, so they're tied closely to the success of the game," Chyr said. "Thanks to the deal with Epic, I've been able to secure some stability for the team."
Chyr felt particularly relieved by marketing support the Epic Games Store offers Manifold Garden. "That anxiety for us has been removed," Chyr told Newsweek. "We can just focus on finishing the game."
Chyr does expect to receive some "pushback" from those online after seeing what's happened with other developers, but hopes "fans of (Manifold Garden) will understand my decision."
Developers who want to partner with Epic have a difficult decision to make. Announcing a financially stabilizing exclusivity deal can potentially enrage fans before the game is even released. Is receiving assistance from Epic enough to justify the hate and death threats creators may receive? For some, taking the risk has been worth it.