Epic Pictures Show Polish-Ukrainian Bomber Drone in Action Amid Russia Fears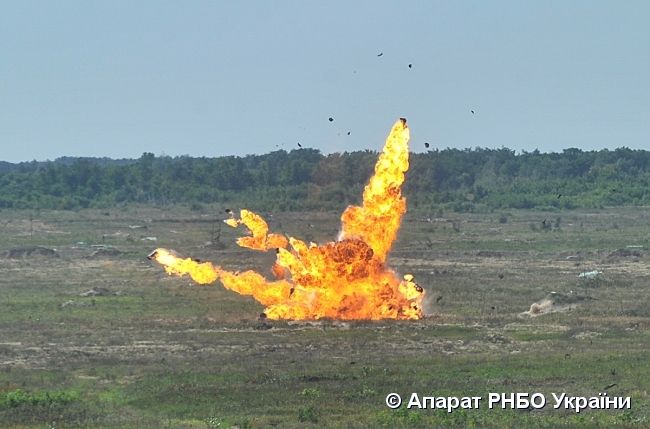 Ukraine has hailed the success of strike-drone tests as part of a project with neighboring Poland to develop unmanned military vehicles amid a three-year war with Russian-backed insurgents.
The Ukrainian military on Thursday tested the "Sokil" drone system, which consists of one reconnaissance and three strike combat drones, the head of Ukraine's National Security and Defense Council, Oleksandr Turchynov, said in a statement.
Turchinov said the tests, which took part in the Chernihiv region in northern Ukraine, showed that the Sokil system "can find and precisely hit targets using the high-explosive, blast-fragmentation, and thermobaric munitions" with which it was loaded. He said the drones operated successfully even though weather conditions were challenging, including high winds.
"Despite these problems, virtually all the tasks set were fulfilled, the targets were hit," he said, but he shared little about the specs of the drones. Ukrainian contractor Chezara is attached to the project, and the drones pictured resembled those made in Poland, which Turchynov announced Kiev intended to buy in 2014. The machines can carry cargo of up to 15 kilograms, including arms, Poland's public radio broadcaster reports.
The Security Council secretary said Ukraine will work to extend the range and "combat characteristics" of the machines, but the drones are destined for military duty soon.
"The tests were successful, they demonstrated the effectiveness of these unmanned systems," Turchinov said. "The next step is to add them to an armory and use effectively in combat conditions."
Since 2014, after popular protests toppled pro-Russian President Viktor Yanukovych, Ukraine has been fighting a pro-Russian insurgency in its eastern Donetsk and Luhansk regions. Russia has denied formally backing the militants in the Ukrainian regions at its border, but the well-equipped rebels, some of whom have confessed to being Russian troops upon capture, have held Ukraine's forces at bay in a war that has already killed over 10,000 people.
Poland, a NATO member, has been one of Ukraine's most vocal supporters, as Warsaw continues to fear its own border with Russia is covetously viewed by Moscow.
The Russian enclave of Kaliningrad in northern Poland is only a narrow corridor away from Moscow-allied Belarus. This so-called Suwalki gap has long been viewed by military commentators as a likely prime target for Russia, should it wish to overwhelm all three Baltic states, northeast of Poland.
Belarusian and Russian troops recently kicked off a drill in this region, and Poland and others have accused Russia of seeking to ramp up its reach in the region.