EpiPen Shortage: How to Replace Your Device, Check Expiration
Calling all EpiPen users. The Food and Drug Administration (FDA) announced on Wednesday that two of the three epinephrine auto-injectors on the market are suffering a product shortage. The shortage includes EpiPens, which are pre-filled devices used to treat life-threatening allergic reactions known as anaphylaxis.
The FDA announced that EpiPens, which are manufactured by Mylan, are dealing with "intermittent supply constraints due to manufacturing delays from the manufacturing partner, Meridian Medical Technologies, a Pfizer company."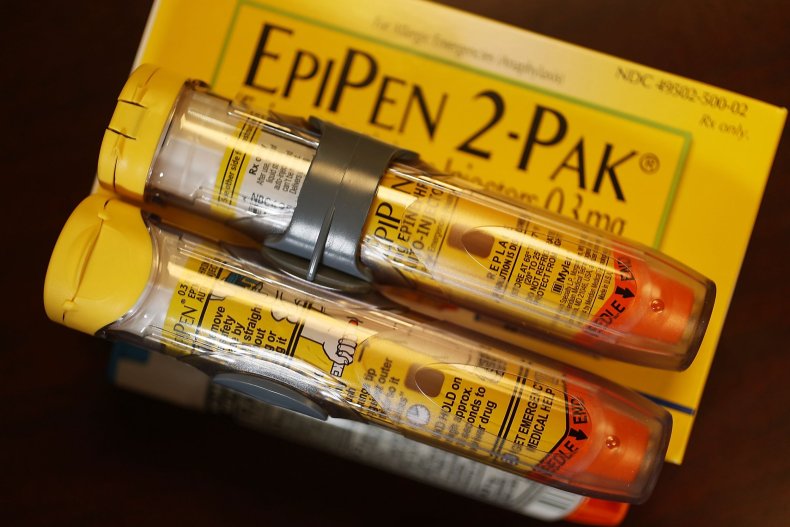 "Pfizer takes very seriously the importance of EpiPen to everyone who needs it, and we are working tirelessly to increase production as rapidly as possible," Pfizer said in a statement posted online. "We are currently shipping EpiPen, with production increasing over the last few months and anticipated to continue to increase and stabilize over the coming months."
Pfizer did not immediately respond to a request for comment. In its own statement, Mylan maintained that it is receiving a "continual supply" from its manufacturing partner and is "expediting shipment to wholesalers upon receipt."
Finding EpiPen Expiration Date
Finding whether your EpiPen has expired is fairly easy. Expiration dates are located towards the top of the auto-injector on the left flap. You will see a black square with a lot number and expiration date on both EpiPens.
Dr. James Baker, CEO and chief medical officer at Food Allergy Research & Education (FARE), told BuzzFeed News that studies suggest patients can use epinephrine auto-injectors in an emergency for six months after they expire. After the six month mark, there is "significant degradation of the material," he said.
How to Replace Your EpiPen
If your EpiPen has expired, you should contact your primary care physician for a replacement as soon as possible. The FDA says that patients experiencing difficulty accessing EpiPens should contact Mylan Customer Relations at 800-796-9526 for help locating alternative pharmacies. Mylan also offers a My EpiPen program that sends out reminders before the devices expire.
Other Epinephrine Auto-Injectors
The FDA revealed that a second, generic epinephrine auto-injector called Adrenaclick, developed by Impax Laboratories, is also experiencing a shortage due to "good manufacturing practices." A third type of device, called Auvi-Q by Kaleo Pharmaceuticals, is not experiencing a shortage, the FDA said.
"Whether [patients] use the Auvi-Q or one of the other devices or they go to their physician to get epinephrine, they need to have epinephrine with them," Baker told Buzzfeed.