The Winners of the World's Largest Panoramic Photo Contest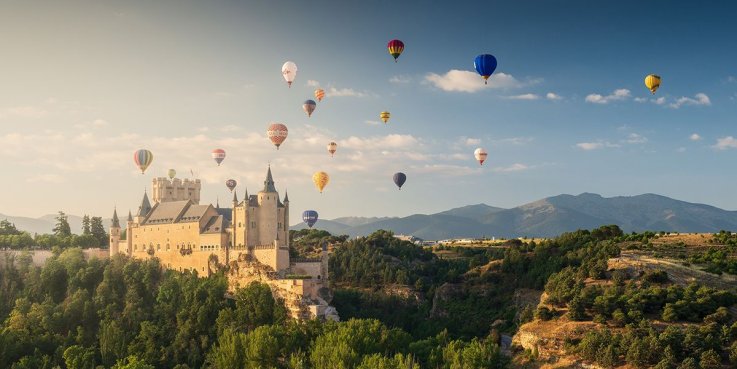 A panoramic shot of a misty sunrise in Tuscany has claimed the top prize in the 2018 Epson International Pano Awards, the largest panoramic photography competition in the world.
"I shot this picture during [a] spring morning in 2017," said Bulgarian competition winner Veselin Atanasov. "I remember that I had a 70-200mm lens attached to my camera, and the scene in front of me required a wide-angle lens.
"The sun was quickly rising upward and I decided not to miss this moment while replacing a lens, so I shot the scene through the panorama of several frames from my hand without [a] tripod."
Atanasov's winning shot was one of almost 5,000 entries from 1,251 photographers in 74 countries, competing for more than $50,000 in cash and prizes.
The runner-up was Daniel Eisele from Germany, who submitted an image of an apartment complex in Gifu, Japan. Seen from a distance, the apartment block resembles a geometric, abstract pattern, with residents barely visible.
Nathaniel Merz won the Amateur competition with his shot of a snow-covered pine tree on a rocky mountain in South Korea. "At first, I was greeted by almost total whiteout conditions, but as I waited near this tree the fog began to move in and out just enough that the light was able to pour in and illuminate the tree and the surrounding fog in beautiful warm light," said Merz. "It was one of those moments where, thankfully, everything came together."
Other winners and runners-up included shots of a blue whale skeleton, the northern lights and a thunderstorm electrifying the Grand Canyon.
The judging panel this year included some of the world's top panoramic photographers and industry professionals, including Jeff Mitchum, Karl Strand, Mark Handy, Mel Sinclair, Abe Blair, Juan Pablo de Miguel, Adam Williams, Anna Gibiskys, Isabella Tabacchi, Darren Moore, Thomas Erh, Aaron Spence and Bill Bailey.
"It is fantastic to see how the scale and the depth of the competition has evolved," Craig Heckenberg of Epson Australia, who sponsored the awards, said. "The great thing about photography is that the rewards and challenges are very personal; every photographer is on their own journey."
We've collected the winners, runners-up and standout images from this year's competition, which showcase the best of global panoramic photography.