Epstein Lawyers Say Evidence 'Far More Consistent' With Murder Than Suicide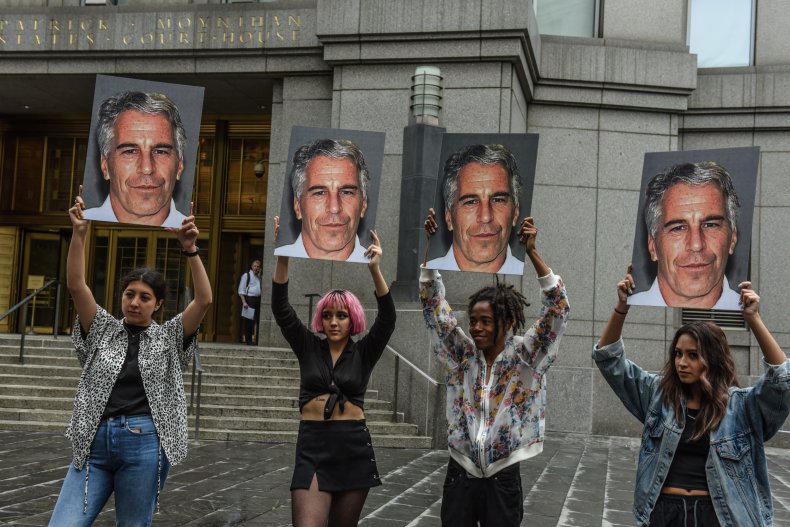 Federal prosecutors on Tuesday took one of their final steps in winding down the sprawling criminal case against Jeffrey E. Epstein, the Manhattan financier and alleged sex trafficker who died by apparent suicide earlier this month.
Epstein's defense attorneys, however, sought to prolong the case's remaining proceedings, asking U.S. District Judge Richard M. Berman to use the court's "inherent authority" to probe the death of their former client.
The defense also threw already rampant suspicion surrounding Epstein's untimely death into further uncertainty when they alleged that they have evidence suggestive of an incident "far more consistent with assault" than suicide.
They told the judge they could provide the court with this evidence to support their assertion.
Epstein is believed to have killed himself in his jail cell in the Special Housing Unit of the Metropolitan Correctional Center on August 10.
"We did not see a despairing, despondent, suicidal person," one of the defense attorneys announced to a packed courtroom in Lower Manhattan on Tuesday, adding that he was troubled by reports that surveillance cameras recording the surroundings of Epstein's cell "were either corrupted or not functioning."
Defense counsel further alleged that the medical examiner who concluded that suicide was the final cause of death only saw nine minutes of footage from one security camera to help arrive at that determination.
Attorneys representing the government asked the judge to terminate the proceedings, saying that the current legal landscape leaves them little if any room to continue a case after the pre-trial death of a charged individual. Attorneys for Epstein asked Berman to formally investigate Epstein's apparent suicide, though there are already several announced probes into the matter originating from the Department of Justice and the Federal Bureau of Investigation.
Victims' attorneys likewise told the judge that an independent judicial probe would provide their clients with some measure of confidence in the outcome.
At one point, defense counsel invited Berman to tour the Metropolitan Correctional Center himself.
"There are conspiracy theories galore," one of the attorneys said. "What if the tapes only broke down on the day he was killed or he died?"
A defense attorney also suggested, citing a "person with knowledge," that defendants awaiting trial at the correctional center are kept in more "dreadful" conditions than suspected terrorists who are harbored at Guantanamo Bay.
A second defense counsel announced that "we have a profound problem with the conclusions of the medical examiner." He explained that the death occurred just around the time Epstein's lawyers were going to pursue an appeal regarding some of the preliminary decisions made before trial. They thought they had a high chance of success because, as his defense counsel colleague put it, lawyers involved in the original 2008 non-prosecution agreement that largely let Epstein off the hook for the full measure of the allegations levied against him said it was "global," meaning that New York prosecutors would not be allowed to pursue this case.
Citing lawyers involved in the 2008 agreement, the attorney told Berman that "every one of those lawyers believes" that the New York case should not have been allowed to proceed. Given their faith in the strength of this argument, they allege, Epstein's decision to take his own life was somewhat inexplicable.
The judge also spent much of his prefatory remarks scorning a New York Law Journal article released yesterday which argued that Tuesday's hearings should not turn into a courtroom "drama" for victim testimony. The judge rebuked the authors of the article for citing no legal authorities and, in an unexpected turn, frowned upon the apparent connection between an individual involved in the article's publication and Epstein, which the journal did not disclose.
"I would respectfully say it's incorrect as a matter of law," the judge said about the law review article's recommendations to exclude victim testimony.
Berman acknowledged the "stunning turn of events" that took place over recent weeks and said that Tuesday's hearing is "the preferred vehicle for [the] resolution" of the case, which contained trafficking allegations involving just three victims and three alleged employee-conspirators. But the indictment and public reporting is suggestive of a broader network encompassing dozens of young women and girls who have accused Epstein and his alleged collaborator Ghislaine Maxwell of perpetrating a vast conspiracy to abuse and traffic underage girls.
"I believe it is the court's responsibility and manifestly within its purview that the victims are treated fairly and with dignity," Berman concluded in his remarks.
Berman did not announce a final decision regarding the government's motion to dismiss the charges, though a dismissal is expected to be forthcoming. The government reiterated its position that their broader investigation remains open and will continue to pursue any potential conspirators.
"This dismissal in no way lessens the government's resolve to stand up for victims in this case," a representative of the U.S. Attorney's Office said, adding that inquiries into other allegations "have been ongoing, remain ongoing and will continue."
The government lawyer said that it is the "purview of a Grand Jury to investigate crimes" and that there is an "ongoing" Grand Jury investigation into Epstein's death.
This article has been updated to clarify a quote from one of Epstein's defense attorneys.