Nancy Pelosi Should Investigate Jeffrey Epstein's Enablers, Including Donald Trump, Women's Group Says
National women's advocacy group UltraViolet is calling on House Speaker Nancy Pelosi to investigate all of Jeffrey Epstein's enablers, including President Donald Trump, after the billionaire was charged with sexually abusing dozens of underage girls.
On Monday, federal prosecutors in Manhattan unsealed new sex trafficking charges against Epstein. The indictment states that Epstein paid hundreds of dollars to girls (some as young as 14) to have sex with him at his residences in New York and Florida between 2002 and 2005. Allegations of the abuses have circled around the politically connected financier for years.
Following the charges brought against Epstein, UltraViolet's executive director Shaunna Thomas issued a statement calling on Pelosi to probe the political figures who helped protect Epstein from prosecution. The group specifically called for President Trump and Labor Secretary Alex Acosta to be investigated.
"Speaker Pelosi can and should open a full investigation into why child sexual predator Jeffrey Epstein was protected over the survivors of his abuse," the statement reads. "The American people cannot afford a President and Labor Secretary who would rather shield wealthy sexual abusers from prosecution than protect sexually trafficked teenagers."
Pelosi commented on the latest Epstein charges late Monday evening, writing on Twitter that Acosta should resign from the Department of Labor.
Christine Pelosi, Pelosi's daughter and a Democratic National Committee official, tweeted on Sunday that the Epstein case is "horrific" and that the victims deserve justice. She also warned that "it is quite likely that some of our faves are implicated but we must follow the facts and let the chips fall where they may - whether on Republicans or Democrats."
While Christine Pelosi did not elaborate on what "faves" she was referring to, Epstein has been linked to several influential figures like President Trump, former President Bill Clinton and Prince Andrew, Duke of York.
In 2007, Epstein pleaded guilty to two state prostitution charges in Florida but only served 13 months in prison. The arrangement later came under heavy scrutiny when the Miami Herald reported in 2018 that Acosta, who was serving as the U.S. Attorney on the case, gave Epstein the "deal of a lifetime."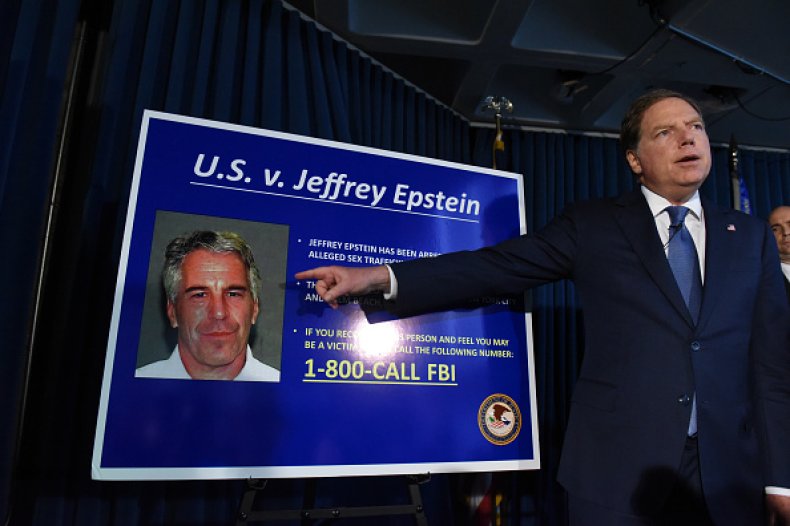 After the deal was made, Epstein's lawyer wrote Acosta a letter thanking him for the agreement. Epstein's lawyer had noted that Acosta assured him he wouldn't reach out to any of the individuals or witnesses identified in the case.
Acosta defended the deal during his confirmation hearing in March 2017, saying it was the only way to make sure that Epstein would serve time behind bars. He also praised the deal because it forced Epstein to register as a sex offender.
"At the end of the day, based on the evidence, professionals within a prosecutor's office decide that a plea — that guarantees that someone goes to jail, that guarantees that someone register generally and that guarantees other outcomes — is a good thing," Acosta said.
After the Miami Herald report of Acosta's dealings with Epstein, former White House press secretary Sarah Sanders said the administration would look into the situation. But the labor secretary has kept his position. The Justice Department announced in February that it had an inquiry into "allegations that Department attorneys may have committed professional misconduct in the manner in which the Epstein criminal matter was resolved."
In 2002, Trump told New York magazine that he had known Epstein for 15 years and that he was a "terrific guy."
Epstein was once a member of Trump's Mar-a-Lago golf course in Florida and was even once flown out to the resort from Trump on a private jet. But according to court documents, Epstein was banned from the club by Trump after assaulting an underage girl.
"He's a lot of fun to be with. It is even said that he likes beautiful women as much as I do, and many of them are on the younger side. No doubt about it – Jeffrey enjoys his social life," Trump told New York.