Ocasio-Cortez, Aaron Rodgers Join Women's #EqualPay Demands After U.S. Soccer Team Victory Chants
Fans chanting "equal pay" during the U.S. Women's National Soccer Team's second consecutive World Cup victory Sunday reinvigorated calls for the sports' administrators to match the champs' salaries to those of the professional men's league.
The #EqualPay hashtag trended Sunday afternoon as several high-profile U.S. figures, including New York Congresswoman Alexandria Ocasio-Cortez and tennis legend Billie Jean King joined ongoing calls for the the women's team to receive equal pay to their male counterparts.
All 28 players on the back-to-back U.S. women's championship team filed a federal lawsuit against the U.S. Soccer Federation in March. And star player Megan Rapinoe has railed against FIFA, the sport's global governing body, for allowing "incremental change" instead of a complete overhaul of investment between the men and women's leagues.
Fans of the U.S. team could be heard chanting their demand for "equal pay" during Sunday's 2-0 victory over the Netherlands.
"US fans now chanting 'Equal pay! Equal pay!' A reminder that the entire #USWNT is suing US Soccer, and Pinoe lit FIFA up yesty for its abysmal treatment of the women's game," remarked USA Today columnist Nancy Armour, in a tweet quoted by Ocasio-Cortez Sunday after the win.
"At this point we shouldn't even be asking for #EqualPay for the #USWMNT - we should demand they be paid at least twice as much ," the Democratic congresswoman tweeted.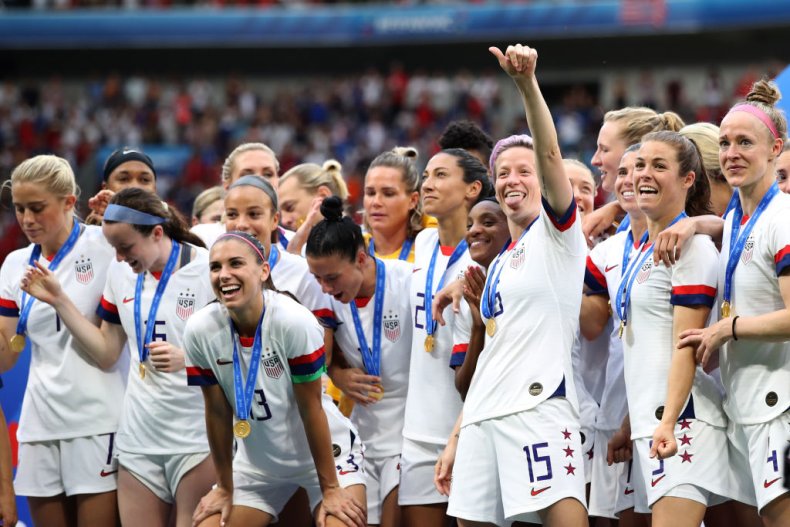 In March, every member of the U.S. women's team filed a lawsuit in California federal court citing federal equal pay and civil rights protections in the complaint.
"This is true even though [the women's team] performance has been superior to that of the male players—with the female players, in contrast to male players, becoming world champions," notes the lawsuit. "[F]emale players have been consistently paid less money than their male counterparts."
The players' lawsuit is separate from, but related to, another issue of equal pay involving women's soccer — the amount paid by FIFA for World Cup success.
In May, Rapinoe told the Associated Press that FIFA has "unlimited resources" and criticized the steps executives have taken to balance the large pay gap. Last year, FIFA doubled prize money for the women to $30 million from the amount four years before. But this pales in comparison to the $440 million the men's teams stand to make at the 2022 World Cup in Qatar.
"I would like to see a major paradigm shift and sort of a major overhaul," Rapinoe said in May, criticizing the "incremental change" from FIFA. "There's been such a lack of investment for all of these years, and such a lack of care and attention that doubling or tripling or quadrupling investment, care, attention to the women's game I think would be appropriate."
Several women's soccer players' unions in Australia, Norway, Sweden and New Zealand have joined the Americans in calling for "substantial investment" to be made in the women's game.
Figures ranging from Green Bay Packers quarterback Aaron Rodgers to billionaire Bill Gates joined the #EqualPay calls Sunday, but many others lashed out at the concept as unreasonable and absurd in terms of advertising and television sales comparisons.
Critics also continued to cite a 2017 match between the women's team and a Dallas academy under-15 boys team that defeated them 5-2.
"It's all about advertising dollars and tv contracts! If people aren't watching then companies aren't lining up for advertising. Then the players get paid less !!! It's called economics I'm sure you will blame Trump tho somehow Dig deep [you'll] find a way," remarked one top comment to Ocasio-Cortez, citing a common argument on social media.
But other major figures outside of Ocasio-Cortez, including California Senator Kamala Harris have repeatedly blasted the $730,000 gender pay gap first revealed by The Guardian.
"The USWNT scored more goals in their first World Cup match against Thailand than the U.S. men's team scored in the 2010 and 2014 World Cups combined. We're beyond past time to pay these championship athletes what they deserve," she tweeted last month.
The report showed that if the women's team received at least six times less than their male soccer counterparts in tournament bonuses and pay.