Equatorial Guinea Condemned for Suspicious Executions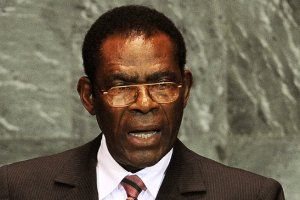 Human-rights groups and opposition parties have condemned the execution of four of Equatorial Guinean President Teodoro Obiang's rivals, found guilty of plotting a coup and killed just an hour later. They allege that the deaths were suspicious, and no more than "political assassinations."
According to the Associated Press, the government on Saturday convicted four men, Jose Abeso Nsue, Manuel Ndong Anseme, Alipio Ndong Asumu and Jacinto Micha Obiang, of "terrorism, high treason, attempting to assassinate the head of state, and to overthrow the government" in connection with a coup plot in February 2009.
The government said in a statement that the four, all former government or military officials who had been living in exile in Benin, had received a fair trial. They were executed immediately afterward. Abeso Nsue had asked to see his wife and son when the sentence was handed down, according to Amnesty International. He was dead before they arrived.
Amnesty International alleges that the men had in fact been abducted last January from Benin, where they had been living for years—including at the time of the coup attempt—by Equatorial Guinean security forces. They were taken to the the notorious Black Beach prison and tortured until they confessed, the organization said.
The main opposition coalition said that the trial, a military tribunal, was flawed and that the men had not been in the armed services for decades and deserved a fair civilian hearing. The Convergence for Social Democracy in Equatorial Guinea called the executions "an atrocity" and "political assassinations," according to the AP.
"These men were convicted after an unfair trial," said Erwin van der Borght, Amnesty's Africa program director, "sentenced to death and executed with chilling speed without having the slightest opportunity to appeal their sentence." He added that "Equatorial Guinea must put an end to the abductions, torture, and executions it currently carries out under the pretense of justice."
While the people of the oil-rich West African state live in abject poverty, Obiang and his government are widely accused of breathtaking graft. The president owns several lavish properties around the world, and his sons are playboys who travel the world in fast cars and yachts. Reports of Rodeo Drive shopping sprees and assignations with pop stars are not uncommon.
One son, also named Teodoro, lives part of the year in his $35 million Malibu, Calif., estate. The State Department, according to one internal source who did not want to be named discussing such a sensitive issue, is loathe to crack down—by denying visas—on the excesses of a regime that controls so much oil. American companies like ExxonMobil, Hess, and Marathon, according to The New York Times, dominate the production of 400,000 barrels of oil a day in Equatorial Guinea.