Equinox Owner Hosting Trump Fundraiser Sparks Petition Asking Gym to Cut Support for President
Equinox owner Stephen Ross is slated to host a fundraiser for President Donald Trump on Friday, but not everyone is happy about the event.
Ross is the majority owner of Related Companies, the parent company of Equinox Fitness, which owns Equinox gyms, along with SoulCycle, PURE Yoga and Blink Fitness.
The fundraiser will take place on Friday in Southampton, New York, and Trump is expected to be in attendance. All proceeds will benefit Trump's re-election campaign. Tickets for Ross' fundraiser, which is one of many taking place in the Hamptons this weekend, begin at $100,000 and cap at $250,000. The lowest price tier invites attendees to lunch and a photo-op with the sitting president.
A petition surfaced on Change.org asking Equinox to cut ties with Trump support, saying Equinox gym is a place that seemingly supports inclusive and diverse views. "We joined this gym because we believed it shared our values," wrote petition creator Wilson Cruz-Echevarria. "We believed it was a safe space for people like us. We believed that we were supporting a company that was inclusive, accepting and celebrating our diversity and supporting our physical and mental health as a community."
It continues: "You have a MORAL obligation to be all of those things for your members. Supporting this administration and the myriad of ways in which it undermines and endangers members of our communities is UNACCEPTABLE and if this fundraiser indeed does take place we will be looking for another gym to give our money to and we will be calling on our networks of LGBTQ and POC friends to do the same."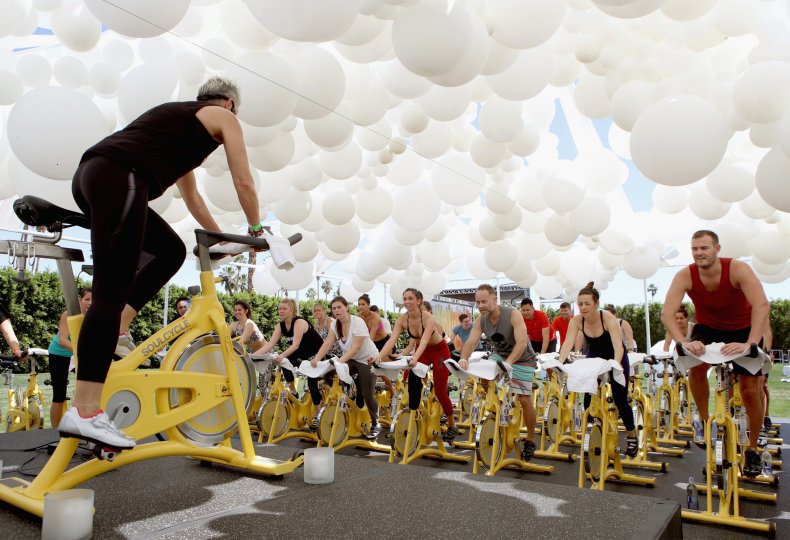 For $250,000, the generous donors will not only get a photo with the president but will be invited to a small roundtable conversation with the politician.
Some Equinox and SoulCycle subscribers spent Wednesday sharing the news of Ross' Trump support, seemingly with a goal of encouraging other gym fanatics to drop their memberships or to be aware that the owner of the business is supporting the president's agenda.
One Instagram account, belonging to jewelry company Cartography, shared the news with a prompt for other gym companies to host promotions in order to sign members formerly committed to Equinox brands. "Here's hoping that Crunch, Gold's, 24-hour fitness and others have some promos to take your money out of the hands of this racist a**hole," shared @cartographynyc on Instagram.
Another social media user, @erepstein on Twitter, encouraged other users to write Equinox with their distaste for the owner's Trump support. The user shared their letter to Equinox, along with an email address others can use to write in. The letter explained that the gym chain is largely supported by the LGBTQ community and other communities that some claim Trump has worked to oppress. "The idea that Ross is asking $100,000 to $250,000 from people to host an alleged criminal who seeks my oppression is not just offensive, it's dangerous," the user wrote.
Ross' net worth lies around $7.7 billion, according to Forbes. Trump's 2020 re-election campaign, called Trump Victory, has already raised around $67 million, according to the Washington Post.
Neither SoulCycle nor Equinox immediately responded to Newsweek's request for comment.