ER Doctor Treating Coronavirus Says he Still Doesn't Have a 'Rapid Diagnostic Test Available': 'This is a National Scandal'
A New York City doctor specializing in infectious diseases called a limited ability to test for the COVID-19 coronavirus in the U.S. a "national scandal" on Monday.
Dr. Matt McCarthy made the remarks during an appearance on CNBC's Squawk Box. He suggested that while only one patient has been confirmed to have the virus in New York, the true number is likely to be much larger due to inadequate testing capabilities in the state.
"In New York state, the person who tested positive was only the thirty-second test we've done in this state. That is a national scandal," said McCarthy. "They are testing 10,000 a day in some countries and we can't get this off the ground. I'm a practitioner on the firing line and I don't have the tools to properly care for patients today. "
Test kits initially sent to medical professionals by the Centers for Disease Control and Prevention (CDC) proved inaccurate. The CDC has developed a new version and reported a capacity to test 75,000 people as of Saturday. The new kits are said to be currently shipping across the country.
McCarthy, who works in the bustling emergency room of NewYork-Presbyterian Hospital, said that improved ability to test for the virus can't happen quickly enough.
"We hear that it's coming very soon, but I'm telling you right now at one of the busiest hospitals in the country I don't have it at my fingertips. I still have to call the department of health, I still have to make my case, plead to test people, this is not good."
Newsweek reached out to the CDC for comment but did not receive a response in time for publication.
Former FDA Commissioner Dr. Scott Gottlieb also appeared on the program and suggested that testing capacity could be increased to around 10,000 per day by the end of the week. McCarthy said that lack of testing meant there could actually be hundreds of cases in New York and thousands in the U.S., far more than the official figures.
Even without increased testing, the number of U.S. coronavirus cases has quickly risen in recent days. There were 99 confirmed cases including six deaths as of Monday.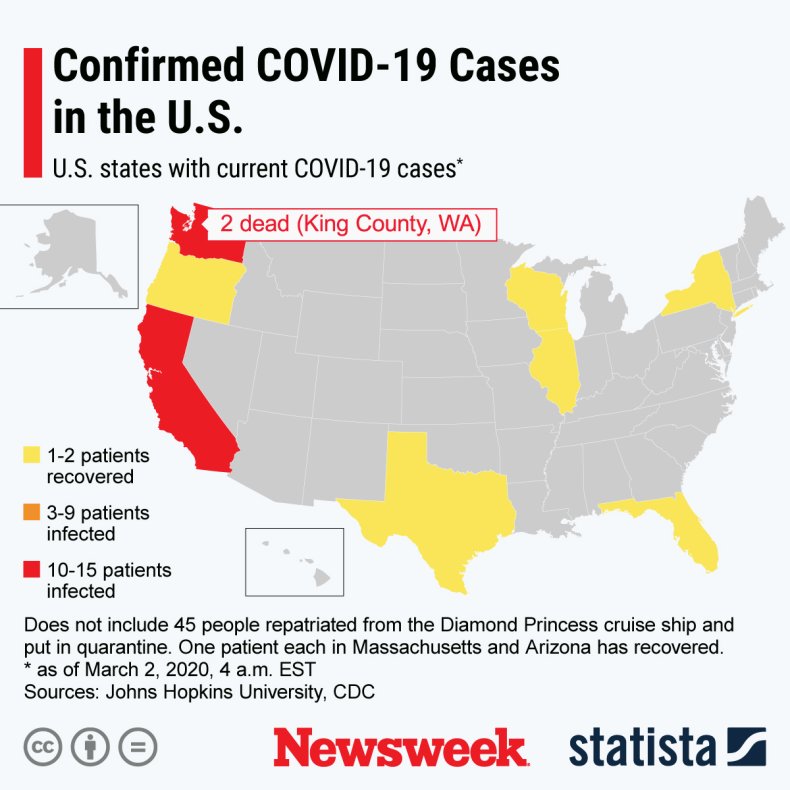 President Donald Trump has urged Americans to remain calm and suggested that the crisis is a "hoax" perpetuated by Democrats to hurt him politically. McCarthy criticized the administration and warned that "cases are about to surge," despite the president's claims.
"We are hearing from this administration that the risk is low and that things are probably going to be ok. You won't need to change your lifestyle. That's simply not true," McCarthy said. "There are going to be thousands of cases here. We've already moved from containment to mitigation. We are trying to lessen the severity here."
"You are going to see widespread disruption to daily life," he added. "Do not believe the false reassurance."