The ERA Gives Us a Chance to Fix the Constitution. We Need to Take it.
It's been 100 years since the Equal Rights Amendment was introduced, and Alice Paul is on my mind.
Alice was a suffragist whose work helped women get the right to vote in 1919. But what I love about her is how she knew she couldn't stop there. So, four years later, she co-wrote what became known as the ERA, a move to enshrine full equality in the U.S. Constitution regardless of sex. Alice's effort kicked off a century-long campaign that finally won over Republicans, then Democrats, and led to the ERA's passage by both the Senate and the House in 1972. All that was left was for the states to ratify it.
In 2020, Virginia became the 38th and final state required by our Constitution to ratify the ERA. There's a roadblock, though: a decades-old poison pill imposed when Congress passed it in the 1970s, setting a seven-year time limit for ratification. The time limit has no constitutional basis, and recent lawsuits are making that case. While the courts remain locked in debate about the validity of the time limit, one thing is clear: they left the door open to congressional action to lift it.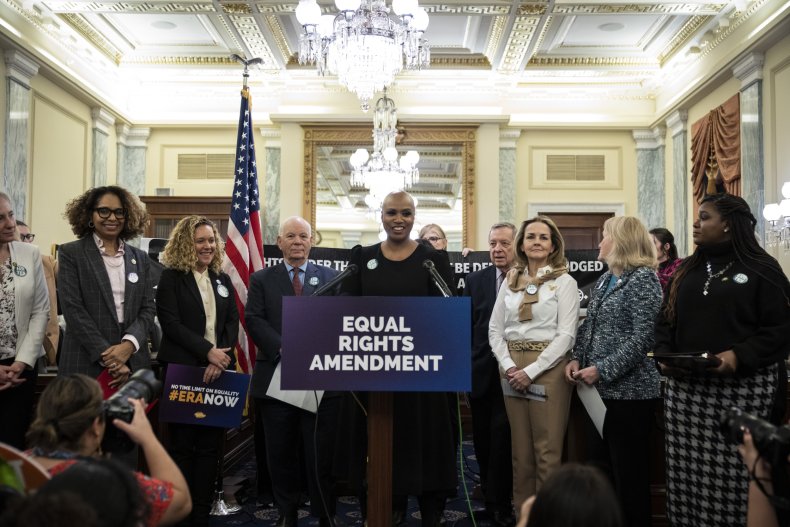 Thankfully, in January, a group of bipartisan lawmakers introduced a resolution to affirm the validity of the ERA and remove the time limit on its ratification, and make Alice Paul's work, and those of us still dedicated to it, a long overdue reality. The Senate is holding a hearing Feb. 28 on the resolution, and we need strong action from every member of Congress.
There's far too much at risk for anything less. While several developed nations have protections in place like the ERA, rights and freedoms for U.S. women and LGBTQ+ people continue to grow more endangered by the day. If the ERA wasn't so important, its opponents wouldn't be working overtime to keep it out of the Constitution.
The ERA will empower Congress to pass laws that protect against discrimination and give people the power to fight discrimination in the workplace. Those aren't radical ideas. They're popular ones. Nearly eight in 10 people––regardless of party––support an amendment guaranteeing equality for everyone. In fact, most people believe we already have constitutional protections against discrimination. It's time for their representatives to follow their lead and remove the poison pill standing in the ERA's way.
If there's a word that defines the American identity to me, it's freedom. That's what the ERA means: being included, fully, in the nation's evolving story. Without it, we're denying freedom to over half of the country. How can we be a free people when our governing document doesn't prohibit discrimination against half the population? We cannot, of course. We can never achieve the greatness our country aspires to without the ERA.
Alice Paul once said, "Most reforms, most problems, are complicated. But to me there's nothing complicated about ordinary equality." Making the ERA part of our founding document isn't just an opportunity. It's an obligation –– to our past, our present, and our future.
To me, there's nothing complicated about that.
Alyssa Milano is an actress best known for her roles as Samantha Micelli in the sitcom Who's the Boss? and as Phoebe Halliwell on Charmed. Most recently, Alyssa has starred in Brazen and Insatiable on Netflix. Alyssa is a New York Times best selling author having co-authored Hope: Project Middle School, Hope: Project Animal Rescue, Hope: Project Class President, and Hope: Project Go Green. Her most recent book, Sorry Not Sorry, discusses her life, career and humanitarian work and has received critical acclaim. Alyssa also hosts a weekly podcast entitled Sorry Not Sorry. For 20 years, Alyssa has been a dedicated UNICEF national ambassador going above and beyond in her support of children everywhere.
The views expressed in this article are the writer's own.