Erasure's Andy Bell on the Synthpop Duo's Uplifting New LP 'The Neon'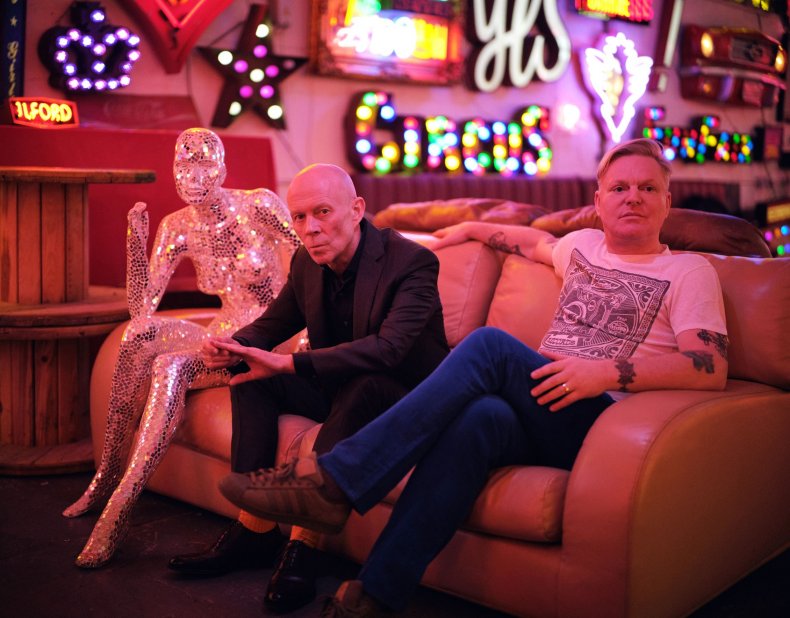 The Neon, the latest album from the veteran British electronic pop group Erasure, might be what the world needs now: in addition to their catchy synthesizer-driven music, there is also a spiritual message about unity and love that runs through the lyrics. At a time of uncertainty during the pandemic, The Neon offers musical escapism—something that Erasure keyboardist Vince Clarke and singer Andy Bell have long specialized going on more than three decades. Even Bell admits that it's weird that the lyrics on The Neon – an album that had already been in the works prior to the crisis – have a sort of timeliness especially for this moment.
"I think I have a little errant psychic ability," he tells Newsweek of the new album, which comes out on Friday via Mute Records. "It's not something that I practice. I always feel like in my real life I'm always trying to catch up. I'm actually one step ahead of myself without knowing it."
The Neon is a return to Erasure's upbeat and dance-oriented sound following their reflective and subdued work World Be Gone from 2017. "That wasn't the intention for it to be doomy and gloomy," explains Bell about that time. "That's how we were feeling...that was just as Trump was being elected, the kind of politics has turned into a kind of Alice in Wonderland show...you can't make out what's really going on."
To Bell, a prominent figure within the LGBTQ community, The Neon represents the end of one chapter and the beginning of another. "I feel like we put something to bed with the World Be Gone album. I was thinking over those previous past two years about how lucky we are really, and how we even take freedom for granted, let alone gay rights. I thought what an amazing place, what an amazing time to be born in the world with such change going on. I believe there's a revolution going on, which has kind of been transformed by technology, social media, and young people."
According to Bell, the sound of The Neon evokes the feeling and excitement of hearing and dancing to the music he experienced when he was a teenager. "Like when you hear a record and you feel compelled to go on the dance floor, there's nothing that can hold you back. To me it would be "Dreaming" by Blondie or "I Feel Love" by Donna Summer—I just had to get up on the dance floor. And I've always done that as a teenager—I always had to get up and dance."
The euphoric, danceable lead-off single "Hey Now (Think I Got a Feeling)" hearkens to the music by the late American disco artist Sylvester—as reflected by such lines as "Walk through the city, singing hallelujah/Wish for a lover's touch." "It's definitely a call-to-arms song," Bell says. "I always felt you can be very spiritual, you don't have to be affiliated to any religion at all. You can take the best bits of whichever religion or philosophy you want to. I think generally I'm an optimist."
The mention of the urgent-sounding and atmospheric "Shot a Satellite," another song unveiled ahead of the record, prompted Bell to give props to his musical partner Clarke. "Vince has done amazing music on this album," the singer says. "That's what was so inspiring to me. Some of the riffs are so original, and it's still Vince. He always manages to put an original spin on the riff, that it's instinctively him when you hear it. It's so unique, he's like a stonemason who carves in sounds."
The Neon ends on a hopeful and optimistic note with the introspective and chill "Kid, You're Not Alone": "We come around and find our way through darkness/Guided by the stars restore our faith as we align. Bell says: " I suppose it's also a letter to my younger self saying, 'Just don't worry.' People come to me for advice, if they find out they're HIV positive or stuff like that. Of course it was always such a huge deal then, it was for me as well. So all you can do is reassure them. And that's what I wanted with that song, this reassurance."
Of Erasure's 18 studio albums, Bell ranks The Neon right after 1988's The Innocents, the duo's third record that broke them into America with the smash hits "Chains of Love" and "A Little Respect." "To me it feels like The Innocents part II," he says. "We were quite straight doing it. By that I mean not going out partying, and getting drunk and all that stuff. It was very kind of disciplined, I think it worked to our advantage."
Until the pandemic's arrival, Erasure had originally planned to perform live this year in support of the new record. "The stage is roughly being worked out," Bell says. "We're working on the set list now. We were supposed to be touring, I think in October, and that has been shunted to next year. We really have to see what's going on as far as safety."
The release of The Neon this year coincidentally falls on the 35th anniversary of the formation of Erasure and the release of their first single "Who Needs Love Like That." Back in 1985, Clarke had already established himself as the co-founder of the synthpop bands Depeche Mode and Yazoo, while Bell was a relatively unknown singer. He still remembers answering an advertisement for a singer, not knowing at first that it was placed by Clarke himself. Ironically, Bell was already a fan of Clarke's music.
"All he said was, 'Established songwriter looking for versatile singer,'" Bell recalls about that ad. "That was all. I called them and they said, 'We're having auditions this weekend. If we don't find anybody, we'll call you back.' I thought, 'I won't hear back from them.' And then the phone rang on Monday and I knew it was from them. And they said, 'Do you know who Vince Clarke is?' And I said, 'Yes of course.' So I could barely contain myself. I used to rehearse to Yazoo and Alison Moyet [Clarke's former partner in Yazoo]. My flat mate said, 'That's gonna be you in a year's time, and he was right. I saw Vince and said, 'This is meant to be.'
"Then the phone rang again the next day and it was them and said, 'Would you like the job?' And I said 'Of course.' I had to wait a while, they put me on retainer because his single came out with Paul Quinn ["One Day"]. And I was saying, 'Please be a flop, please be a flop, so I can get the job.' (laughs) And that's what happened. Then I thought after Wonderland [Erasure's 1986 debut album] was not a huge hit they were expecting: 'Well, that's it for me.' Thankfully, Vince stood by me. I thought that was amazing."
After many hit singles (among them "Oh L'Amour," "Love to Hate You," "Sometimes," "Always"), albums and tours later, Erasure remains prolific alongside fellow '80s synthpop acts Depeche Mode and Pet Shop Boys. On what explains for the duo's longevity, Bell, who also maintains a solo career with his Torsten project, says he doesn't think about it.
"There was one time maybe five years ago, we were on tour, we were really really tired, we were in Scotland somewhere, the gig was—there was a fire and the building had to be evacuated, we all came back in. I had this mini-breakdown I said to Vince, 'I don't think I can continue in Erasure for that much longer.' And he said, 'That's fine, we can say goodbye tomorrow if you want to.' Like him saying that made it so real. I thought: 'Wow. If it's that easy to stop, I can't see any reason why that we should.' Also the concept of time doesn't really have much significance. We all live each day as it comes, especially now."