ERCOT Power Outage Map, Updates as Texas Winter Storm Leaves 3.9 Million Without Power
Millions of Texans were without power overnight Monday, with the state's main grid operator declaring its highest level of emergency as Winter Storm Uri hits.
Tracker Power Outage US reported 3.9 million outages early Tuesday morning, with hundreds of thousands of CenterPoint Energy, Oncor, American Electric Power Texas, CPS Energy, and Austin Energy customers without power.
Electric Reliability Council of Texas (ERCOT) has said electricity demand is exceeding supply in the freezing temperatures and has told energy providers to implement controlled and rotating outages.
President and CEO Bill Magness said in a news release issued on Monday: "ERCOT and Texas electric companies have been able to restore service to hundreds of thousands of households today, but we know there are many people who are still waiting.
"It's also important to remember that severe weather, mainly frigid temperatures, is expected to continue, so we're not out of the woods."
CenterPoint Energy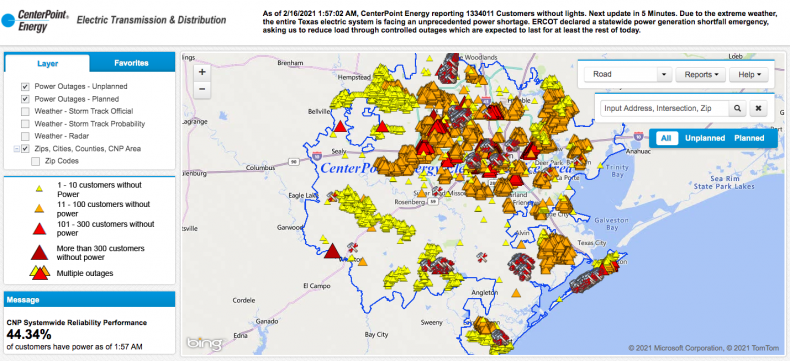 Around 1.3 million CenterPoint Energy customers are without power, according to Power Outage US, though the tracking site notes that the energy provider is not updating its outage information, meaning this figure may be out of date.
However, the most recent numbers available show that around 265,000 customers in Brazoria are without power, while Fort Bend has around 160,000 outages, Harris County has around 340,000 outages, and Wharton has around 117,000 outages.
CenterPoint Energy has asked its Oklahoma, Missouri, Arkansas, and Louisiana customers to temporarily lower their thermostat settings through the end of the week to conserve natural gas and ensure that "all have gas service to stay warm."
Oncor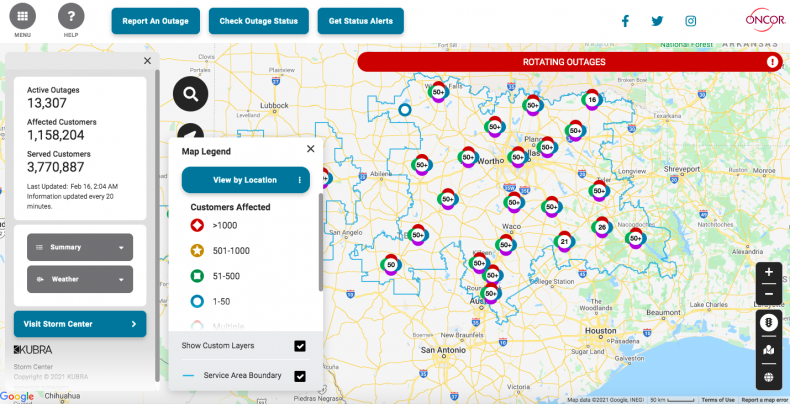 Around 1.1 million Oncor customers are without power. The counties with the most reported outages are: Collin (100,000), Dallas (300,000) and Tarrant (295,000).
Oncor is asking its customers to prepare to be without power for an "extended period of time" and said: "In addition, we are responding to separate outages caused by the record-breaking winter storm that continues to impact our entire service territory. Customers do not need to report their outages at this time.
"We are doing everything possible to respond to each of these power emergency events. We remain in close coordination with ERCOT and we appreciate everyone's patience as we do all we can to protect the integrity of the Texas grid.​"
American Electric Power Texas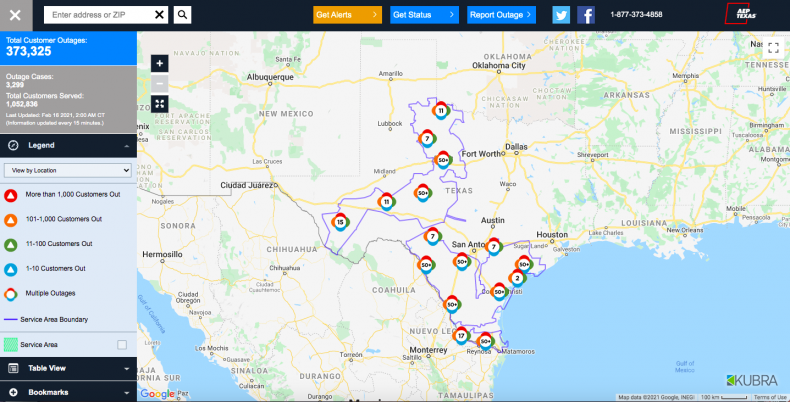 Approximately 370,000 American Electric Power Texas customers are facing outages, with 37,000 outages in Cameron County, 84,000 outages in Hidalgo County, 50,000 in Nueces County, and 26,000 in Webb County.
Jeff Stracener, AEP Texas vice president of Distribution Region Operations, said: "This latest request has significantly increased the number of customers without power," in a news release issued on Monday evening,
"Once we get the go-ahead from ERCOT, we'll do everything we can to restore power as quickly and safely as possible to respond to this statewide issue, which has left thousands without power throughout the entire state."
CPS Energy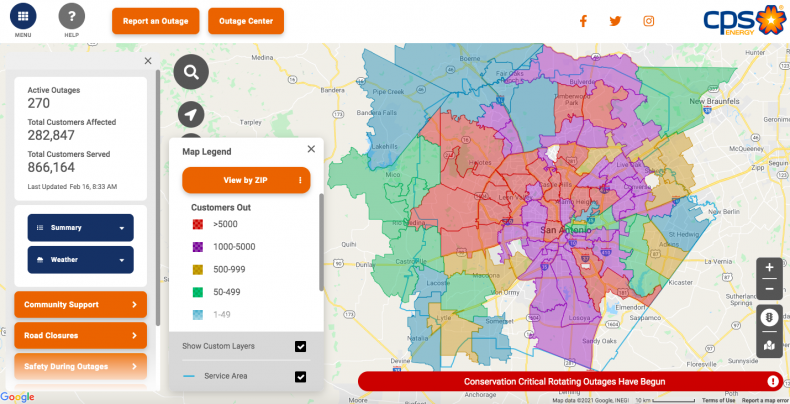 The power outages are affecting around 284,000 CPS Energy customers, with 275,000 of these customers located in Bexar County.
In a statement released on Monday evening, Paula Gold-Williams, President & CEO of CPS Energy, said: "We hope to see improvements overnight, but we are facing unprecedented challenges. Our focus tonight is to restore the consistency of the grid. Conservation is important, and we ask our community to continue to do all they can to limit electric and natural gas energy use.
"We understand that this is a big ask of our customers and sincerely apologize for the problems that this is causing them. Our customers are our neighbors, families, and friends, and we are doing everything we can to make sure we work to make things better for everyone."
Austin Energy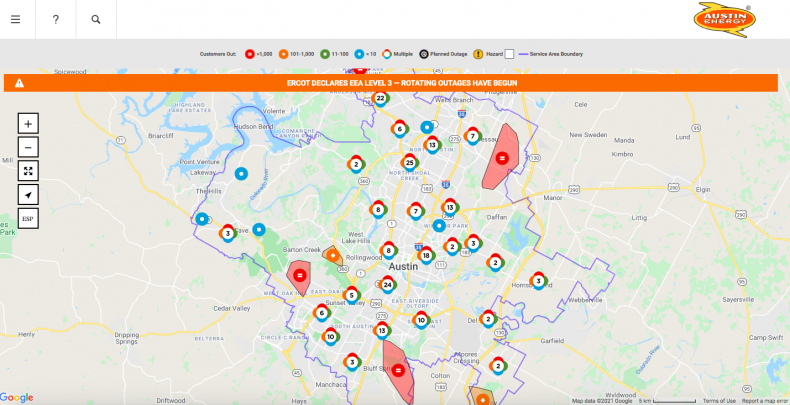 More than 200,000 Austin Energy customers are without power, with the majority of customers facing outages in Travis county.
Austin Energy said on Twitter late on Monday: "Because Austin Energy was mandated by ERCOT to shed so much load to help reduce demand, non-critical load circuits remain without power.
"Per ERCOT, controlled outages will likely last through tonight + into Tuesday as ERCOT works to restore the electric system to normal operations. For those who have power, please continue to conserve."