ERCOT Power Outages in Texas Could Last 'Indeterminate' Amount of Time
Electric Reliability Council of Texas (ERCOT), which oversees most of the state's electrical grid, said Tuesday that widespread power outages may continue for an unknown amount of time as millions of residents remain without power.
"We needed to step in and make sure that we were not going to end up with Texas in a blackout, which could keep folks without power – not just some people without power but everyone in our region without power – for much, much longer than we believe this event is going to last, as long and as difficult as this event is right now," said ERCOT CEO Bill Magness in a call with reporters on Tuesday.
Magness and Dan Woodfin, ERCOT's senior director of system operations, added that they couldn't say how much longer the outages would last.
The outage could leave Texans without power for "an indeterminate amount of time," Magness said.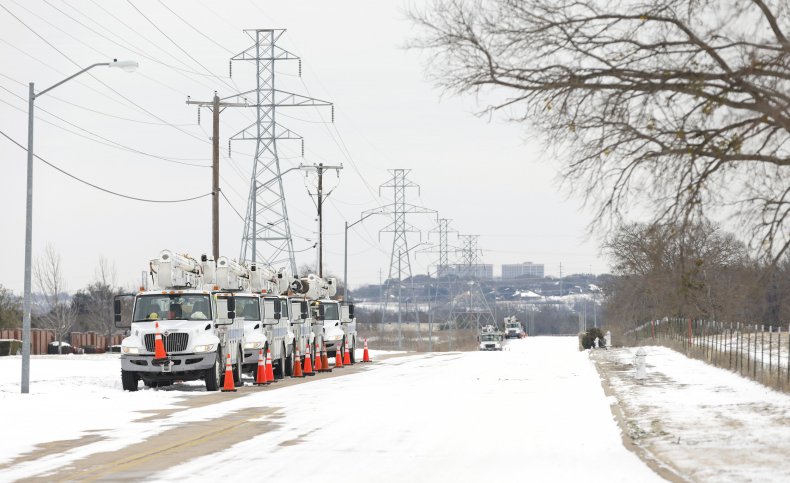 Woodfin noted that the severe winter conditions made it difficult to restore power.
"At the same time we've been adding supply to the grid from certain generators, we've also been losing other generators," Woodfin said. "So we haven't been able to add as much back during the course of the day that we would like and what we have added back, we're hoping to keep online."
"But if additional generation doesn't become available as the day goes on, we may actually have to take some of it back offline to maintain that power and supply balance," Woodfin added.
The widespread outages began at 1:25 a.m. CT on Monday when ERCOT called on transmission companies, including Oncor Electric Delivery, to limit power availability to residents in an effort to avoid a total blackout amid the severe weather conditions.
Texas is experiencing unprecedented amounts of snowfall and record-breaking cold temperatures for the area since Sunday. A second winter storm warning is in effect for much of the state through Thursday morning.
Oncor said in a Wednesday morning tweet that the controlled outages were still in effect because of the lack of generation, although they were able to restore some power overnight.
"Due to lowered power demand overnight, Oncor and other utilities were able to restore some of the previously dropped power load and increase our capability to rotate some outages throughout the territory," Oncor said.
"However, as we saw yesterday, low temperatures of the early morning and increased power demand may result in direction from ERCOT to once again reduce additional load," Oncor continued. "We will continue to take their direction as we focus on ensuring the integrity of the electric grid."
Over 2.5 million Texans are without power Wednesday morning, according to Poweroutage.us.
Newsweek reached out to ERCOT, but didn't hear back in time for publication.