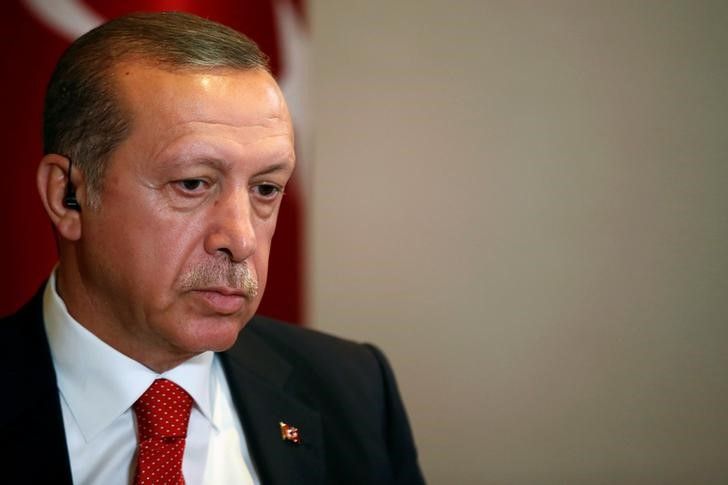 President Tayyip Erdogan on Monday called on Turkish voters in Europe to defy the "grandchildren of Nazism" and back a referendum this month on changing the constitution, comments likely to cause further ire in Europe.
Erdogan has repeatedly lashed out at European countries, including Germany and the Netherlands, in campaigning for the referendum, accusing them of "Nazi-like" tactics for banning his ministers from speaking to rallies of Turkish voters abroad.
Both the Germans and Dutch have been incensed by the comparisons to Nazism and German Chancellor Angela Merkel has said the references must stop.
"With this determination, we will never allow three or four European fascists ... from harming this country's honor and pride," Erdogan told a packed crowd of flag-waving supporters in the Black Sea city of Rize, where his family comes from.
"I call on my brothers and sisters voting in Europe...give the appropriate answer to those imposing this fascist oppression and the grandchildren of Nazism."
Erdogan is counting on the support of expatriates in Europe, including the 1.4 million Turks eligible to vote in Germany, to pass constitutional changes that would give him sweeping presidential powers.
But ties with Europe have deteriorated in the run-up to the campaign. Erdogan last month said Turkey would reevaluate its relationship with the bloc, and may even hold a second referendum on whether to continue accession talks.
On Monday, he said he could take the issue of whether Turkey should restore the death penalty to referendum if necessary.
"The European Union will not like this. But I don't care what Hans, George or Helga say, I care what Hasan, Ahmet, Mehmet, Ayse and Fatma say. I care what God says... If necessary, we will take this issue to another referendum as well," he told the rally.
Turkey abandoned capital punishment more than a decade ago as part of its bid to join the European Union, but Erdogan has repeatedly told crowds calling for it following the July 15 failed coup that he would approve its restoration if parliament passed it.
Restoring capital punishment would all but end Turkey's bid to join the EU, officials from the bloc have said.