Turkey's Recep Tayyip Erdogan 'Disillusioned' With Barack Obama Over Syria and Gulen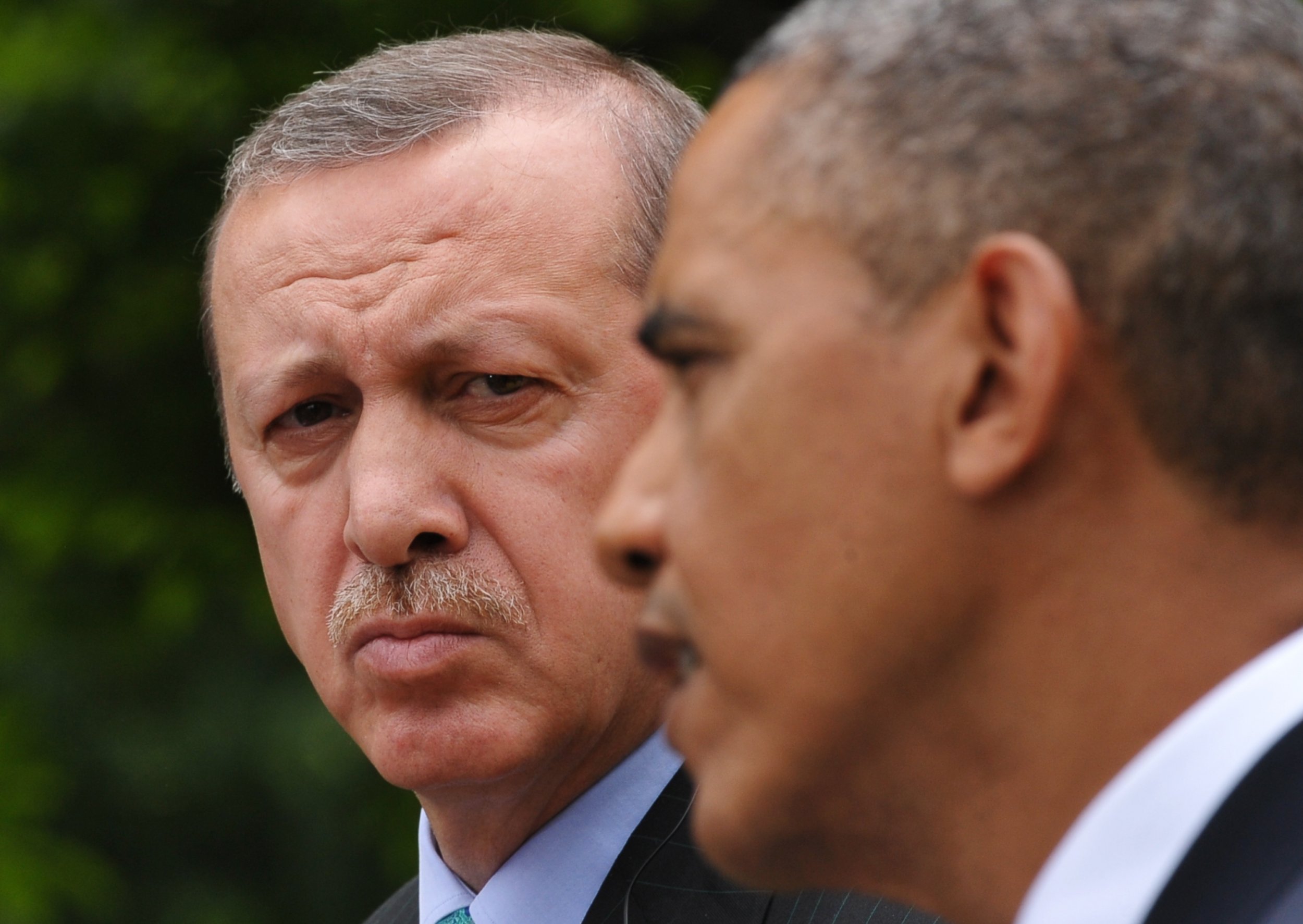 Turkish President Recep Tayyip Erdogan said late Sunday that he has grown "dissillusioned" with the Obama administration because of Washington's support of the Syrian Kurds and its failure to extradite exiled cleric Fethullah Gulen.
The U.S. Justice Department is yet to complete its analysis of the evidence that Ankara has submitted regarding Gulen's alleged role in July's plot to overthrow Erdogan and his ruling AKP party. Gulen denies any involvement in the coup attempt that resulted in the deaths of more than 200 people.
"I was disillusioned, because I would expect this? I served both as a prime minister and president in this country, and whenever the U.S. requested extradition of those kinds of terrorists, I handed them over. Obama also should have done it and handed that man to us," Erdogan told CBS News.
The refusal of Washington to bow to the demand of its key NATO ally with speed has led to suspicion within the Turkish government that the U.S. is harboring Gulen.
"Why is this man still here? Send him to me or send him away from your country. This is an international terror group," he said referring to what Ankara refers to as the Gulenist Terror Organization, or FETO. "As long as you harbor him—excuse me, but Turkey's and the Turkish nation's perception would not be different than that."
He also expressed his dissatisfaction with Washington's continued support for the Syrian Kurdish YPG militia that is fighting the Islamic State militant group (ISIS) in northern Syria. Turkey is concerned that the Kurds, who they say are linked to the outlawed Kurdistan Workers' Party, may attempt to seize territory and expand its presence along its southern border.
"You cannot defend a terrorist group just because they are fighting Daesh [ISIS]. All terror groups are bad and we shall fight them all. But we haven't agreed with the U.S. on this," Erdogan said.
U.S. President-elect Donald Trump could signal a change in Washington's policies towards Turkey, with his newly-appointed national security adviser, former Lieutenant-General Michael Flynn, writing on the day of Trump's November 8 election victory that the U.S. should extradite Gulen, who has lived in the U.S. since 1999.
"We need to adjust our foreign policy to recognize Turkey as a priority. We need to see the world from Turkey's perspective," he wrote for the conservative news website The Hill.
"What would we have done if right after 9/11 we heard the news that Osama Bin Laden lives in a nice villa at a Turkish resort while running 160 charter schools funded by the Turkish taxpayers?"