Erdogan Says Hitler's Spirit Is 'Re-emerging' Among Israeli Ministers
Turkish President Recep Tayyip Erdogan has said that Israel's controversial "nation-state" law is evidence that the state is the world's most fascist and racist country, adding that the spirit of Nazi leader Adolf Hitler had re-emerged among the Israeli ministers who voted for the new legislation, Reuters has reported.
Erdogan, a nationalist, populist, and increasingly authoritarian leader is currently overseeing an extensive power grab, voiding the position of prime-minister and giving himself extensive new powers. He made the comparison to Hitler during a speech to members of his AK Party in Ankara.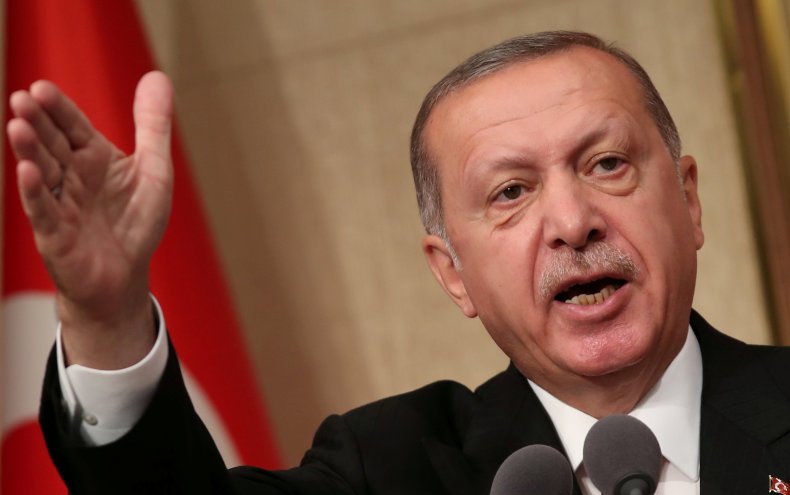 The nation-state bill said that "the right to national self-determination in Israel is unique to the Jewish people," and codified support for "the development of Jewish settlement as a national value" one that the government will "encourage and promote."
The law also relegated Arabic from an official language to one of "special status," claimed Jerusalem as Israel's united capital and defined the country as the "historic homeland of the Jewish people."
Erdogan said the nation-state law will legitimize unlawful actions and oppression against Israel's 1.8 million Arab citizens, who make up around 20 percent of the country's population. He also branded Israeli a "terror state" for its continued attacks on targets in the Gaza Strip. After dozens of Palestinian protesters were shot dead by Israeli soldiers in May, Erdogan accused Israel of genocide and called for an "international peace force" to protect the Palestinians.
Israel's Ministry of Foreign Affairs did not immediately respond to Newsweek's request for a response to Erdogan's most recent allegations.
Israeli Prime Minister Benjamin Netanyahu hit back at Erdogan, who he said "slaughters Syrians and Kurds and imprisons thousands of his citizens." The prime minister said Erdogan's opposition "is the biggest compliment for this law," and claimed Turkey is sliding into a "dark dictatorship" under its president.
Read More…Israel Passes 'Nation-State' Law Prompting Accusations of Racism and Apartheid
Netanyahu has sought to ease the concerns of Israel's minorities, vowing to continue to protect their rights. However, he stressed that Israel's "majority also has rights and the majority decides." Netanyahu proudly declared that the law would "ensure our state's Jewish character for generations to come."
But the Adalah Legal Center for Arab Minority Rights in Israel believes the law "guarantees the ethnic-religious character of Israel as exclusively Jewish and entrenches the privileges enjoyed by Jewish citizens, while simultaneously anchoring discrimination against Palestinian citizens and legitimizing exclusion, racism, and systemic inequality."
Erdogan was recently sworn in for another term as Turkish president, receiving a raft of sweeping new powers as the country shifts from a parliamentary to a presidential republic. His opponents believe the president is using the new powers to cement control and silence dissent. Former European Union Ambassador to Turkey Marc Pierini has described the new system as "an institutionalized autocracy."