Recep Tayyip Erdogan was sworn in as the country's first executive president. Monday's ceremony paves the way to shift Ankara's ruling model from a parliamentary to a presidential republic.
Turkey-based news channel TRT World reported that "22 heads of state and 28 prime ministers and speakers of parliament [were] scheduled to attend the ceremony" and over 10,000 people were anticipated to attend. However, major Western leaders would not be in attendance, according to Reuters.
"As president, I swear upon my honor and integrity, before the great Turkish nation and history, to work with all my power to protect and exalt the glory and honor of the Republic of Turkey," Erdogan said to the parliament while taking the oath of office.
After taking his oath, Erdogan visited the mausoleum of Mustafa Kemal Atatürk, the founder of modern Turkey.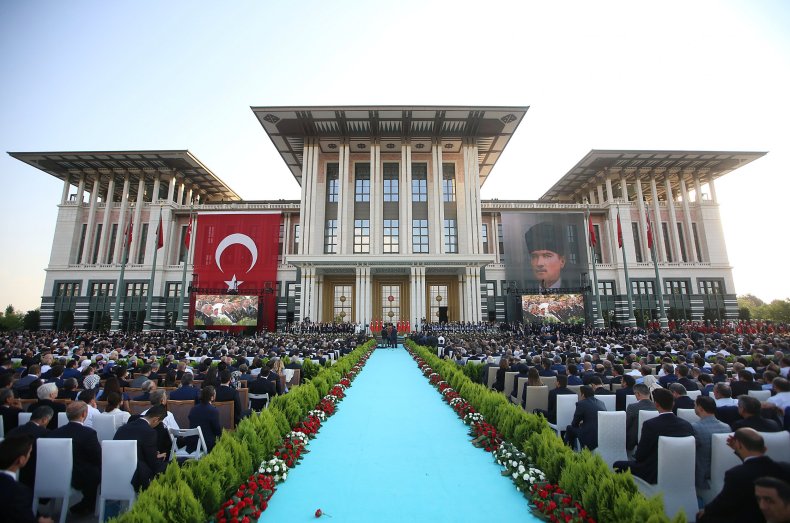 "We are now adopting a model that is way beyond our 150-year-old pursuit of democracy and our 95-year-long experience of a republic," Erdogan said. He also promised to "leave behind a system that cost the country heavily because of the political, social and economic chaos it caused in the past," according to Hurriyet Daily News.
Erdogan's restructuring is the most significant alteration of the country's political system since the formal establishment of modern Turkey, which supplanted the shattered remains of the Ottoman Empire.
In a referendum last year, Turkish voters approved a series of comprehensive changes that granted significantly more powers to the president, eliminated the prime minister position and increased the size of the country's parliament, to name a few. Erdogan has described the consolidation as a means to eliminate governmental inefficiency, and his base views his consolidation of authority as a deserved outcome for a leader who has instilled Islamic values in public life, according to Reuters.
But the political opposition has raised concerns about Erdogan's extended authority. "Most powers will be concentrated in his hands, there will no longer be a prime minister, and almost none of the checks and balances of liberal democracies will be present. In other words, Turkey will be an institutionalized autocracy," former EU Ambassador to Turkey Marc Pierini said.
Erdogan said he would publicize his cabinet picks later on Monday. The president had previously signaled that his administration would be comprised of former bureaucrats and politicians, not lawmakers or members of his Justice and Development Party, according to Al Jazeera.