Eric Adams Calls Andrew Yang a 'Joke' as NYC Mayoral Race Heats Up
New York City mayoral candidates Eric Adams and Andrew Yang exchanged several jabs at each other Tuesday, ending months of Yang's effort to remain positive and comes just three weeks ahead of the Democratic primary.
Adams, who has long mocked the fellow frontrunner as an Ivy League-educated "startup" employee, bluntly referred to Yang as a "joke" Tuesday during a Bronx speech. Yang shot back and told NYC residents outside his new Bensonhurst office that Brooklyn Borough President Adams, a former NYPD captain, is another "business as usual" candidate in the pocket of current Mayor Bill de Blasio. De Blasio has not officially endorsed any candidate yet, but he has offered thinly veiled criticisms of Yang and has reportedly made private remarks in support of Adams.
Yang's recent spate of direct criticisms comes as his longtime frontrunner status began falling behind Adams in citywide polling prior to the upcoming June 22 election. Adams scoffed at Yang's suggestion that he's being targeted with anti-Asian stereotypes, instead labeling those comments a "distraction."
"Why's he still in this race?" Adams said at the Tuesday press conference in the Bronx, responding to Yang's criticism of his campaign's financial tactics. "He's a joke, and it's not funny anymore."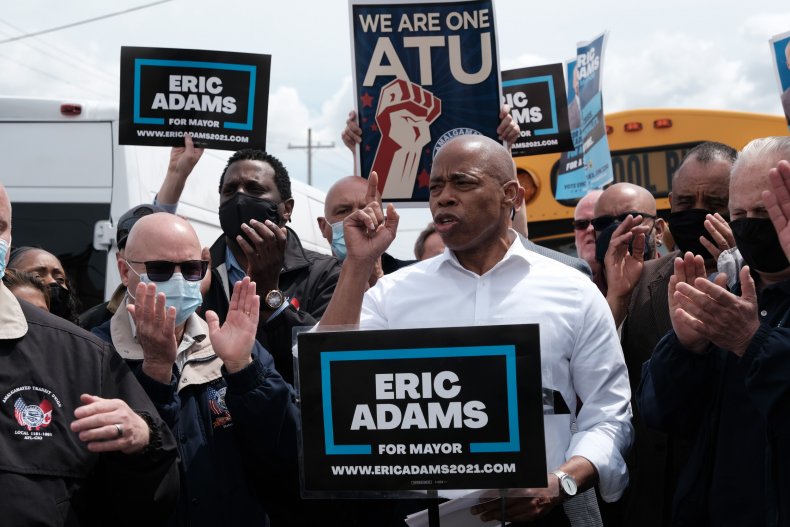 Yang ripped numerous de Blasio allies and city officials including Adams, who he said have failed to call out the current Democratic mayor for his rapid spending of federal pandemic stimulus money over the past 15 months.
"Think about all of the favors that Eric had to trade to get to this point, climbing and climbing the ladder over this last number of years; scheming about his run thinking like, 'Oh, this is gonna be my big chance.' Eric, your moment has passed," Yang told reporters after the speech. "Eric Adams is business as usual and New York City needs a new type of leadership."
"Eric Adams knows that Mayor de Blasio is making calls for him right now, trying to keep things the same, trying to make sure that the people that have benefited from the way our government has been run for the special interests for years just stay entrenched in place," Yang said outside his Bensonhurst campaign office.
Yang's longtime frontrunner status has drawn in months of criticism from the more than a dozen other NYC Democratic candidates in the race.
"Andrew Yang just can't get his story straight and that makes him dangerous for New Yorkers," a spokesperson for Maya Wiley, former counsel to de Blasio, said in April. "Our city deserves a serious leader, not a mini-Trump who thinks our city is a fun play thing in between podcasts."
Newsweek reached out to both campaigns for any additional remarks Tuesday afternoon.
"This is not a startup. This is a city where a leader must have been a worker. People like Andrew Yang never held a job in his entire life. We don't need someone that has never gotten up in the middle of the night to walk, to eke out a living for their family," Adams added in remarks about Yang Tuesday.