Eric Adams Defends Bronx Residents Leaving Door Open During Fire: 'All of Us Make Mistakes'
New York City Mayor Eric Adams defended the Bronx residents who left one of the doors open in the high-rise apartment that caught on fire Sunday morning.
"We want to be clear here that we don't want to add further trauma on that family because they fled the apartment," Adams told reporters during a Monday press briefing. "Muscle memory during a crisis—you're trying to get out. It is our obligation to reinforce the concept of 'Close the Door.'"
"What we don't want to do is just add more trauma on the family that was simply trying to escape a very dangerous and a very frightening experience," the mayor said. "All of us make mistakes during crises."
His remarks come as the city recovers from a devastating fire that left 17 people dead and 13 hospitalized.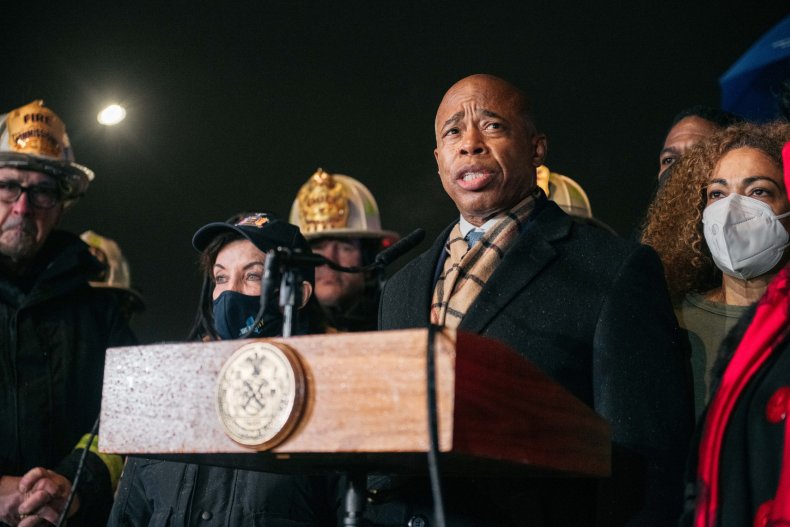 Fire officials have said that the fire, which was started by a space heater in one of the apartments, spread quickly after individuals ran out and left the door open.
"The door to that apartment, unfortunately, when the residents left was left open, it did not close by itself. The smoke spread throughout the building, thus the tremendous loss of life," FDNY Commissioner Daniel Nigro announced on Sunday.
The Fire Department of New York has long promoted its "Close the Door" campaign, which reminds residents to shut the door behind them when leaving a fire to avoid fueling the blaze and allowing smoke to spread.
Open apartment doors have been a common trend in some of New York City's worst fires, including a Bronx fire in 2017 that left 13 people dead, a fire on the Upper East Side that left 22 injured in 2020 and a Harlem fire last November that killed two.
Most of the city's apartments are designed to contain a fire within the unit, as long as the doors and windows remain closed.
"We want to encourage, we're going to double down on closing the door and that message when it is our obligation to do so," Adams reiterated on Monday.
Nigro added that the doors in the Bronx apartment were self-closing, but two of them—one to the unit and one on the 15th floor—were not functioning properly.
"We'd like to point out today to everyone, if you're in an apartment building that has self-closing doors, make sure it works," the fire commissioner said. "If it doesn't, please point that out to the landlord, to the maintenance folks, and make sure your door closes as it should."
Adams said the building, which is federally funded, had few violations but none were related to the fire.
City officials are continuing to investigate the blaze at this time.