Eric Adams 'Happy to Teach' DeSantis Values Amid NYC Trip
New York City Mayor Eric Adams took a shot at Florida Governor Ron DeSantis ahead of the latter's planned trip to the city, offering to teach him some of the city's progressive values.
DeSantis, a Republican and expected presidential candidate in 2024, has been listed as a "special guest" for a law enforcement event being held in the nominally conservative borough of Staten Island on Monday. According to Politico, he was advertised in an email as a "special guest for a discussion on protecting Law and Order in New York."
In response to the news, Adams, a Democrat with an adversarial history with DeSantis, took to Twitter and offered to teach the visiting some "values" during his visit, making reference to some of the Florida governor's most controversial moves.
"Welcome to NYC, [Governor Ron DeSantis], a place where we don't ban books, discriminate against our LGBTQ+ neighbors, use asylum seekers as props, or let the government stand between a woman and health care," Adams tweeted. "We're happy to teach you something about values while you're here."
Adams' comment touched upon numerous recent controversies, including schools removing books from libraries after the state government implemented new laws deeming certain subjects to be inappropriate. According to EdWeek, this has included many books about the history of racism and sexism in the U.S., and others with LGBTQ-related topics.
Adams also touched on DeSantis's recent tactic of transporting migrants from Florida and other southern border states to Democrat-led cities, like New York. Opponents of the practice have accused the governor of using migrants as human props to score political points.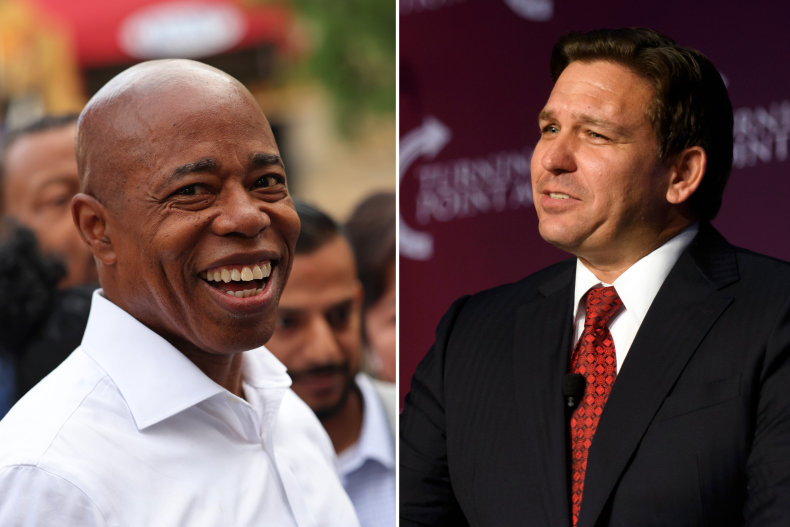 Newsweek reached out to DeSantis's office for comment.
In response to Adams' tweet, Christina Pushaw, a communications aide to the governor who previously served as the rapid response director for his 2022 reelection campaign, hit back with a tweet of her own, invoking the rate at which residents left New York in 2022 and Florida's recent crime rate.
"Nice rhetoric—but here's reality: More Americans fled NYC than any other metro area last year," Pushaw tweeted. "More Americans moved to Florida than any other state. You know this, Mayor Adams, and you've talked (accurately) about crime pushing people out of NYC. Florida's crime rate meanwhile is at a 50 year low. Maybe it's you who can learn from [DeSantis]?"
While Pushaw suggested crime rates were to blame for residents leaving New York, other surveys of the situation have found that factors like cost of living, lifestyle changes, and retirement have played a bigger role. The same has been true for residents leaving other major metro areas, like Los Angeles.