Eric Adams Mocks Lori Lightfoot for Teacher Dispute, Says NYC is 'Emotionally Intelligent'
New York City Mayor Eric Adams took a jab at his Chicago counterpart, Mayor Lori Lightfoot, while discussing the possibility of switching to remote learning in the nation's largest school district.
"I am working closely with the president of the [United Federation of Teachers]. I think people are surprised to see how well we're doing," Adams said in Thursday's public address.
"This is not Chicago, this is New York, where we are communicating with each other because we're both emotionally intelligent and we can resolve this," the mayor added. "We can get through these crises and we will find the right way to educate our children in a very safe environment."
Adams is considering allowing the city's schools to flip to online classes amid a surge in COVID infections driven by the Omicron variant—a departure from the mayor's previous commitments to keep schools open for in-person instruction.
He said while he still believes kids should be in schools, the city needs to address that "a substantial number of children, for whatever reason, parents are not bringing them to school."
"The numbers with math—they are frightening. And so my goal is to continue to push forward to get our children in school but I must entertain with the president of the UFT... if there's a way to do a temporary remote option," Adams said.
Adams' remarks come after Chicago Public Schools, the nation's third-largest district, remained in a five-day holdout with the Chicago Teachers Union over the district's COVID protocols.
After four days of missed classes for over 300,000 students, the district and the union came to an agreement, resuming in-person instruction and earning the union expanded testing, increased contact tracing and greater mask supply.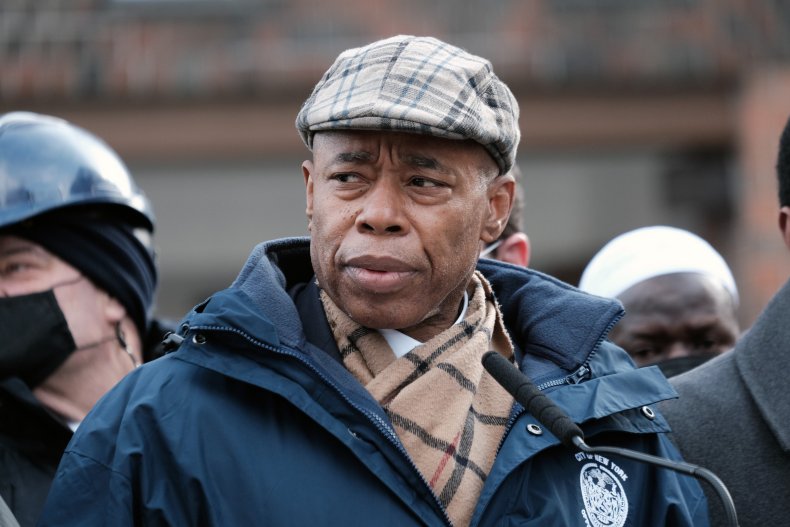 CTU President Jesse Sharkey said the deal wasn't "a perfect agreement, but it's something we can hold our heads up about."
The rank-and-file union vote passed with a slim margin of 56 percent of members voting in favor of the proposal from CPS.
The remote work action marked the third major labor dispute with Lightfoot in 27 months.
Newsweek reached out to Lightfoot's office for comment but did not hear back before publication.
In New York City, school attendance has fallen drastically since the return from winter break. Roughly 25 to 33 percent of students have been absent either due to illness or out of concerns that could relate to COVID safety in schools.
On Wednesday, over 100 schools in the city reported attendance below 60 percent, which means an estimated 220,000 students were absent, according to the Associated Press.
Adams and Lightfoot are among many elected officials, including President Joe Biden, who have pushed to keep schools open amid the Omicron surge.
However, the choice of parents to keep children at home over the last couple of weeks has forced district officials to reconsider remote options to ensure students do not fall behind in their studies.