Eric Adams Needs a Win From POTUS Meeting After City Shootings Reached 15-Year High
New York City Mayor Eric Adams is scheduled to meet with President Joe Biden later this week, just days after the city's new leader introduced his strategy for ending gun violence.
The meeting, which the White House said will "discuss the Administration's comprehensive strategy to combat gun crime," comes in the wake of the New York Police Department (NYPD) reporting 1,562 shooting incidents in 2021, which The New York Times noted in its assessment of department data marked the greatest number of shootings that the city reported in 15 years.
The number of reported shootings continued to climb in the first month of 2022. According to NYPD data updated through January 30, 94 shooting incidents have been reported during the first month of the year, a 32.4 percent increase over the 71 shootings reported by that date in 2021.
Among this year's shooting victims were two NYPD officers who died of their injuries. The officers' line-of-duty deaths shocked the law enforcement community in New York and across the country.
Adams, who previously served as a captain with the NYPD and was sworn in as New York City's 110th mayor on January 1, listed during a public address last week some of the violent incidents that have occurred so far this year and vowed to change the trend.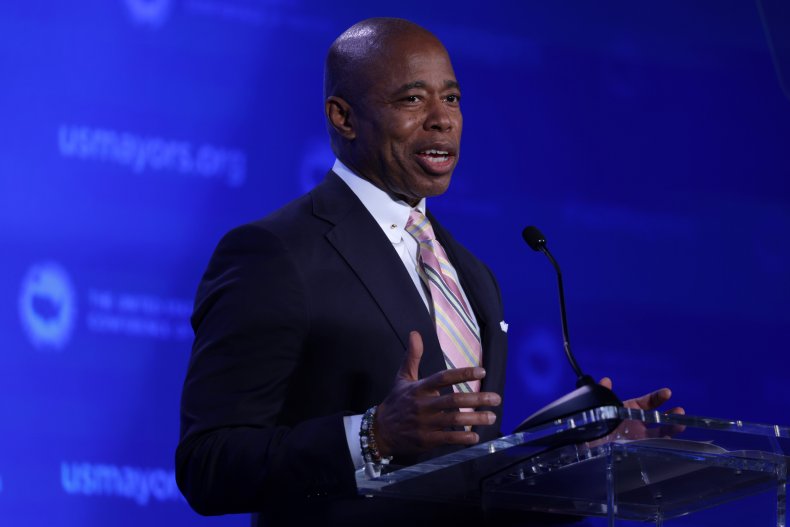 "New Yorkers feel as if a sea of violence is engulfing our city," Adams said. "But as your mayor, I promise you: I will not let this happen. We will not surrender our city to the violent few."
While introducing his "Blueprint to End Gun Violence" on January 24, Adams identified gun violence as a "public health crisis" that he said threatens "every corner of our city." His strategy strives for "intervention and prevention," his office said, and suggests taking steps such as increasing the number of officers on patrol and enhancing detection at city entrances to cut down on the number of weapons coming into the area.
According to FBI data, felonious officer deaths across the U.S. reached a 10-year high in 2021. National Fraternal Order of Police President Patrick Yoes said in a recent statement that the "skyrocketing" violence aimed at law enforcement officers is "the worst I have ever seen."
Last year's nationwide statistics combined with the on-duty officer deaths last month in New York bring elevated levels of public interest to Adams' Thursday meeting with Biden as both Democrats seek collaboration and progress. In its statement about the meeting, the White House pointed to the Biden administration's support for increasing the number of officers on patrol and cracking down on gun trafficking, both of which are goals outlined in Adams' blueprint.
Adams, whom the New York Daily News reported has recently referred to himself as "the Biden of Brooklyn" and Biden's "favorite mayor," said in a statement released last week he was looking forward to the meeting.
"The sea of violence comes from many rivers, and that's why my Blueprint to End Gun Violence in New York City seeks to dam every river that feeds this greater crisis," Adams said. "Public safety is my administration's highest priority, and we welcome the opportunity to display to President Biden how federal and local governments can coordinate and support each other in this fight to keep New Yorkers safe."
Newsweek reached out to the White House for further comment and will update this article with any response.