New York City Mayor Eric Adams is facing criticism for saying "low-skilled workers" lack the academic skills to "sit in a corner office" during a press conference on Tuesday.
Adams urged larger businesses to return to in-person work at least a few days a week to support smaller businesses that largely rely on commuters who work in the city.
He warned that businesses moving to remote work as cases rise could negatively affect these businesses, as well as the economy as a whole.
"That accountant—I need him to go to the cleaners. I need him to go down to Dunkin' Donuts. I need him to go to the restaurant. I need him to bring in the business traveling," Adams said. "And if we say that, 'Well I don't have to go in. I'm still getting my salary,' then you are not helping those New Yorkers who need us to come in."
He then added that he thinks businesses need to remind their workers they are part of the "ecosystem of this city" with the contributions to the economy.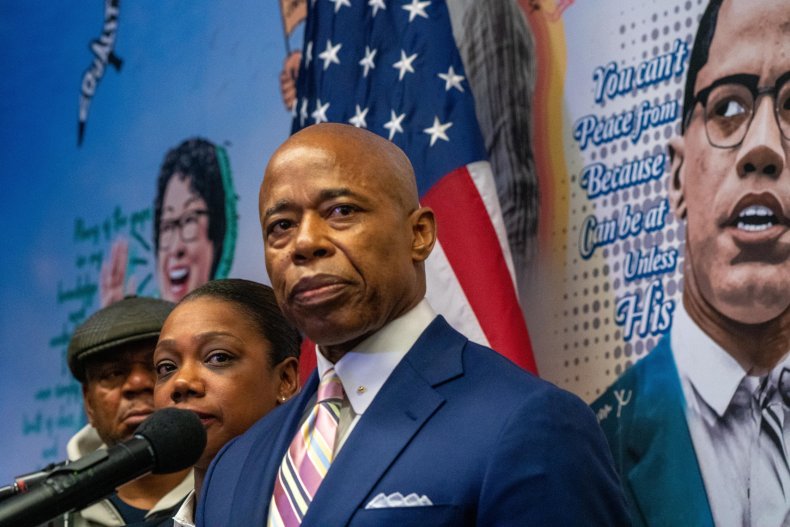 "My low-skilled workers, my cooks, my dishwashers, my messengers, my shoe-shine people, those who work at Dunkin' Donuts—they don't have the academic skills to sit in the corner office," he said.
Some criticized him for referring to restaurant and retail workers as "low-skilled."
"Restaurant owner here. First, I challenge any human to handle a board full of orders as long as the eye can see, and get orders out on time and correct, then tell me that is 'low skill,'" wrote Twitter user @centerfluid.
"No such thing as low skill workers, just undervalued ones," wrote @SaraQDavid.
Meanwhile, others offered a defense of the remarks.
"How he said it isn't great... but what he's saying is absolutely true," wrote @RyanGirdusky.
Coronavirus cases in New York have soared in recent weeks, largely due to the Omicron variant. The city had a daily average of 39,132 new cases per day on Monday, up from an average of 1,729 one month earlier, according to data from The New York Times.
As cases rise, many large businesses in New York, including JP Morgan and Citibank, are having their employees work from home throughout the first few weeks of January, Reuters reported.
Adams has backed reopening the city, arguing it would be best for the economy. On CNN Tuesday, he argued for reopening the city's schools and businesses, while also doubling down on getting people vaccinated and increasing testing for the virus.
"What we must understand is the resiliency of returning back to a normal life," he said. "If we don't open our cities, that's almost a million people who are behind in our rent right here in this city We have low-skilled employees who can't do remote employment from home."
Newsweek reached out to the New York City Hall press office for comment.