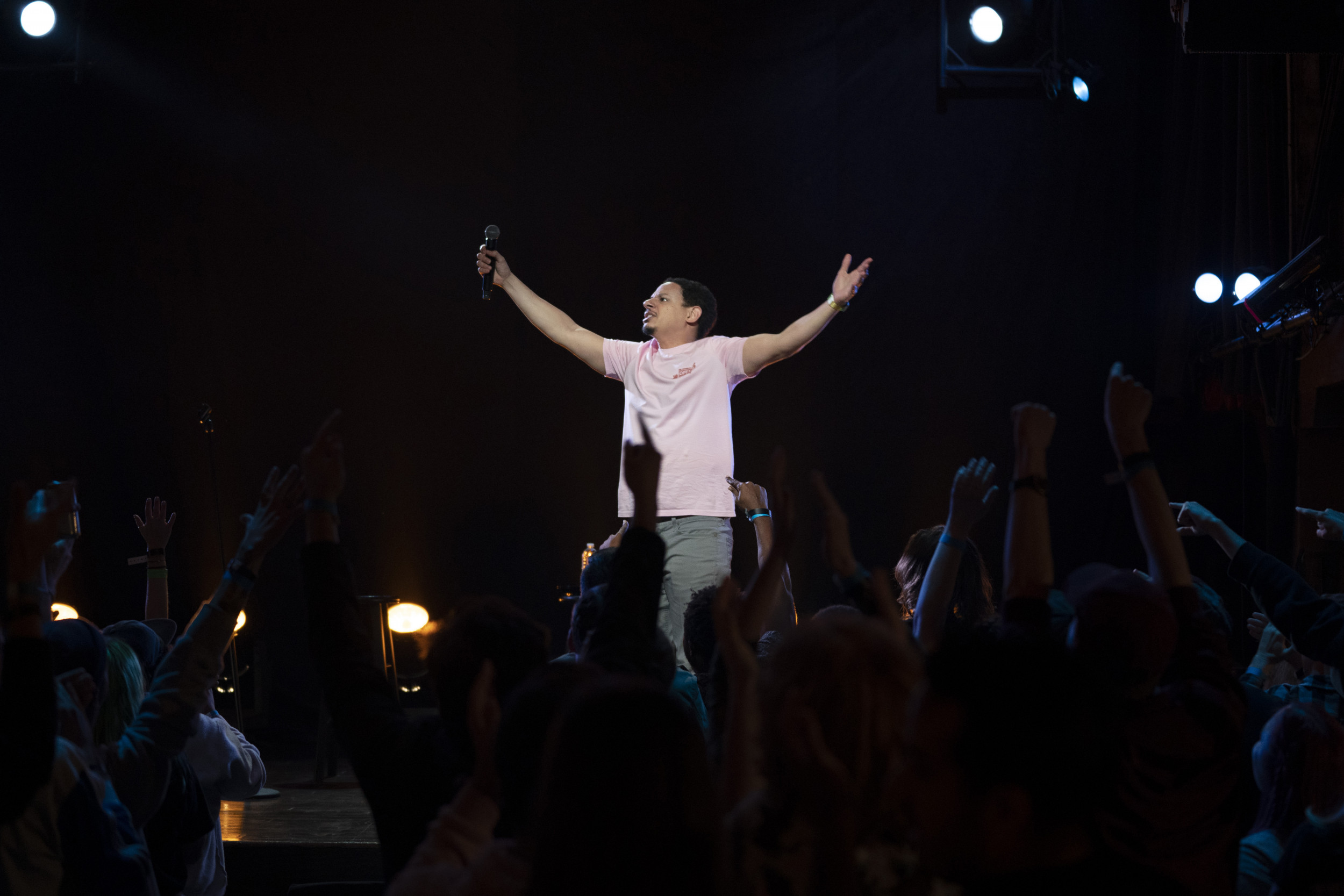 Eric Andre may be the last person you suspect of ridiculing the police, but if you've been a fan of the comedian's work, then you're well aware of his interesting—albeit outrageous—takes on just about everything under the sun from meth to the political climate, sex and religion. But for those who are just now tuning in to the brazen entertainer, his new Netflix comedy special, Legalize Everything, will likely leave jaws dropping as he so eloquently lays into law enforcement--and the entire institution of government--during the standup set.
Released on Netflix Tuesday, Legalize Everything is basically a near-hour foray into what the Eric Andre Show creator does best: pranking innocent spectators, cracking jokes about drugs, drugs and more drugs, and getting naked. The opening segment of the comedy special features a stoned Andre—dressed in a police uniform—offering people on the street pot that he's allegedly stolen from an evidence room. It ends with him smoking marijuana from a giant bong with an elderly woman who's requested to take a hit. And that's the least of the absurdity that takes place during the show.
But there are some moments when he's not prancing around the stage yelling about ripping lines of bad cocaine (it turns out to be drywall) where he makes some incredibly timely observations. Such was the case for his ridiculous yet relevant rant about the long-lived reality show Cops.
"Did you guys watch the show Cops? Is it just me or is reggae the most inappropriate music they could of picked to open up the show Cops?" he asked. "You can't slap reggae over police brutality footage and call it a day."
The 37-year-old goes on to mimic an angry officer abusing an "unarmed innocent black teenager" before transitioning into the upbeat and campy reggae tune that served as the now-cancelled Cops theme song. "This is a system invented by rich, white, Christian heterosexual businessmen, and if you don't match that description then it is my job to subjugate and oppress you motherf**ker! For I am your judge, jury and executioner!" Andre shouts.
The irony of Andre's timing is undeniable. He filmed the special in New Orleans in November 2019. He couldn't have known that by the time Legalize Everything premiered the U.S. would be experiencing civil unrest initiated by nationwide outrage over police brutality. Since the death of George Floyd, an unarmed black man who was killed by a white police officer in Minnesota in May, thousands have taken to the streets to protest law enforcement, and many people have advocated for a complete overhaul of the system by launching campaigns to defund the police.
Cops was canceled in light of the widespread call for police reform. The reality series—which depicted real officers on the job and, in most cases, engaging violently with suspected offenders—had been on the air for nearly 20 years. It was gearing up for its 33rd season when Paramount Network, the show's production studio, announced that there were no "current or future plans for [Cops] to return" in early June.
It's not just the state of the police Andre calls into question during the comedy special.
He shoots down War on Drugs, which the Black and Jewish comedian notes only gives police a clearance to lock up black kids, while promoting the legalization of all drugs (except Salvia, of course). He also suggests ridding America of the "old and boring" constitution, referencing the 3rd Amendment. The law protects homeowners from soldiers taking shelter in houses without consent, and that just feels particularly outdated in an era when so many people are more worried about police officers shooting down their doors.