'The Eric Andre Show': Why Hannibal Buress is Leaving
The Eric Andre Show Season 5 is now airing, four years after the last set of episodes aired on Cartoon Network's Adult Swim strand. The show, however, may soon be without its co-host as Andre posted on Twitter that Broad City star Hannibal Buress is leaving the show.
On October 24, the offbeat talk show host tweeted: "Ladies and gentlemen, it is with a heavy heart that i announce that the yin to my yang, the wickedly funny @hannibalburess ends his reign as co-host tomorrow night at midnight @adultswim. Love you HB. It's been an amazing decade with you."
Buress' exit was addressed in The Eric Andre Show Season 5, Episode 2. That episode, which aired in the early hours of October 26, was titled, "Hannibal Quits," and has the synopsis: "After only one and a half episodes, Hannibal quits the show and is poorly cloned into a giant mutant version of himself named Blannibal."
Though this might suggest that Buress is not leaving at all, and that this is the latest prank from the gonzo chat show host, it does seem like he is really exiting the series.
Speaking to Vanity Fair, Andre said of his co-host's departure: "He [Buress] was like, 'I don't know, man. We've been doing it for a while. I'm down to keep collaborating, I just don't wanna do the show anymore. I was heartbroken. Devastated...The more I tried to talk him into it, the more I could tell he was pushing away."
Andre later added: "He's evolved and become very, very, very successful. I'm proud of him so I totally get it."
On Jimmy Kimmel's late-night show, Andre said that Buress said to him: "I'm almost 40, man, I'm done looking at you trying to poop on your desk in front of your guests."
In Episode 2 of the show, Blannibal was played by a rock musician named James Hazley, who Andre found on Craigslist. He is not the only new face this season, as Get Out actor LaKeith Stanfield and stand-up Felipe Esparza are also set to recur on the Adult Swim show.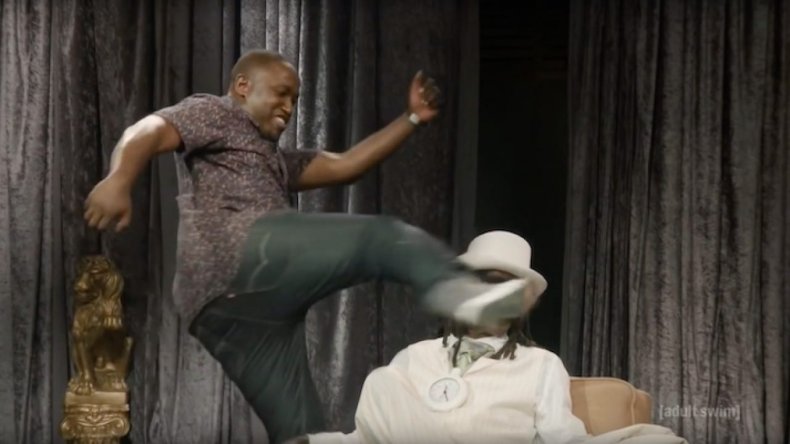 Though Buress has not commented publicly on his exit from the show, he is currently busy touring with another collaborator. The Handsome Rambler host co-headlined a number of drive-in shows with musician Thundercat this October.
Though Buress is leaving the show, The Eric Andre Show has lost none of its madcap energy in Season 5. In his Kimmel interview, for example, The Lion King actor spoke about getting a concussion on set after a stunt that saw John Cena throwing him into a bookshelf went wrong.
He said: "John Cena did the stunt right, but we prepped for the stunt wrong...That metal came over and clocked me in the head, and I got concussed. I got concussed, and I went to the hospital ... immediately."
He continues: "I had like a Fred Flintstone, like Bugs Bunny [bump] on the side of my head. They did a CAT scan, and I haven't been able to speak English since. I memorised this interview phonetically, actually."
The Eric Andre Show Season 5 airs Mondays at 00:00 a.m. on Cartoon Network.