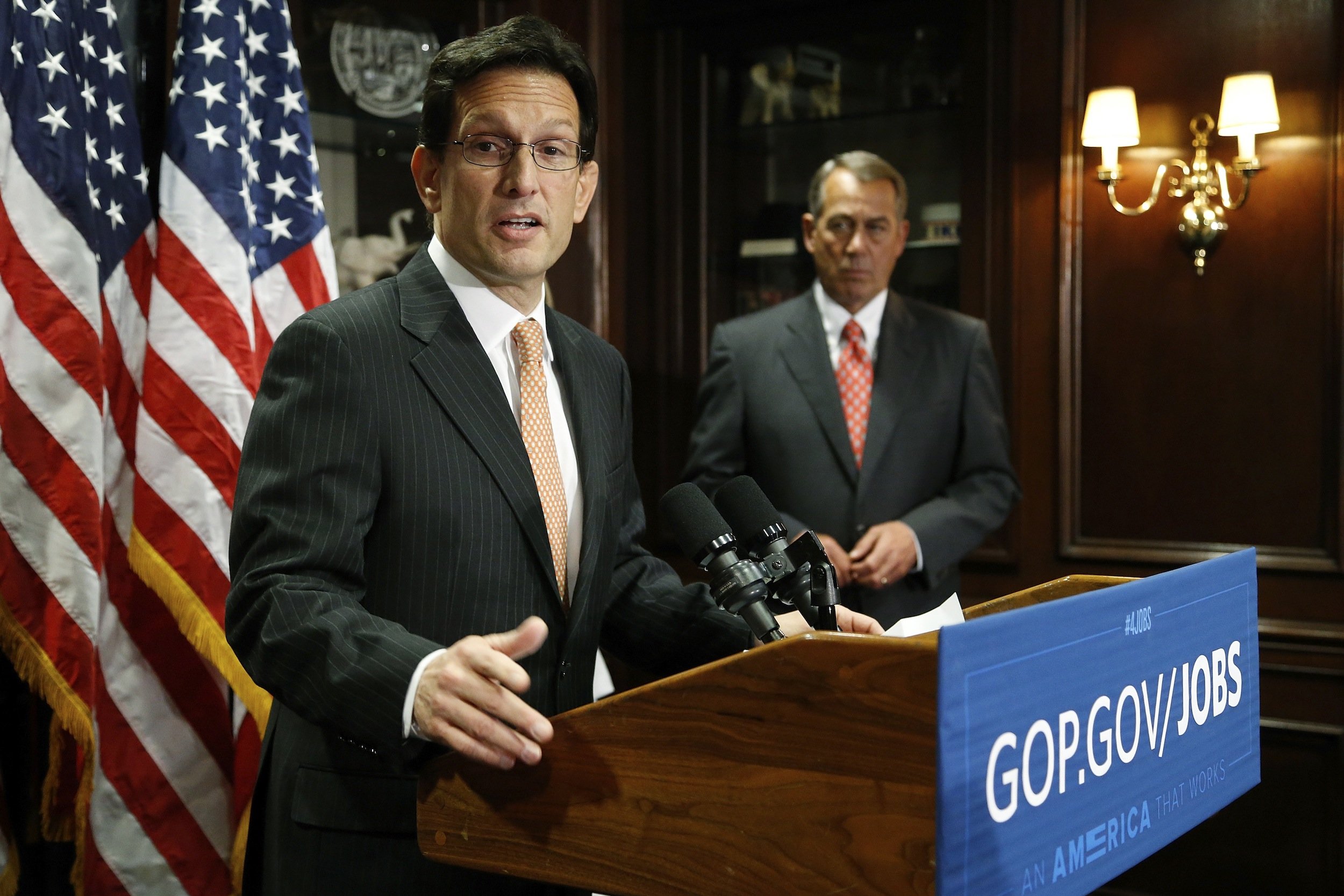 WASHINGTON (Reuters) - U.S. congressional leader Eric Cantor took to the airwaves on Sunday to try to rebuild his political reputation after a stunning primary election loss that has shaken the Republican Party, and refused to rule out a future run for public office.
The House of Representatives majority leader, who since 2011 has held the No. 2 job in the 435-member chamber, will step down on July 31 after losing his bid to be his party's candidate for an eighth two-year term as a congressman from Virginia.
Cantor will also be forced to leave Congress at the end of this year, which would seem to end his dream of eventually becoming speaker of the House.
But on two Sunday television talk shows, Cantor left open the door to rekindling his political career sometime in the future and defended his work as majority leader.
"I want to take what I've been doing here … and be able to really look towards the future so I can really continue to promote and be a champion for the conservative cause," Cantor said in an interview on ABC's "This Week."
"I do want to play a role in the public debate," he said.
Asked in an interview on CNN's "State of the Union" whether he might run for governor of Virginia some day, Cantor responded: "I'm not ready to close out any options right now."
Virginia, long a conservative stronghold, has been evolving into a swing state as more and more Democrats move into heavily-populated northern regions near Washington, D.C.
Cantor was toppled in Tuesday's Virginia primary by college economics professor David Brat, who had the support of small-government Tea Party activists.
The outcome came as a shock to Cantor and political observers and marked the first time that a House majority leader has lost a primary election. The majority leader's job is to develop his party's legislative initiatives for passage by the House and act as a bridge between various political factions of the majority party.
Cantor's loss kicked off a scramble for Republican leadership positions in the House. Representative Kevin McCarthy of California, who now holds the No. 3 majority whip job, is expected to win Cantor's position in a vote of House Republicans set for Thursday.
Cantor's defeat also highlighted deep divisions within the party, especially over immigration policy and how deeply government spending should be cut.
Cantor angered many conservatives by backing a softer policy toward foreign-born children brought into the United States illegally by their parents.
On Sunday, Cantor skated over that conflict, telling CNN, "I have always said that I was for the kids who due to no fault of their own find themselves here and know no other place as home."
Some leading House Republicans downplayed the idea that Cantor's loss was bad news for their party, arguing instead that it was a harbinger of problems for the opposition Democrats.
"What you have is conservatives at the grassroots level who are fired up like they were in 2010 and it's going to play out in the fall and it's not going to be good for the Democrats," said Representative Greg Walden of Oregon during an interview on "Fox News Sunday."