Eric Garner's Death Provokes Outrage a Year Later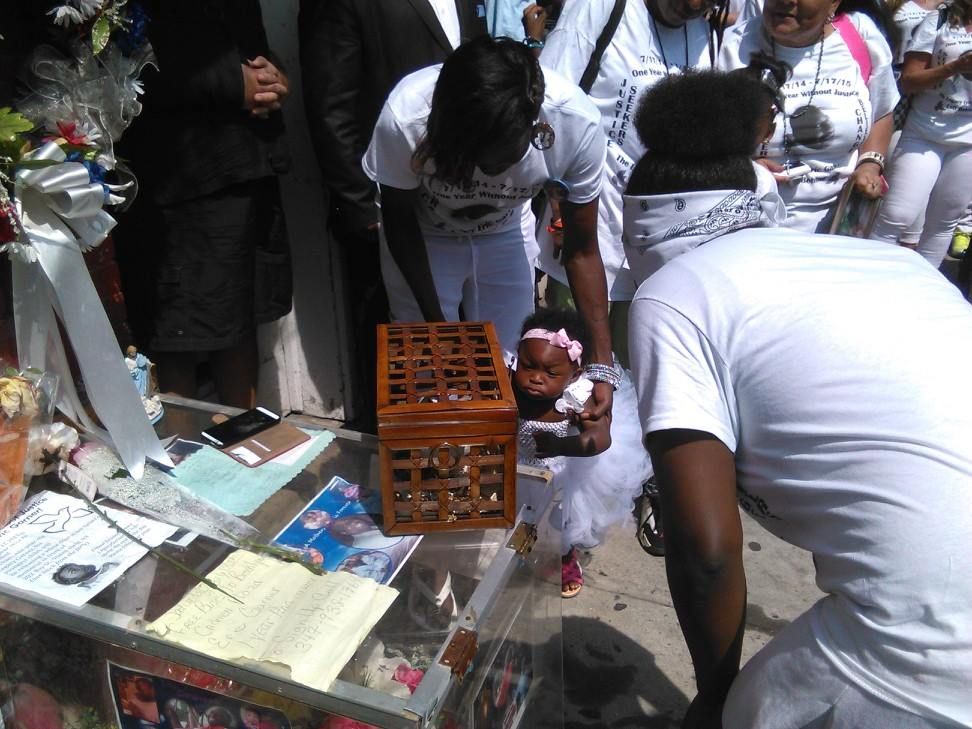 Supporters, friends and family gathered on Friday at the site of Eric Garner's death a year ago while being arrested by New York Police Department officers, on Bay Street in the New York City borough of Staten Island, and released a dove to commemorate a man who some argue was murdered.
The Garner incident was among a spate of police-involved deaths of black men that incited mass protest, often violent, and widespread public debate surrounding the nature of race and law enforcement in the U.S.
"There's a whole lot more that needs to be done," said Gregory Hampton, a Brooklyn cosmetologist and friend of the Garner family. This sentiment was echoed by many at the protest Friday: There is a sense of outrage that no police officer has been indicted over the incident.
Before releasing the dove, Garner's supporters chanted "I can't breathe" 11 times, echoing Garner's videotaped complaints as he was being restrained by the officers.
Heather Kirschner, a student at the College of Staten Island who was a friend of Garner, said she has seen only slow progress toward better community and police relations since Garner's death. "I do feel they're making an attempt to improve their interactions [with the community]," she said, "but not enough has been done."
Garner was arrested on July 17, 2014, on the suspicion of selling cigarettes illegally. After a verbal altercation with officers that was videotaped by a bystander, during which Garner told police "every time you see me, you want to harass me," Officer Daniel Pantaleo appeared to put Garner into a choke hold that lasted 15 to 19 seconds. After pleading with police officers that he was unable to breathe, Garner lost consciousness; no attempts were made to resuscitate him, as police claimed they believed he was still breathing. An hour later, Garner was pronounced dead at Richmond University Medical Center.
On August 9, a black man named Michael Brown was fatally shot by a police officer in Ferguson, Missouri. That shooting resulted in rioting as well as peaceful protests. The deaths of Garner and Brown led to the establishment of Black Lives Matter, a movement that seeks to highlight institutional violence toward minority communities.
On July 13, New York City agreed to pay $5.9 million to Garner's family in a wrongful death lawsuit. However, some still argue there has been a lack of closure to the issue, given that a grand jury in December ruled that no officers involved in his death would be indicted.
"How much more evidence do you need?" said Travis Morales, an organizer with StopMassIncarceration, a group that was holding a separate protest Friday to commemorate Garner's death, outside the Staten Island Whitehall Ferry Terminal. "This was a lynch mob murder, and it is typical of what goes on throughout this country."
Eric Garner's Death Provokes Outrage a Year Later | U.S.