A supporter of President Donald Trump was arrested after federal authorities identified him as the man who allegedly stormed the U.S. Capitol with rioters while carrying a handful of zip-ties—as captured by viral photos circulating online.
Eric Gavelek Munchel, 30, of Tennessee, was arrested in his state on Sunday and charged with "one count of knowingly entering or remaining in any restricted building or grounds without lawful authority and one count of violent entry and disorderly conduct on Capitol grounds," the Department of Justice (DOJ) said in a statement.
Authorities alleged that Munchel was inside the Capitol building during last Wednesday's mob assault.
"Photos depicting his presence show a person who appears to be Munchel carrying plastic restraints, an item in a holster on his right hip, and a cell phone mounted on his chest with the camera facing outward, ostensibly to record events that day," the DOJ said.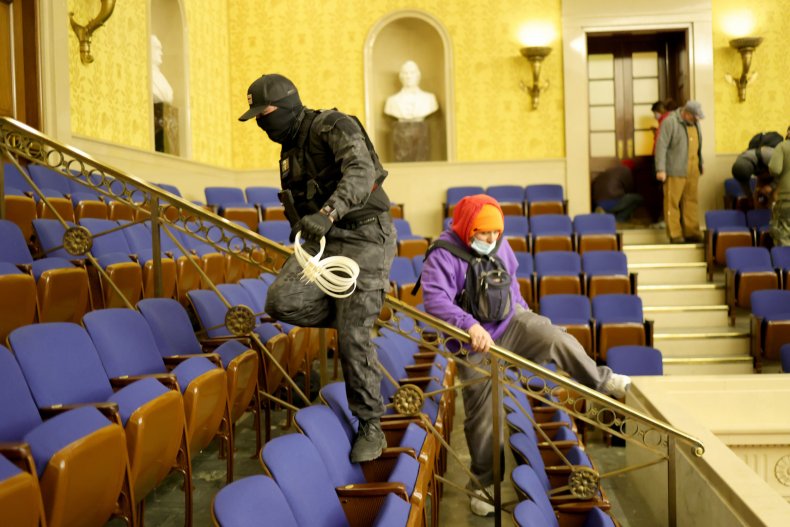 Photos from Getty Images of the suspect have circulated on social media in the aftermath of the attack, prompting concern that the rioters may have planned to take lawmakers hostage. Authorities have not yet released any information on where the suspect obtained the zip-ties or what he had planned to do with them.
Prior to his arrest, citizens used online materials to identify Munchel as the zip-tie carrying rioter, with some sharing screenshots of his Facebook page to social media. The Facebook page has since been deleted.
Other users found images showing the suspect marching at protests in Washington D.C. on Wednesday, and also at similar pro-Trump protests in Nashville.
According to NewsChannel 5, Munchel was booked into Nashville jail at 2:50 p.m. local time.
Larry Rendell Brock, of Texas, was also arrested on Sunday in connection with the attack on the home of Congress. Brock was identified as one of the individuals who allegedly stormed the building as Congress convened to certify President-elect Joe Biden's win in the 2020 election.
Brock "unlawfully entered the U.S. Capitol wearing a green helmet, green tactical vest with patches, black and camo jacket, and beige pants holding a white flex cuff, which is used by law enforcement to restrain and/or detain subjects," according to authorities.
The two cases will be prosecuted by the U.S. Attorney's Office for the District of Columbia and the DOJ National Security Division's Counterterrorism Section. They will be assisted by the U.S. Attorney General's Offices for the Northern District of Texas and for the Middle District of Tennessee.
Newsweek reached out to the White House for comment. This story will be updated with any response.