Eric Greitens, a Missouri Republican running for the U.S. Senate whose "RINO hunting" ad released Monday drew a wave of criticism for allegedly promoting political violence, has a long list of recent scandals.
The advertisement features Greitens, who previously served as the state's governor, carrying a firearm while inviting supporters to "get a RINO hunting permit," referring to the phrase "Republican in name only," an insult used against the party's moderate wing.
In response, many critics accused Greitens of supporting political violence in the ad—especially after death threats against U.S. lawmakers have risen following the January 6 Capitol attack. At least one critic of the ad expressed concerns on Twitter that it could get "somebody hurt or worse."
Greitens' campaign has been dampened by several other controversies stemming from his time as governor, as well as more recent allegations made against him.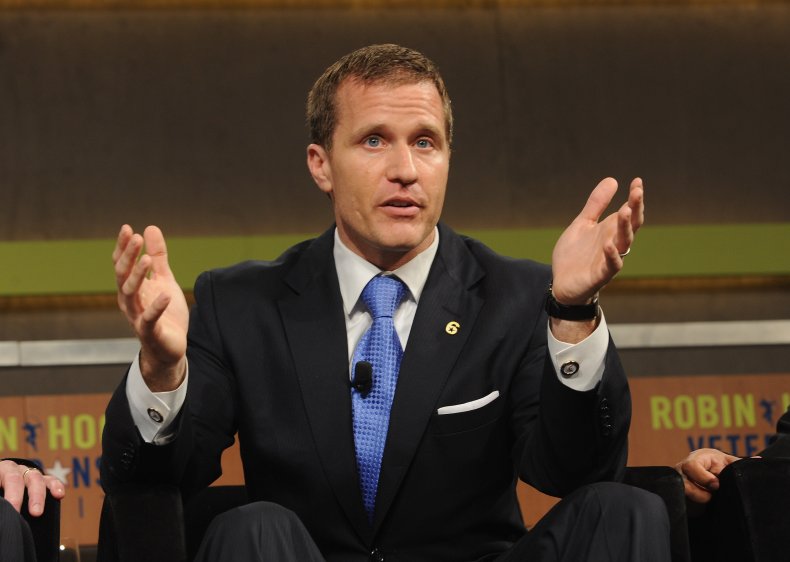 Accusations of Blackmail
In 2018, Greitens, still serving as Missouri's governor, was accused of having an affair with his hairdresser and allegedly took a nude photograph in an attempt to blackmail her into not publicly speaking of the affair. He has acknowledged having the affair but denied the allegations of blackmail.
According to the woman, he allegedly tied her up in his basement and took the photograph to use as blackmail and to threaten her to remain silent about the affair.
The allegations prompted an investigation from Circuit Attorney Kim Gardner, though he did not face any charges resulting from the investigation. In April of that same year, a Special Investigative Committee on Oversight of the Missouri House of Representatives released a report about the affair.
That report alleged that during a hair-styling appointment on March 7, 2015, Greitens allegedly touched the woman in her genital area, and she said she did not consent to being touched in that manner. The affair allegedly began later that month on March 21.
She testified that after he took the photograph, he allegedly told her: "Don't even mention my name to anybody at all, because if you do, I'm going to take these pictures, and I'm going to put them everywhere I can." He resigned after making a "fair and just" deal over "pending charges" with the St. Louis prosecutor in May 2018.
Domestic Abuse Allegations
Earlier this year, the former governor's ex-wife Sheena Greitens alleged in court documents that her ex-husband was physically abusive and showed "unstable and coercive behavior" in accusations that rocked his campaign months before his controversial campaign ad.
The allegations were made during a custody battle between the two, and he has denied any abusive behavior on his part and said the accusations are "politically motivated." He has also said Sheena Greitens has a "documented history of mental illness and emotionally abusive behavior."
In one instance, when the two got into an argument, he allegedly knocked her down and took away her cellphone, wallet and keys "so that I was unable to call for help or extricate myself and our children from our home." She also accused him of "physical violence toward our children, such as cuffing our then-3-year-old son across the face at the dinner table in front of me and yanking him around by his hair," according to an affidavit obtained by Associated Press.
In the affidavit, she also accused him of purchasing a gun and not telling her where he stored it, threatening to kill himself unless she provided "specific public political support."
Newsweek reached out to both Eric Greitens' campaign and Sheena Greitens' attorney for comment.