Closing the House Intel Committee's Trump-Russia Investigation Is a 'Cover-Up,' 'Stain': Former Attorney General Eric Holder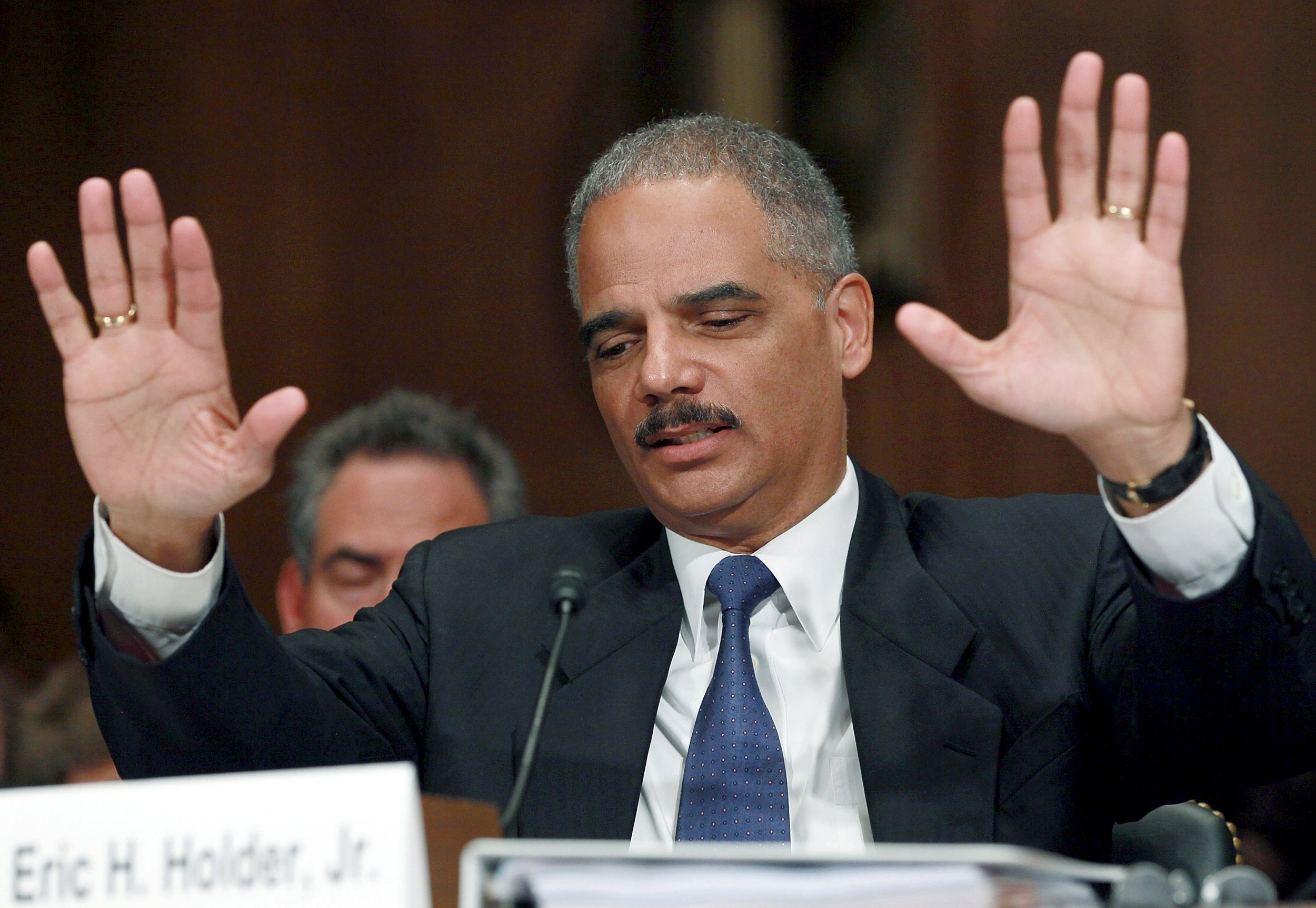 Former Attorney General Eric Holder excoriated Republicans on the House Intelligence Committee for unilaterally shutting down the Trump-Russia probe as a "cover-up," saying, "Politics beat a desire for the truth."
"Republican House [Intelligence Committee] shut down Russia probe before doing a complete job," Holder tweeted Monday night. "This is a coverup [sic] and a lasting stain on the reputation of what used to be a bipartisan Committee."
"Politics beat a desire for the truth," he continued.
Holder said it was a departure from the bipartisan nature of the committee under Representatives Dutch Ruppersberger, a Democrat of Maryland, and Mike Rogers, Republican of Michigan, during President Barack Obama's administration.
The two lawmakers reportedly agreed to bridge the partisan divide early on. "We have a commitment to each other that we'd work together," Ruppersberger told The Baltimore Sun in 2014.
Comparatively, House intelligence committee Republicans—who make up 13 of the 22 members—closed the year-long Russia investigation on Monday without support from Democrats in the group.
"After more than a year, the committee has finished its Russia investigation and will now work on completing our report," chairman Devin Nunes, Republican of California, said in a statement on Monday.
Nunes went on to thank several of his party's committee members in the statement. "I'd like to thank Congressmen Trey Gowdy, Tom Rooney and especially Mike Conaway for the excellent job they've done leading this investigation. I'd also like to recognize the hard work undertaken by our other committee members as well as our staff."
Conaway, of Texas, led the probe. On Monday, he said the committee determined Russia had interfered with the 2016 presidential elections—as U.S. intelligence agencies have said—but broke from the intelligence community's assessment that the Kremlin preferred Donald Trump over Hillary Clinton.
"The bottom line: The Russians did commit active measures against our election in '16, and we think they will do that in the future," Conaway told he New York Times. "We disagree with the narrative that they were trying to help Trump."
"We found no evidence of collusion," Conaway told reporters during a press briefing Monday afternoon. "We found perhaps some bad judgment, inappropriate meetings, inappropriate judgment in taking meetings—but only Tom Clancy could take this series of inadvertent contacts, meetings, whatever and weave that into some sort of a spy thriller that could go out there."
President Trump, who has long disparaged the investigation into whether Russia colluded with his campaign as a "witch hunt," alerted his 49 million Twitter followers of his party's findings shortly after the announcement.
"THE HOUSE INTELLIGENCE COMMITTEE HAS, AFTER A 14 MONTH LONG IN-DEPTH INVESTIGATION, FOUND NO EVIDENCE OF COLLUSION OR COORDINATION BETWEEN THE TRUMP CAMPAIGN AND RUSSIA TO INFLUENCE THE 2016 PRESIDENTIAL ELECTION," he wrote.
Adam Schiff, the committee's ranking Democrat, also issued a statement slamming the committee's GOP members, saying the White House had finally succeeded in bringing them to heel.
"While the majority members of our committee have indicated for some time that they have been under great pressure to end the investigation, it is nonetheless another tragic milestone for this Congress, and represents yet another capitulation to the executive branch," the California representative said in a statement.
Holder wasn't the only former top official to criticize the decision to end the investigation.
John Brennan, the former CIA director, tweeted Tuesday morning that the "Leadership of House Intel Committee has traded [the] last vestige of integrity for politics. With other investigative shoes yet to drop, legislators who try to protect @realDonaldTrump will face November reckoning," he said.
The House investigation was one of three separate probes into Russia's meddling efforts in the 2016 election. The Senate intelligence committee and special counsel Robert Mueller's investigations continue.
"Hopefully," Brennan continued, "bipartisan effort in Senate Intel Committee will endure."
Nunes said the committee's final report on the investigation will include suggestions on how to protect the 2018 midterm elections from interference. "Once the committee's final report is issued, we hope our findings and recommendations will be useful for improving security and integrity for the 2018 midterm elections."